As you know the computing experience has become increasingly engaging, mobile and personal. Users value consistency across devices that connect seamlessly and securely to the Internet and to each other, and PCs, tablets, smartphones and cloud computing makes this possible. Intel (NASDAQ:INTC) enables this experience by innovating around energy-efficient performance, connectivity, and security. The company strives to ensure that Intel technology remains the best choice for the PC as well as cloud computing and the data center.
Company Introduction
Intel is the largest semiconductor chip maker that designs and manufactures advanced integrated digital technology products, mainly integrated circuits, for industries such as computing and communications. The company sells its products and services primarily to original equipment manufacturers (OEMs), original design manufacturers (ODMs), and industrial and communications equipment manufacturers in the computing and communications industries. Its products are used in a wide range of applications, such as PCs, which include laptops and ultra books, servers, tablets, smartphones, automobiles, automated factory systems and medical devices.
Revenue Breakup
The company reports its revenues under four operating segments: Client Group (PCCG), Data Centre Group (DCG), Other Intel Architecture (IA) Operating Segment and Software & Service (SSG) Operating Segment. The PCCG segment offers products that are incorporated in notebook and desktop computers for consumers and businesses while its DCG segment offers products designed to provide leading performance, energy efficiency, and virtualization technology for server, workstation, and storage platforms. Its IA operating segment offers products that are used in the Intel mobile communications (IMC), embedded, net book, tablet, and smartphone market segments.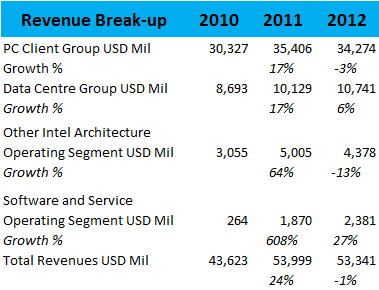 In 2012, revenue was down by 1% as compared to 2011 due to the soft market demand for PCs as consumer preferences shifted from PCs to tablets and smartphones, and OEMs reduced their inventory levels. PCCG revenues dropped by 3% in the year 2012, which was negatively impacted by the growth of tablets as these devices compete with PCs for consumer sales. The DCG segment showed a growth of 6% in 2012 backed by the significant growth in the Internet cloud segment and a better product mix, which was partially offset by weakness in the enterprise market segment. Revenues from its IA operating segment decreased by 13% or $624 million in the year 2012, as compared to 2011. This decrease was primarily due to the lower IMC average selling prices and lower net book sales volume. Revenues from its SSG operating segments increased by $511 million in the year 2012, as compared to 2011, due to the addition of revenues from McAfee of $469 million. McAfee was acquired on February 28, 2011.
Research and Development
For any information technology company, R&D is very important to come up with innovative products in order to ensure its survival in the marketplace and remain competitive. The company has a good history of investing in world-class technology development, particularly in the design and manufacture of integrated circuits.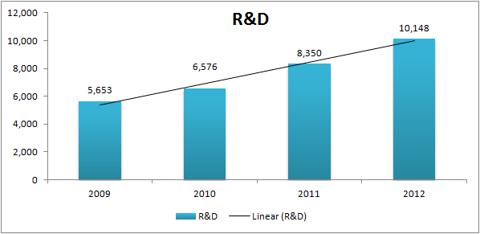 Click to enlarge
The company's R&D expenditure for the year 2012 was $10.15 billion, an increase of 22% as compared to 2011. This increase was driven by increased investments in its products for smartphones, tablets, Ultrabook systems and data centers. Additionally, R&D spending increased due to higher process development costs for its next-generation 14nm process technology and higher costs related to the development of 450mm wafer technology.
Key Statistics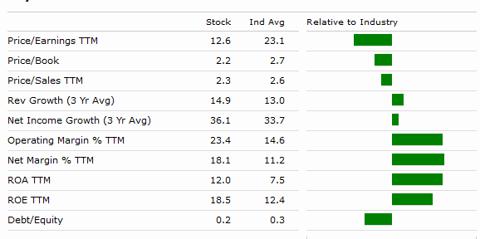 Click to enlarge
Holistically, the key statistics of the company are depicting it to be a cut above the industry. To begin with, the company's three-year average revenue and net income growth of 14.9% and 36.1% are higher than the industry. Similarly, its operating margin of 23.4% and net margin of 18.13% are also far better than the industry. A strong ROA and ROE reveals the fact that the company is utilizing its resources with additional efficiency. Moreover, the company has a lower D/E ratio compared with the industry, which indicates that the company has less financial risk, which could be a positive point for risk-averse investors. Besides its outstanding performance, the key valuation metrics indicate that the company is currently undervalued.
DuPont Analysis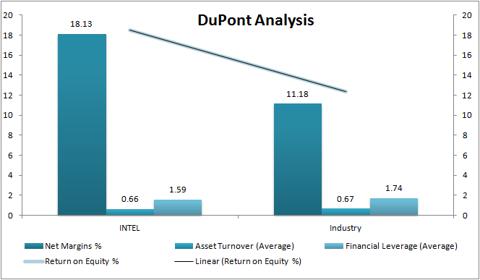 Click to enlarge
The above chart shows the breakdown of the company's return on equity into net margins, asset turnover and financial leverage and has been compared to the industry. A major portion of the company's ROE is contributed by its net margins, which is a positive signal for the stability of the company. The company has lower financial leverage compared to the industry. Overall, the company's ROE of 18.49% is way better than the industry, which is giving a return of 12.39%. This makes Intel a more attractive investment for the investors.
Valuation
Apart from analyzing the outstanding historic performance of the company, valuation is important to get a better understanding of the company's return potential. I have used a Modified Payout Dividend Discount valuation and Multiple based valuation method to derive the fair value of the company's stock.

Click to enlarge
The company has a strong history of returning value to its shareholders in the form of dividends and share repurchases. As the company has been repurchasing its stock for a long time, a slight adjustment has been made to neutralize this effect of stock repurchases by calculating a modified payout ratio. The expected growth in earnings has been assumed to remain constant at approximately 10 percent. Although the historic 10-year average was 20%, I believe that 10% is more justified. The average modified payout ratio of the past five years has been used to project the potential dividend payout in order to reduce the effect of spiked values in a single year. Terminal growth has been assumed to be 2 percent, which is in line with the inflation rate of the U.S. economy.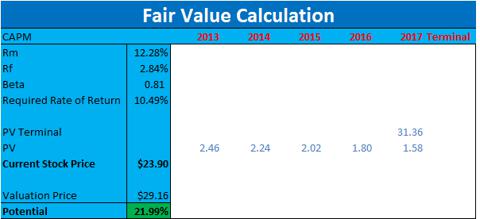 Click to enlarge
After projecting the dividends for the next five years, a required return of 10.49% has been calculated to discount the future cash flows. The model assumes a market return of 12.28% (calculated using the return of S&P 500 in the post financial crisis period) and a risk free rate of 2.84% (10-year Treasury bond yield). This gives a target price of $29.16 with an upside potential of 21.99%.
Sensitivity Analysis
As you know that the industry dynamics are quite unstable due to the growing competition and changing economic factors, which can directly affect the stock price of the company. In order to incorporate the impact of fluctuations, a sensitivity analysis has been performed.

Click to enlarge
The above table shows that the company's price volatility with respect to its expected growth rate and required rate of return. In the best-case scenario of 12% expected growth and 10% required rate of return, the stock presents an upside potential of 39.86% with a share price of $33.43. Similarly, in the worst-case scenario of 8% growth and 11.5% required rate of return, the stock has a downside potential of 1.4% with a stock price of $24.24.
Conclusion
The year 2012 has been a tough one for the IT industry. A soft market for PCs hurt the company's revenues and margins. However, the company's development of products for low power mobile technology opens a huge growth opportunity for the company. Besides that, the company is now offering a complete product range, which includes all the essential products in the computing segments. Moreover, the rising demand for cloud computing has increased the demand for high speed storage devices, which as a result increased the demand for Intel's servers, workstations and storage platforms. Furthermore the company's valuation indicates that the company is currently undervalued. Since I believe that the company's stock has a strong upside potential, I recommend this stock to investors.
Disclosure: I have no positions in any stocks mentioned, and no plans to initiate any positions within the next 72 hours. I wrote this article myself, and it expresses my own opinions. I am not receiving compensation for it (other than from Seeking Alpha). I have no business relationship with any company whose stock is mentioned in this article.