I noticed that Wellpoint (WLP) shares had fallen off their highs over the last few weeks. Has this fall created an opportunity?
So what is Wellpoint and what are the issues?
As per the company's website
WellPoint, Inc. is one of the largest health benefits companies in the United States...WellPoint and its affiliated health plans have created a variety of PPOs, HMOs, various hybrid and specialty network-based dental and health care services that combine the attributes consumers find attractive with effective cost control techniques. Employer groups and individual members can select from basic as well as comprehensive plans to meet their specific needs
I came across this interesting chart showing some of the issues apparent in the U.S, healthcare system (see below). Could such issues be overhanging the company's profitability?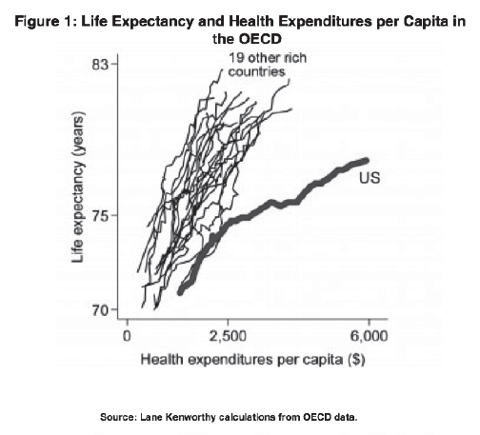 Actually, not at all. As per the July Q2 statement, the company upped its profit hopes:

This was driven, amongst other matters, by a good control of costs:

So why have the shares behaved like this?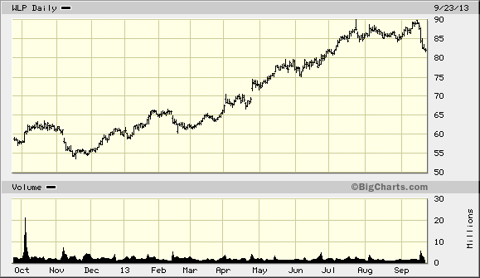 Let's look at the business for a few answers.
WellPoint is the exclusive licensee of the Blue Cross and/or Blue Shield brands in 14 different states, giving the company significant brand recognition and strong market share. Additionally, the company's size and scale provides it with significant bargaining power with healthcare providers as shown by this chart from a recent corporate presentation: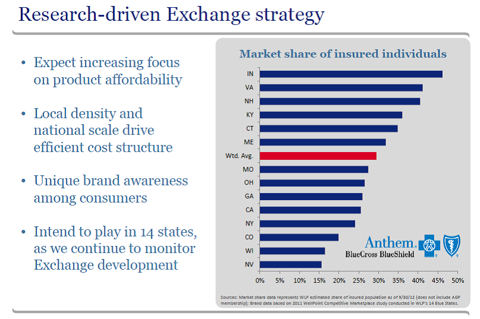 Healthcare is very legislation-driven and Wellpoint does see opportunities as disclosed below: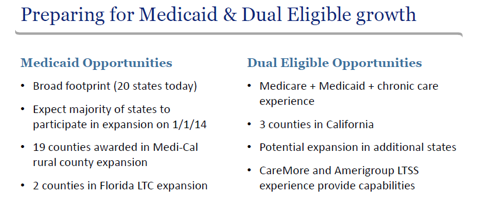 In the last conference call, there was discussion around $20bn worth of potential new business over the next few years (equivalent to around a 30% boost to turnover) from the above.
However not all these opportunities are perceived so positively, for example this link about healthcare exchanges raises some concerns by operators and this has been cited as a reason for the shares to recently underperform:
Some big US health insurers...are steering clear of most of the new state healthcare exchanges amid uncertainty about the kinds of customers they might attract: namely sick ones...taking a cautious approach because they need to evaluate how the markets - set up under the "Obamacare" reforms - will work. They add that they are specialised in providing insurance to big employers, not the individuals and small businesses that will be served by the exchanges

Elsewhere, there are two other matters worth noting. First, a new CEO from outside the company took over earlier this year (Joe Swedish ex CEO of the nonprofit Catholic hospital system Trinity Health Corp), which raised a few eyebrows. Inevitably, he has initiated a review - 

I don't expect any particular changes to come from this, but it is worth knowing.
Second, the company has a good track record in buying back shares as well as currently paying a c. 2% dividend yield.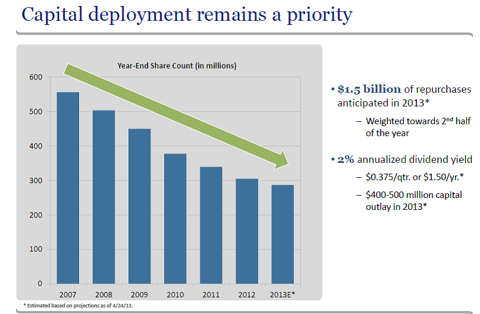 This continues and at the Q2 point the company announced that it continued to buy back shares at an average price of just under $75.
Numbers-wise, beyond the Q2 slight pushing up of profit hopes, the company has a market cap of $24.8bn and an estimated FY13 operating profit of over $4.5bn and operating cash flow of $2.8bn.
These multiples seem low even adjusting for the inevitably political influences on the healthcare market. As noted above though, various political-led healthcare initiatives are actually creating material new revenue opportunities for the company.
The share has performed well year-to-date but still looks lightly valued at just sub x10 P/E and a near 10% free cash flow yield (used to buy back the equivalent of 6% of the shares and pay a c. 2% dividend). On this basis, the sell-off looks like an opportunity to consider establishing a position. Re-review back at the all-time (and recent) high of $90 but actually at little more than a x6 market cap:EBIT ratio; for a company generating cash (and using it to buy back shares) this still seems a little light. 
Disclosure: I have no positions in any stocks mentioned, but may initiate a long position in WLP over the next 72 hours. I wrote this article myself, and it expresses my own opinions. I am not receiving compensation for it. I have no business relationship with any company whose stock is mentioned in this article.