Given current levels, gold's inflation adjusted performance remains exceptionally strong. At this stage where QE tapering and policy tightening have yet to kick in, gold looks vulnerable.
The trajectory of gold's price slump since 2012 is similar to the early 1980s. Having completed half the down trajectory, the pace of gold's slump is expected to slow.
Investors who share this sentiment may consider the following short positions on gold (GDL, 3GOS, 2GOS, 1GOS).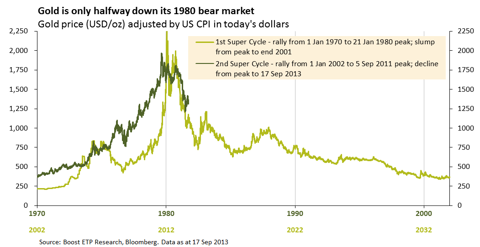 At current, inflation adjusted prices, gold is priced at a level where it was 32 years ago. Then, amidst a severe tightening cycle, gold was only halfway down its path of decline. Gold succumbed to an environment where rising policy rates and long term bond yields suppressed inflation. Now, policy tightening has not even begun and QE taper talk is enough to force gold lower. The tapering delay has failed to stage a convincing rally in gold. Driving the down-bias in gold's price pattern is its elevated valuation.
Gold is failing to take off after the Fed unexpectedly announced it would delay QE tapering last week. While initially rallying on the news, rising by 4.7% on Wednesday, it was flat on Thursday and fell further, over 2% on Friday. Failure of gold to sustain the rally implies markets continue to discount an inevitable unwinding of QE into the price of gold. In doing so, any upside remains limited and subject to deteriorating conditions in the US labor market. However tepid the US recovery may be, conditions in the labor market continue to improve.
The chart above illustrates gold's current downward price leg (indicated by the dark green line describing gold's 2nd super cycle) to be about halfway down a similar path of gold's price slump seen in the early 1980s (indicated by the light-green line describing gold's 1st super cycle).
In the decade leading up to the downturn, gold rose from 35 USD/oz in Jan 1970 to attain a peak of 850 USD/oz Jan in 1980. Amidst double digit inflation rates in Western economies, gold's sharp acceleration translated into a tenfold increase in real terms over that period. History shows that such exceptionally high real returns of 28% p.a. are unsustainable. Inevitably, it led to gold's two decade slump thereafter.
It is unlikely that gold will continue downwards with a magnitude similar to the early 1980s. For one, there have been no episodes of hyperinflation and severe inflation shocks to begin with. As a result, its ascent since 2002 until its September 2011 peak, was more gradual and less extreme, rising by ~19% p.a. in real terms. This is significantly less than the bull run of gold in the 1970s. Reinforcing gold's slow progressive descent will be a more dovish Fed should Ben Bernanke step down and Janet Yellen, replaces him. She will manage the drawdown of stimulus money carefully, guided by sustainable improvements in labor markets and inflation. Only after complete withdrawal of QE stimulus, starting with US Treasuries and followed by mortgage bonds, will the Fed seek to end the near zero interest rate policy stance. Its guidance here is the unemployment rate, which should fall to 6.5% from 7.3% today. For the whole scenario to play out, starting with the first ~USD 10bn stimulus withdrawal to the first policy rate hike, a time frame of at least a 12 month period should be taken into consideration. Taking the trend in unemployment as a reference, it took the US 34 months to bring down unemployment to 7.3% from its 10% peak in October 2010. At that rate, it will take until August 2014 to bring it down to 6.5%. However, it may take much longer if the rate of recovery sputters. What this means for gold is while it continues to look vulnerable, it is likely to happen at a slower pace than gold's slump since its September 2011 peak.
It is tempting to believe that, having fallen 30% since its September 2011 peak and 20% this year, gold may have reached its bottom. But in real terms, the price of gold since 2002 has risen 2.6x, giving investors a ~10% real return on investment. By any standard, such returns remain exceptionally, if not unusually large. At ~1300 USD/oz the price in nominal and real terms remains high.
Disclosure: I have no positions in any stocks mentioned, and no plans to initiate any positions within the next 72 hours.
Business relationship disclosure: Boost ETP is an independent ETP issuer. This article was written by Viktor Nossek, Head of Research. We did not receive compensation for this article (other than from Seeking Alpha), and we have no business relationship with any company whose stock is mentioned in this article. This communication has been provided by Boost ETP LLP which is an appointed representative of Mirabella Financial Services LLP which is authorised and regulated by the Financial Conduct Authority.