I keep on reading that Beam (NYSE:BEAM) are going to be taken over as part of a bigger beverages sector consolidation. Whilst I would not invest in a company solely because 'it might be taken over', any investor knows that a potential route to superior returns is in identifying such opportunities.
Let's take a step back first. Just who are Beam?
Well, Beam Inc. is an American manufacturer of spirits and was founded in 1904. The company was established in October 2011, from the remainder of the Fortune Brands holding company. In terms of brands, the company has a number of famous ones inevitably led by the eponymous Jim Beam bourbon brand but also Maker's Mark and Sauza tequila

Often cited thematic attributes of the spirits business are good pricing power and strong emerging market sales/potential. Unsurprisingly, Beam has similar attributes, for example, using data from a recent company presentation which highlighted strong price-mix...

...good emerging market penetration/sales...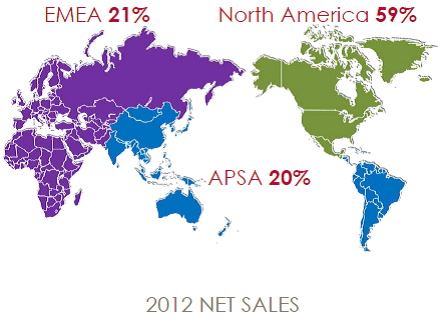 ...and strong market shares/further premiumisation scope:

So what about the valuation for all of this? Well, on a forward rating basis (FY 2014) Beam is valued at around x16 EV/ebit. That's pretty full in my opinion. This high valuation also crimps the free cash flow yield which using the top of the Beam range works out around 2.7%. Around half of this is paid out as a dividend.
At a US$12.8bn EV though, the company is relatively bite-sized for some companies including, as noted above, potentially Pernod Ricard (OTCPK:PDRDF).
Here's the problem though. I just don't see a deal with Pernod Ricard, a company which currently has Euro8.6bn (c. US$11.5bn) of debt that equates to around x3.5 net debt: ebitda. Clearly any such deal would need a capital raise.
Diageo (NYSE:DEO) has been another name mentioned and this company, to me, would seem a much more plausible buyer. A strong balance combined with less natural valuation dilution (Diageo themselves trade at x15 EV/ebit) could make Diageo interested. But the economics of any deal are likely to be thin; that is the trouble with paying big multiples for branded businesses.
Overall Beam is an impressive branded spirits business but rather than roll the dice as regards the timing of a potential deal, wait for opportunities from any uncertainty either post a deal or if there is a bump or three in the global economy. Both, but especially the latter, are quite plausible.
I have put $61 as a watch price for Beam shares.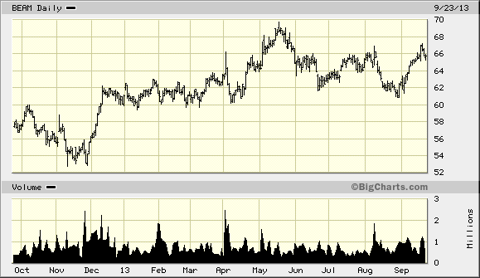 Disclosure: I have no positions in any stocks mentioned, and no plans to initiate any positions within the next 72 hours. I wrote this article myself, and it expresses my own opinions. I am not receiving compensation for it. I have no business relationship with any company whose stock is mentioned in this article.