In this article, I will feature one biotech that has seen intensive insider selling during the last 30 days. Intensive insider selling can be defined by the following three criteria:
The stock was sold by three or more insiders within one month.
The stock was not purchased by any insiders in the month of intensive selling.
At least two sellers decreased their holdings by more than 10%.
Biogen Idec (NASDAQ:BIIB) discovers, develops, manufactures, and markets therapies for the treatment of neurodegenerative diseases, hemophilia, and autoimmune disorders in the United States and internationally.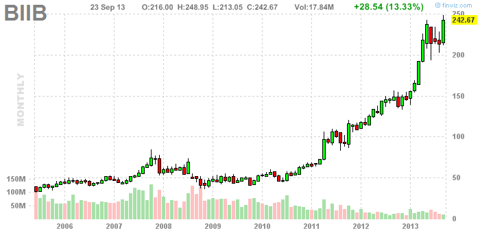 Insider selling during the last 30 days
Insider selling by calendar month
Here is a table of Biogen Idec's insider-trading activity by calendar month.
| | | |
| --- | --- | --- |
| Month | Insider selling / shares | Insider buying / shares |
| September 2013 | 146,275 | 0 |
| August 2013 | 6,607 | 0 |
| July 2013 | 2,239 | 0 |
| June 2013 | 23,363 | 0 |
| May 2013 | 83,448 | 0 |
| April 2013 | 25,210 | 0 |
| March 2013 | 65,153 | 0 |
| February 2013 | 14,098 | 0 |
| January 2013 | 0 | 0 |
There have been 366,393 shares sold and there have been zero shares purchased by insiders this year.
Financials
Biogen Idec reported the second-quarter financial results on July 25, with the following highlights:
| | |
| --- | --- |
| Revenue | $1.7 billion |
| Net income | $490.7 million |
| Cash | $775 million |
| Debt | $729.6 million |
Outlook
Biogen Idec's full-year 2013 financial guidance is as follows:
Revenue growth is expected to be approximately 22% to 23%.
GAAP diluted EPS is expected to be between $7.28 and $7.53.
Capital expenditures are expected to be in the range of $250 million to $270 million.
Pipeline
The Tecfidera launch is currently under way in the U.S. The company has three approved multiple sclerosis [MS] products in the U.S. The products are Tecfidera, Tysabri and Avonex. Biogen Idec believes that it is the global leader in the treatment of MS. Here is a picture of Biogen Idec's development pipeline.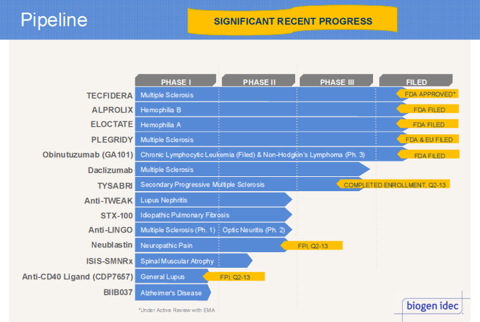 Upcoming milestones
Biogen Idec has three potential new products coming forward in the next 18 months.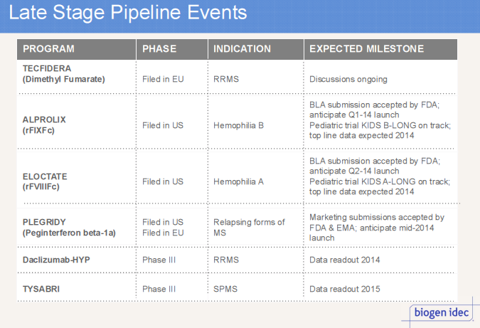 Competition
Biogen Idec's marketed products face competition from the following companies and products.
Avonex and Tysabri
Each of Avonex and Tysabri competes with the following products:
Fampyra
Fampyra is indicated as a treatment to improve walking in adult patients with MS who have walking disability and is the first treatment that addresses this unmet medical need with demonstrated efficacy in people with all types of MS. The product benefits from exclusivity rights that prohibit generic versions from being manufactured. However, the exclusivity rights are set to expire in 2017, which is the earliest predictable date that a generic version may be available. There are no commercially available generic versions of Fampyra.
Fumaderm
Fumaderm competes with several different types of therapies in the psoriasis market within Germany, including oral systemics such as methotrexate and cyclosporine.
Rituxan in oncology
Rituxan competes with several different types of therapies in the oncology market, including:
Treanda (bendamustine HCL) [marketed by Cephalon (NASDAQ:CEPH)], which is indicated for patients with indolent B-cell NHL that has progressed within six months of treatment with Rituxan for CLL.
Arzerra (ofatumumab) [marketed by GenMab (OTC:GNMSY) in collaboration with GlaxoSmithKline (NYSE:GSK)], which is indicated for refractory CLL patients to both alemtuzumab and fludarabine.
Rituxan in Rheumatoid Arthritis [RA]
Rituxan competes with several different types of therapies in the RA market, including:
Traditional therapies for RA, including disease-modifying anti-rheumatic drugs such as steroids, methotrexate and cyclosporine, and pain relievers such as acetaminophen.
TNF inhibitors, such as Remicade (infliximab) and Simponi (golimumab) [marketed by Johnson & Johnson (NYSE:JNJ)], Humira (adalimumab) [marketed by AbbVie (NYSE:ABBV)], Enbrel (etanercept) [marketed by Amgen (NASDAQ:AMGN) and Pfizer] and Cimzia (certolizumab pegol) [marketed by UCB, S.A. (OTCPK:UCBJF)].
Actemra (tocilizumab) [marketed by the Roche Group (OTCQX:RHHBY)].
Here is a table of these competitors' insider-trading activities during the last six months.
| | | |
| --- | --- | --- |
| Company | Insider buying / shares | Insider selling / shares |
| MRK | 0 | 430,984 |
| PFE | 0 | 450,449 |
| CEPH | 0 | 0 |
| JNJ | 0 | 113,709 |
| ABBV | 0 | 134,250 |
| AMGN | 0 | 125,263 |
| BMY | 0 | 1,807,308 |
None of these competitors have seen any insider buying during the last six months. Only Biogen Idec has seen intensive insider selling during the last 30 days.
Conclusion
There have been seven different insiders selling Biogen Idec and there have not been any insiders buying Biogen Idec during the past 30 days. Five of these seven insiders decreased their holdings by more than 10%.
Biogen Idec is trading at a P/E ratio of 36.81 and a forward P/E ratio of 22.65. The company has a book value of $33.27 per share.
Before entering short Biogen Idec, I would like to get a bearish confirmation from the Point and Figure chart. The main reason for the proposed short entry is the intensive insider selling activity.
Disclosure: I have no positions in any stocks mentioned, and no plans to initiate any positions within the next 72 hours. I wrote this article myself, and it expresses my own opinions. I am not receiving compensation for it (other than from Seeking Alpha). I have no business relationship with any company whose stock is mentioned in this article.