IBM (NYSE:IBM) is a global IT company which has been in business for over 100 years. The company has grown to a size of over $250 billion with revenues of $100B annually. IBM operates in 5 business segments: Global Technology Services, Global Business Services, Software, Systems and Technology, and Financing. These segments can be categorized into three operating pillars: System and Technology, Services, and Software. Computer hardware, which is a part of the Systems and Technology business, contributed about 17% to 2012 annual revenues, down from 18% a year earlier. IBM spun off its PC business back in 2005 to Lenovo. The company's services business contributes over a half of total revenues - 56% of 2012 sales. Software has increased its share of revenues from 23% of total sales in 2011 to 24% of revenue in 2012. The company's Financing segment mainly serves the purpose of optimizing the company's capital structure and managing portfolios.
The Systems and Technology segment aims to satisfy clients' needs in computer infrastructure and networking (e.g. by providing servers). IBM also offers data storage services, archiving, semiconductor operations and retail solutions in this segment.
Global Technology Services and Global Business Services form the Services sector of IBM - they are the rainmakers for the company, having brought $59B in revenues in 2012 (GTS - $40 billion, GBS - $19 billion). This sector focuses on strategic outsourcing, business transformation outsourcing, maintenance and integrated technology services. At the end of 2012, the sector had $140 billion in backlog, mainly supplied by growing e-commerce.
The Software business contributed $25B to 2012 revenues and has grown mainly through acquisitions. The sector offers services such as software solutions for businesses, performance management, business intelligence and other.
Turning to financial dealings, IBM has grown assets by $15B since 2003 ($104.5B to start), while almost doubling operating cash flows from $12.3B to $21.3 and increasing return on assets from 7.6% to 14.1% in 2012. Optimal capital structure and favorable interest rates have enabled IBM to reach return-on-equity levels of over 85% in 2012 and about 90% LTM. Capital Expenditure has remained within the range of $4.0B - $4.4B during the past 10 years, while common equity has been reduced annually through stock buy backs. The firm has returned over $100B to its owners in the same timeframe and plans to return approximately $70B through year 2015 in the form of dividends ($20B) and share buy-backs ($50B). In the wake of these facts let us look at the chart to see the market's reaction on these happenings: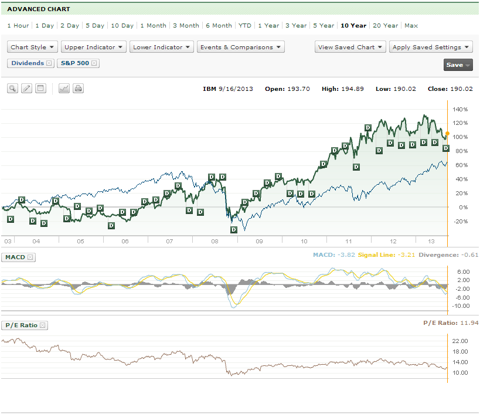 Click to enlarge
Readers can see that IBM has consistently outperformed the broader S&P 500 index in each and every year since the start of the financial crisis in 2008. IBM's shares have delivered over 100% in capital appreciation since 2003 and another ~24% ($22.6 in dividends since 2003 through 2013 on an average cost of $90 per share in 2003). The CAGR is effectively 8%, while the average annual return is 13.6%. It is also clear that despite the recent run-up in stock prices has had nothing to do with P/E expansion, and the ratio has been falling during the last two years. Right now the stock is trading on 13.5X LTM earnings. Now let us compare IBM to its competitors and see where the company stands among them: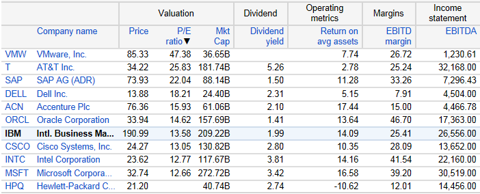 Click to enlarge
From the list we see that IBM has the highest ROE and top-quartile ROA, while trading in the reasonable bottom 50% of peers. Dividend yield is on the low side, although the company increased it by 11.7% this year. IBM earns one of the highest EBITDAs in the sector.
Historical Financials
As mentioned before, the company has experienced a phenomenal growth in cash flows, while keeping assets on a slow growth and maintaining a fixed budget on CAPEX. The growth in dividends has been largely due to growth in cash flows as evidence shows: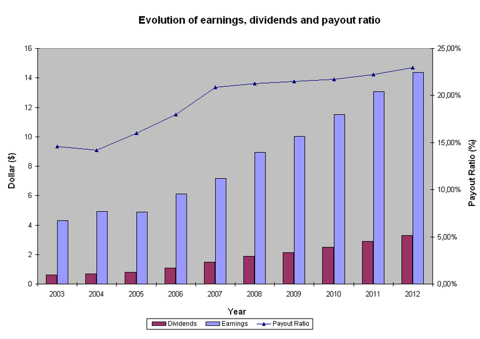 CapitalIQ data shows the payout ratio has remained in the range of 15% - 22%, having dipped slightly to 17% in fiscal 2012.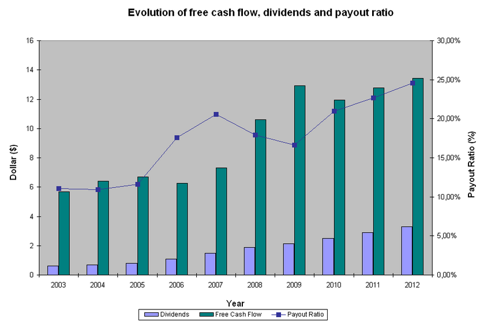 Click to enlarge
Net income has increased slightly since 2008 from $12.3B to $15.9B LTM, implying that the growth in EPS is predominantly fuelled by drastic reductions in shares outstanding: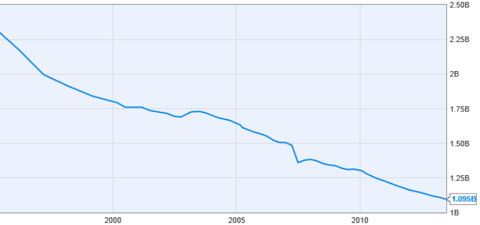 (During the past 15-20 the aggregate amount of shares outstanding has been reduced by half or more)
In the past 5 years revenues have been largely flat while costs have remained under control: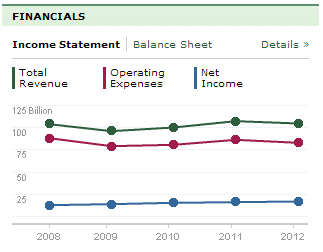 IBM's transitioning to high-margin services and software businesses in the last decade has proved to be a formidable strategy, which enabled the company to magnify returns on relatively small revenue growth and modest capital expenditures.
Historical Valuation
As seen in the graph earlier, IBM is trading on lower multiples now in comparison to historical ones. Here is a 5-year multiples' summary:

Click to enlarge
The first ratio from the left is current P/E and its five-year range. One can see the multiple is approximately in the top 25% of the range, even though it remains in the low teens. Price-to-Cash Flows, the one right after, is "maxed out" being slightly down from the five-year high of 12.8 in November 2008. Price-to-Sales figure is also at the top of the range, standing at 2.1X LTM sales. Price-to-Book multiple, while being at the top, is not meaningful because the company is on the course of slashing book value of equity through stock repurchases (Treasury stock is a contra-asset account, which reduces overall equity account despite ever-growing retained earnings).
The EV/EBITDA multiple has actually been on the rise lately thanks to market activity: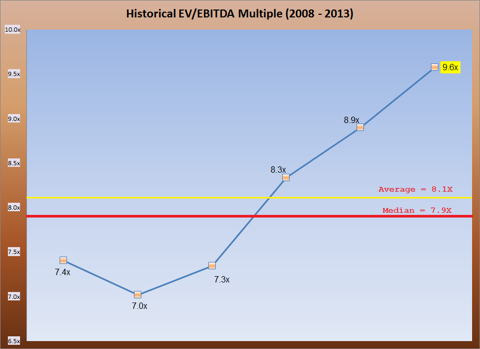 Click to enlarge
A more comprehensive analysis of the historical multiples has been provided by Argus Research: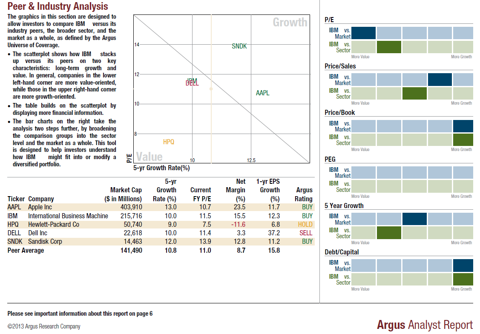 Click to enlarge
Going Forward
IBM plans to grow EPS to "at least" $20 by the end of 2015 and grow revenues by approximately 5% CAGR in the same timeframe (utilizing "explosive" growth in cloud computing and services in emerging markets):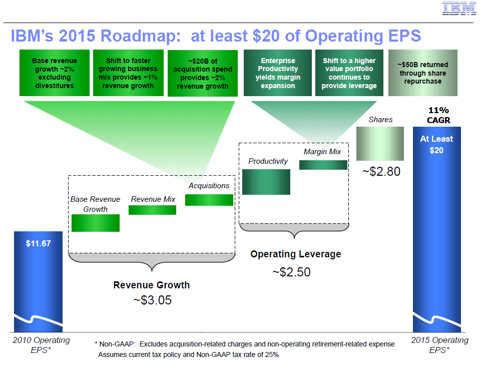 Click to enlarge
Revenue growth and sustainable cash flows are expected to be realized through shifts in revenue mix: total Hardware segment will not exceed 10% of overall revenues in 2015, while Software will make up half of the total number with Services being largely flat of 40-41%. Base revenue growth is planned to be ~2%, revenue mix effect will add another 1%, and acquisitions worth about $20B will contribute the last 2% of the total amount.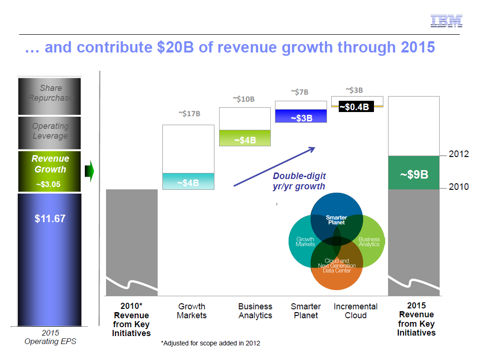 Click to enlarge
Growth markets are expected to contribute approximately 30% of total revenue in 2015. $8B in "Enterprise Productivity Savings" should be achieved through global operational integration, transformation of end-to-end process, and service sharing (both can be classified as process efficiencies).
Let us analyze IBM's acquisition history in order to assess the company's claims in regards to the growth in revenues from the $20B planned buy-outs. During the past 3 years IBM acquired 33 businesses, 27 of which reportedly "exceeded their profit targets" and generated $1B in profits for the company (the aggregate value is ~$12B):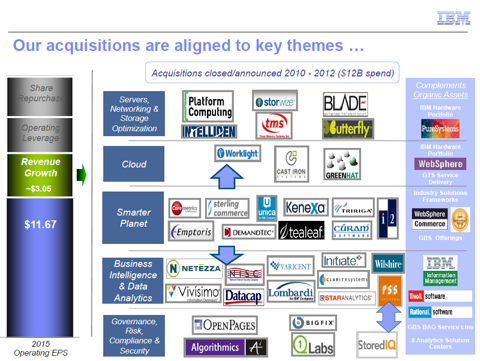 Click to enlarge
Given the effective profit margin of ~8% of these acquisitions in comparison with the consolidated profit margin of ~15% for IBM, it is clear that further optimization and efficiency management is more than achievable, if executed properly.
Valuation
IBM is a well-covered stock: many brokers and analysts issue EPS estimates. I try to use their data to build P/E sensitivity tables and see the range of expected values for the stock's price. This EPS forecasts table has been obtained from the TD Waterhouse research platform: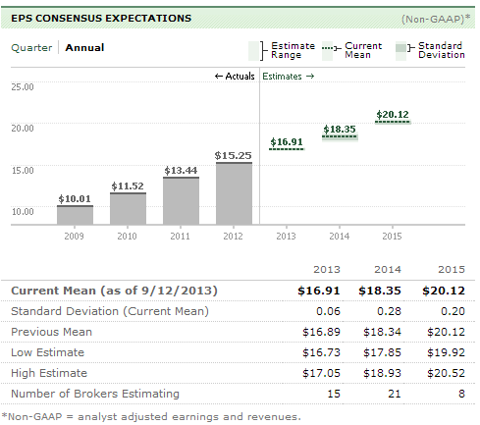 Click to enlarge
The average expectation for the 2015P EPS is slightly above IBM's target of "at least" $20, which may indicate that the investment community is feeling cautious about the bold projections. Here is a P/E matrix of expected prices given current P/E levels and the effective cost of equity: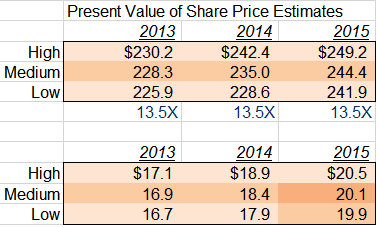 As one can see, even the lowest values are well above current price levels.
On the DCF basis, the output of the model is presented below: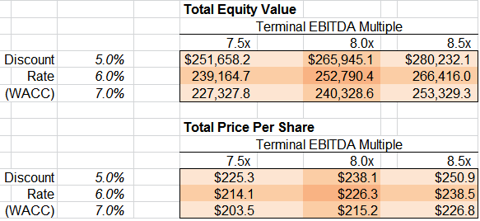 Click to enlarge
The composition of the expected equity value is also presented: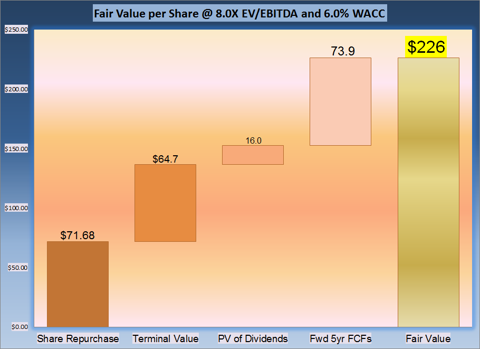 Click to enlarge
Notice that I used a 6% WACC to calculated intrinsic value of the stock, even though the effective rate is about 5%, thanks to low beta and very modest risk-free rate. To get a clearer picture of the distribution of value drivers I made a pie chart: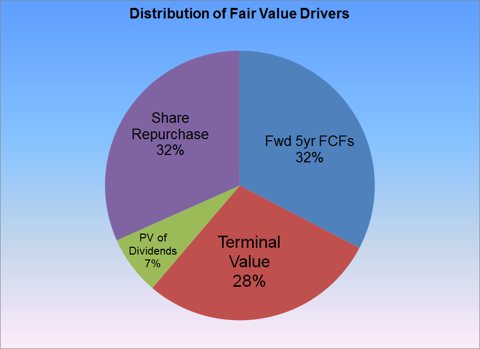 Click to enlarge
Analysis:
- Share buy-backs and Adjusted Free Cash Flows comprise almost 2/3 of the expected value, which is a phenomenal degree of confidence for investors. In fact, since share repurchases and dividends come out of Free Cash Flows, the projected 5-year cash flows are responsible for over 70% of valuation.
- Terminal Value, which is synonymous to market valuation of the stock, contributes slightly above one-quarter to the total valuation of IBM's shares. This gives little room for multiple contraction and hence reduces market risk.
On the technical side, the analysis has been produced by Recognia Inc.: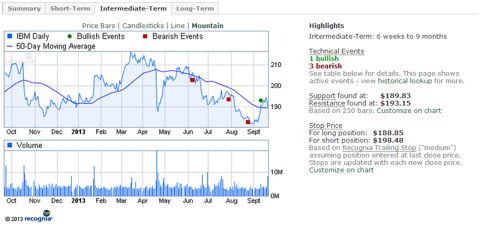 Click to enlarge
Currently, the price remains slightly above the 50-day moving average, although the recent pullback brought it down to meet the MA line. The support level is about 30 cents below the Friday's closing price of $190.10. On the other hand, the stock will be deemed to have momentum, if the price climbs above ~$193. Recognia recommends exiting long positions at prices just below $189, although I suggest considering a longer-term support level at about $180 per share (the end-of-August dip).
Summary
IBM is a cash cow. The company is not valuable because it has a large bank account (like some of its famous competitors) but because it has proved consistency in generating free cash flows and has wisely shifted strategic focus, adjusting for the market conditions. As the world is shifting toward software from hardware, IBM is ahead of the curve with over $100B in backlogs. The company utilizes its capital structure to deliver superior returns for its shareholders and has been keeping margins well, while vital expenditures have remained on the same level despite overall business growth.
Conclusion
I issue a "BUY" recommendation for IBM's stock with a target price above $226. Investors may want to utilize technical analysis to time the best entrance opportunity. Alternatively, they may start buying the stock in chunks.
Analyst Recommendations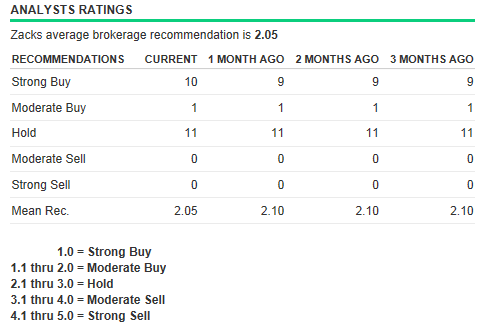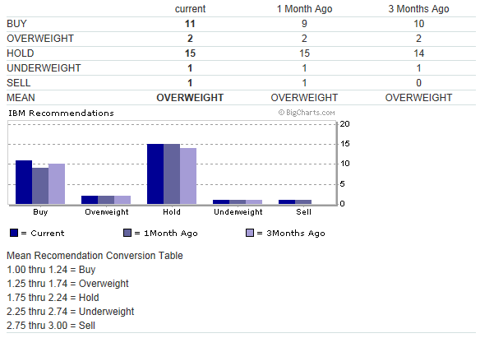 Disclosure: I have no positions in any stocks mentioned, but may initiate a long position in IBM over the next 72 hours. I wrote this article myself, and it expresses my own opinions. I am not receiving compensation for it (other than from Seeking Alpha). I have no business relationship with any company whose stock is mentioned in this article.