I was excited to see The Hartford (NYSE:HIG) had turned the corner to profitability, until I realized that they only had positive earnings if you excluded the losses. I am sorry, but that is accounting profits, not actual profits. Without the losses the firm posted a whopping $1.56 per share, but including the losses the firm lost $.79 per share. Of course, no one is going to look under the hood at the balance sheet in the media, so come with me for a ride at looking at an insurance company's balance sheet.
First, let's take a look at this statement about these quarters' results:
"Impairments were $536 million, pre-tax, in the third quarter of 2009. The majority of impairments were related to potential future credit losses on certain structured securities.

Net unrealized losses on investments were $5.8 billion, pre-tax, as of September 30, 2009, compared with $13.2 billion as of December 31, 2008. The improvement was driven by significant spread tightening across virtually all fixed maturity asset classes in the second and third quarter of 2009, partially offset by the implementation of new impairment accounting guidance."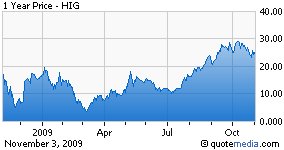 So, there is still $5.8B in losses on the books, that will have to be realized because everything is catching a bid nowadays. However, what caught my eye was new impairment accounting guidance. That is the fabled market-to-fantasy land issue that we have all been talking about. What would happen if we did not have that rule in place? I am sure you know that that $5.8B would go way up, but that must be good news, somehow.
The firm did not enjoy prosperous growth across its business lines, its P&C business was down pretty much across the board. Its variable annuity business had significant net outflows, its fixed annuities had less than $1B in net inflows. The mutual fund arm of the firm did have strong inflows of about $2.7B, but it is a low profit margin product. Its group benefits did okay with $4.4B and its individual life has margins of about 4%. Overall, it is not that strong of a report in my view as its core business were way down.
If you actually look at the balance sheet there is simply nothing to really like. Every division, except for the P&C division, lost money, but had a credit from previous losses which offset the loss and made it a gain. This is a paper gain, not an actual gain at all. For example, The Hartford had a loss of ($323M) in its core life business, but Less: Net realized capital losses of $822M and what do you know, you have a profit of $499M. I know, I am being picky, why argue with a profit, right? Sorry, but a profit is something you earn, not carry forward credits or offset losses. I am not saying that The Hartford's earnings are not legitimate, but I am saying it is just accounting.
This type of accounting realized losses were on every line of the earnings statement, which makes me think that the $.79 loss is the only number to go with here. I know we are all looking for good numbers and good news, but accounting profits are just that, and not real. What happens when you have no more losses to offset anything or the rules get changed (I hope) back to mark-to-market? The Hartford is a good firm and I know they will be fine, but I do not like this quarter's earnings at all. I do not own any long or short positions in The Hartford and I encourage you to look for yourself at the earnings report and judge it for yourself.
The earnings report is HERE
Disclosure: No positions HIG