There aren't many junior gold mining companies out there that possess the potential that Corvus Gold (OTCQX:CORVF) does. When I study the prospects of the company, it is hard not to get excited about its potential.
Corvus is currently developing a 1.5 million ounce gold project which, in my opinion, has the potential to at least double in size. Here, I will try to make the case that Corvus Gold is one of the best junior gold miners to add to your portfolio, offering investors massive upside at current prices.
Corvus controls 100% of its North Bullfrog Project, located in southern Nevada just north of the historic Bullfrog gold mine, formerly operated by Barrick Gold (NYSE:ABX). Nevada is one of the best mining jurisdictions in the entire world and this is first thing Corvus Gold has going for them.
Share Structure, Market Cap and Balance Sheet
Corvus has a tight share structure, with 65,185,028 shares outstanding and 71,360,262 shares fully diluted. With a share price of $1.16, the company has a market cap of $75.6 million.
As of the last quarter, the company had $10 million in cash plus $6 million pending from an asset sale. This gives the company an enterprise value of about $59.6 million.
Insider Ownership and Buying
I prefer to own companies where the management and insiders have significant positions because this shows me that they believe in their company.
Corvus Gold insiders own 5.914 million shares or 9.1 percent of the company, according to the most recent company presentation. This is significant insider ownership and definitely a positive.
In addition, there have been a ton of insider purchases in the past year or so. The green marks in the chart below highlight every time an insider has purchased shares. Even though the share price has nearly doubled since earlier this year, insiders are still buying shares.

Click to enlarge
Here are some of the most recent insider transactions:
- On August 30, Catherine Gignac, Director, purchased 25,000 shares at a price of $1.02 in the public market.
- On August 23, Jeffrey A. Pontius, CEO and Director, purchased 10,000 shares at a price of $1.04 in the public market. Pontius also bought 10,000 shares on August 20 at $1.06 and $1.07. He also bought 250,000 shares under a prospectus exemption on April 4, at $.87 a share.
- On August 23, Quentin Mai, VP of Business Development, purchased 5,000 shares at $1.05 in the public market. Mai bought a ton of Corvus Gold shares from April 12 - 30, at prices of $.58 to $.72.
A full list of insider transactions can be found at CanadianInsider.com.
Significant Outperformance
Corvus Gold has been one of the best performing gold miners in the entire market and I only expect this to continue in the future.
Check out this 1-year chart of Corvus Gold's performance compared to its peers. I have used the junior gold miners index (NYSEARCA:GDXJ), the gold miners index (NYSEARCA:GDX) and the gold explorers index (NYSEARCA:GLDX):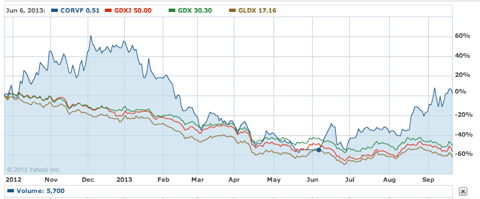 Click to enlarge
When we go back 2 years, the outperformance is even greater. Corvus Gold has a 114 percent return during his time.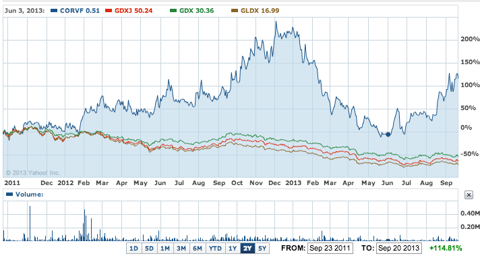 Click to enlarge
I believe it has outperformed for a couple of reasons. First, the outstanding drill results it has consistently produced, providing a steady stream of positive news flow. Second, minimal shareholder dilution, and finally, a large number of insider purchases.
Previous Preliminary Economic Assessment Results
The company has released positive results in an updated Preliminary Economic Assessment.
The highlights used an indicated resource of 310K ounces of gold and an inferred resource of 1.29 million ounces of gold. The mine would have a 11-year life, averaging 76,500 ounces of gold production a year. Initial production would start in late 2016.
At $1,300 gold, the project has an internal rate of return of 23 percent with base cash costs of $778 an ounce. This shows that the mine would be profitable at current gold prices.

Click to enlarge
At $1,300 gold, the project has a net present value of $146.8 million (5 percent discount). At $1,500 gold, that value rises to $276 million.
I particularly like the fact that not much capital will be required to bring the deposit into production ($101.2 million, according to the company. This is quite low considering the mine is expected to produce more than 70K ounces of gold annually - it takes a company much more money to bring a mine of this size into production.
There is also excellent infrastructure at the site, with highways and power within a close distance.
Yellow Jacket: High-Grade Discovery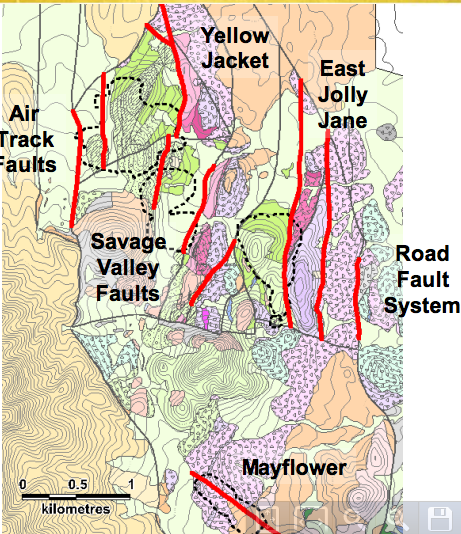 Even though the results of the PEA were great, they didn't include any of the north area drilling on the Yellow Jacket discovery to the north, where the company has released outstanding drill results.
The company is very excited about the potential of the nearby Yellow Jacket deposit, and rightfully so. The most recent drill results were outstanding and in my opinion could significantly increase the overall size of the gold resource. This deposit is significant because the style is similar to the mineralization previously mined by Barrick Gold in the open pit and underground workings at the Bullfrog Mine, which is 10 kilometers to the south.
Here are the most recent drill results at Yellow Jacket:
NB-13-353 - 44 meters @ 2.3 g/t Gold (including 7.9 meters of 10.6 g/t Gold)
NB-13-354 - 36 meters @ 3.5 g/t Gold (including 11.7 meters of 9.5 g/t Gold)
NB-13-355 - 24 meters @ 3.5 g/t Gold (including 12.0 meters of 6.7 g/t Gold)
"The new drill results demonstrate the continuity of broad, high-grade mineralization on a new western structural zone where veining is even more intensely developed.
These holes continue to highlight the potential of expanding the high-grade mineralization to the west and to the north and south, "thereby potentially significantly enhancing and expanding the possible "starter pit" area of the deposit."
The CEO said the following in a September 18 news release: "The addition of a higher grade starter pit to the current PEA could have a dramatic impact on the project economics. We see significant potential to expand this type of high-grade mineralization well beyond the current area drilled. With each new high-grade vein intersection in the Yellowjacket Zone, we are building strong support for a major new multi-million ounce, Nevada high-grade discovery with a scale and grade potential similar to the historic Bullfrog mine to the south."
Previous drill results also included very significant silver grades including the following drill result: 72.4m @ 1.74 g/t Au & 98.7 g/t Ag incl. 4.3m @ 20.0 g/t Au & 1,519 g/t Ag.
What stands out to me the most is the 4.3 meters of 1,519 g/t silver, which is quite exceptional grades. None of these outstanding drill results are included in the most recent resource estimate. Therefore I believe the next resource estimate could show a significant increase in total gold ounces.
These are exceptional grades and could result in a very low cost operation. In addition, six hole assays are still pending and I believe significant exploration upside still remains.
Other Exploration Deposits Display Potential
While Yellowjacket has the most impressive drill results, a number of other nearby exploration targets are also worth mentioning.
The North Sierra Blanca Starter pit target, for example, had the following drill results:
- Hole NB-11-91: 80.8m @ 0.58 g/t Au
- Hole NB-12-118: 45.7m @ 0.56 g/t Au
- Hole NB-12-119: 16.8m @ 0.58 g/t Au and 24.4m @ 0.59g/t Au ending in mineralization
- Hole NB-13-219: 67.0m @ 0.52 g/t Au
- Hole NB-13-220: 44.2m @ 0.62 g/t Au
Another target at Jolly Jane to the east returned results of 138.7m at 0.27 g/t Au in one hole.
Again, the current resource does not include any of these drill results and I believe much exploration upside remains as the deposit is open in all directions for expansion.
A Possible Option for Getting Into Production
The company will need to either issue shares or take on debt to get the deposit into production, as is the case for virtually all gold companies getting a mine up and running.
As I mentioned before, the deposit will require at least $100 million to get into production, which is quite low for a mine of this size but still a significant amount of money. If the company were to issue 40 million shares at the current price, it would still need to come up with $50-60 million, which could come from debt.
However, I think management should consider selling a gold stream on the deposit to help get into production. I argue that more value is created from a stream than is not. I believe streams are a great way to finance a mine into production, limiting shareholder dilution and the issuance of debt. I strongly prefer it over shareholder dilution, especially since many of these junior miners trade at very low prices.
I'm interested in the thoughts of Corvus Gold shareholders, so please comment below if you agree or disagree with this idea.
Corvus Gold: Enormous Upside Potential
I think this could be a potential 3 million ounce-plus deposit that could produce more than 150-200K ounces of gold a year at low cash costs. If the company is able to achieve that kind of success, we could see Corvus trading at many multiples higher.
Of course, the price of gold is still the most important factor for the company. If you've read this far, however, you are probably bullish on gold in the long-term, just as I am. As gold trades higher, I believe Corvus Gold will follow, and the gains could be quite legendary. If gold remains flat, I still think Corvus Gold offers plenty of potential and could even be a prime takeover candidate for a larger gold miner.
Disclosure: I have no positions in any stocks mentioned, but may initiate a long position in OTCQX:CORVF over the next 72 hours. I wrote this article myself, and it expresses my own opinions. I am not receiving compensation for it (other than from Seeking Alpha). I have no business relationship with any company whose stock is mentioned in this article.