RF Micro Devices (RFMD), is ready for a return to market dominance and as a result should see an increase in its stock price taking it to multi-year highs. Yesterday, there were two pivotal announcements that support my belief in RFMD's forward progress toward becoming the dominant RF systems player in the mobile sector. 1) RFMD announced it is expanding capacity due to increased product demand from one of its key customers. 2) Apple (NASDAQ:AAPL) announced it had sold out its new iPhones in under two days; this beat some analysts' forecasts by almost double (9 million vs. 5 million). In trading, we saw RFMD break out to a two and a half year high on over three times normal volume.
RF Micro Devices Inc is a leading designer and manufacturer of high-performance radio frequency solutions in mobile device, wireless infrastructure, Wi-Fi, cable/broadband, and the aerospace and defense markets.
Here's why I believe RFMD can trade to $7.75 post Thanksgiving Day sales and $10 - $12 by June/July 2014:
Two years ago, RFMD made a concerted effort to be a dominant RF systems player rather than a RF component player by bringing more know-how to the drawing board. The results have been impressive as it was designed into Apple's iPhone and Samsung's Galaxy. As RFMD's CEO confirmed on the conference call, "Our two largest customers are the top two smartphone manufacturers."
Changing strategy has allowed it to garner larger dollar content in the phones while attaining a much broader customer base; it is no longer tied to one or two high volume players, like it was to Nokia (NYSE:NOK) in the late 1990s. As the CEO explained; "Our growth drivers are large, multi-year opportunities that are increasingly less reliant on the unit volumes of any particular phone in a given quarter."
Revenue hit a record $293 million on 45% year-over-year growth. Growth should continue and look for more record numbers in the quarters ahead as the CEO said; "Looking forward, we believe we are strategically well-positioned this fiscal year to deliver record revenue and improving financial performance." I believe a company growing at 45% year over year should garner a much higher valuation than 1.2 times 2015 (March FY).
The CFO, Dean Priddy has been a constant at RF Micro Devices since its days as a private company. He knows fabs inside out and is an expert when it comes to driving utilization rates. He's calling for 300-400 basis points of gross margin expansion in the next two quarters. Do not underestimate him, in fact, bet on him beating those expectations. This is an area where he should come up with four aces. This isn't his first rodeo at RFMD. I think this is the most bullish catalyst to pull from the company.
Three further reasons to buy RFMD:
Apple is selling iPhones like hot cakes again. I believe that RFMD will be designed into iPads and other mobile devices from Apple as it's set to unleash a host of new products into early 2014. As the RFMD CEO noted, "In the higher-tier smartphones and tablets, it's difficult to find an LTE device that doesn't contain an RFMD solution."
I believe that there are just too many players in the sector and that consolidation is a must. The main players are; Anadigics, Inc. (NASDAQ:ANAD), TriQuint Semiconductor, Inc. (TQNT), Skyworks Solutions (NASDAQ:SWKS), Kopin Corp (NASDAQ:KOPN), Broadcom Corp. (BRCM) and Qualcomm Inc. (NASDAQ:QCOM). I believe that RFMD is a key takeover candidate by one of the larger players such as Broadcom and Qualcomm in the next year at $10 - $11 per share.
RFMD still has $150 million remaining to buy in its stock repurchase program. With cash flows increasing, I believe that the repurchase program could soon be reactivated.
Valuation:
RFMD finally has a solid balance sheet with $150 million in net cash.
The company trades at 1.25 times 2015 revenues of $1.4 billion. I believe it should trade at 2 times revenues, which would give it a $10.00 target.
The company trades at 9 times my FY2015 estimate of $0.65. I believe it deserves to trade at 15 times, which would be $10.00.
We should see the company begin to throw off strong cash flows in the coming September quarter (Q3) as gross margins improve dramatically and efficiencies improve throughout the company.
Chart: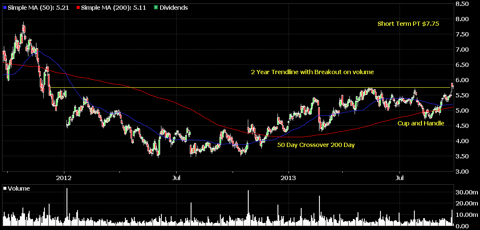 In looking at the chart above, we can see that RFMD just broke above resistance at $5.75 to make a new high. It made this move with a cup and handle pattern and I see this setting up a short-term move to $7.75.
Conclusion
RF Micro Devices dominated the RF component market for handsets back in 1997 - 2000, when it landed Nokia back when Nokia was the Apple of cell phones. Today, I believe RFMD is ready for market dominance as it is more of a comprehensive RF systems player serving more than one large customer, which will bring more certainty to its execution in beating Wall Street's expectations.
Disclosure: I am long RFMD. I wrote this article myself, and it expresses my own opinions. I am not receiving compensation for it. I have no business relationship with any company whose stock is mentioned in this article.