If one thing is certain, it's that stocks in the automotive industry and the companies behind them are on a tear. Recent demand has surged and companies from Ford (NYSE:F), which continues to beat monthly sales expectations, to CarMax (NYSE:KMX), which just crushed its earnings expectations again on Tuesday, are flying high.
AutoZone (NYSE:AZO), another prominent name in the group, is expected to report FQ4 2013 earnings on Sept. 25 before the open. The information below is derived from data submitted to the Estimize platform by a set of buy-side and independent analyst contributors.
The current Wall Street consensus expectation is for AZO to report $10.37 EPS and $3.104B revenue, while our current consensus from six buy-side and independent contributing analysts is $10.41 EPS and $3.093B revenue. The magnitude of the difference between the Wall Street and our consensus numbers often identifies opportunities to take advantage of expectations that may not have been priced into the market.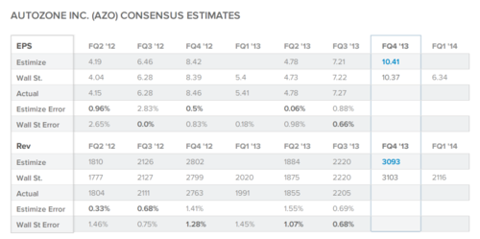 Over the past four months, the Wall Street consensus trend for EPS has been positive, moving from $10.33 to $10.39, while Wall Street revenue expectations have declined from $3.111B to $3.104B. Our consensus for both EPS and revenue has been recently declining as we approach the earnings report.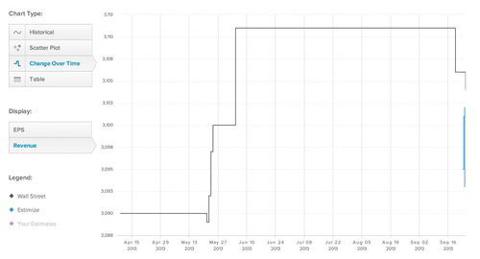 Over the previous eight quarters, AZO has beaten the Wall Street consensus for EPS seven times, while missing the Wall Street Revenue consensus five times. Over the five previous quarters for which we have our consensus data, AZO has only beaten the EPS consensus two times and has missed the revenue consensus all five times. These factors combine to give us a great deal of confidence that AZO will once again come up short on the revenue side.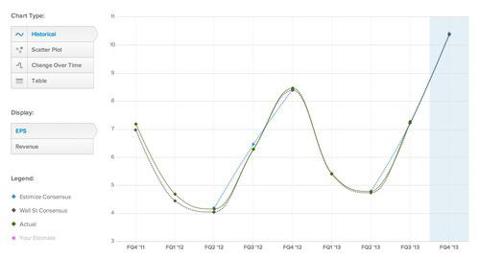 The distribution of estimates published by analysts on Estimize range from $10.20 to $10.51 EPS and $3.050B to $3.119B revenue. We are seeing a wider distribution of estimates for both EPS and revenue than we have in the previous three quarters. The size of the distribution of estimates relative to previous quarters often signals whether or not the market is confident that it has priced in the expected earnings already. A wider distribution signaling the potential for greater volatility post earnings, a smaller, vice versa.
The analyst with the highest estimate confidence rating this quarter is Derald Muniz from Presidium Capital who projects $10.39 EPS and $3.017B revenue. Estimate confidence ratings are calculated through algorithms developed by our deep quantitative research that looks at correlations between analyst track records and tendencies as they relate to future accuracy.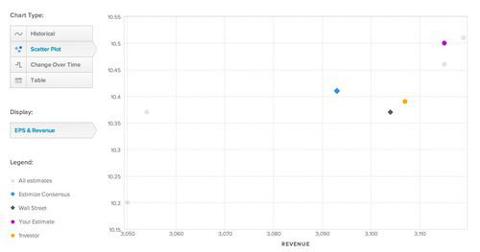 These factors give us confidence that while AutoZone may exceed expectations for EPS, their top-line revenue numbers may once again fall short.