The European telecoms sector offers very attractive dividend yields, which may represent an opportunity for income investors. Previously, I've suggested Vodafone (NASDAQ:VOD), especially after the agreement to sell its stake in Verizon Wireless (NYSE:VZ). Another European telecom company that offers a compelling investment is TeliaSonera (OTCPK:TLSNY), a Nordic operator with a broad exposure to emerging markets, which has an attractive dividend yield of 5.8%. TeliaSonera has a market capitalization of $33 billion and trades in the U.S. as American Depositary Receipts.
Company Overview
TeliaSonera is the result of a 2002 merger between Swedish and Finnish telecommunications companies Telia and Sonera. This merger followed shortly after Telia's failed merger with Norwegian telecommunications company Telenor (OTCPK:TELNY), now its chief competitor in the Nordic countries. TeliaSonera has a long corporate history given that Telia was founded in 1853, being the incumbent telecom operator in Sweden and Finland. Its headquarters are based in Sweden and at the end of 2012, it had more than 27,000 employees. Its main shareholders are the Swedish state with an equity stake of 37% of outstanding shares, and Finland with a stake of 10.1%, which was recently reduced from 11.7%. As the company is mainly owned by two governments, it is unlikely that a takeover offer would be successful. Indeed, Orange (NYSE:ORAN) proposed a €33 billion ($44.5 billion) acquisition in 2008 that was rejected by TeliaSonera's board.
TeliaSonera provides network access and telecommunication services to individual and corporate customers. The company is organized into three business areas: mobility services, broadband services and Eurasia. It offers mainly mobile communications, but in the Nordic and Baltic countries it offers both mobile and fixed line services. The company offers its services in several countries, including the Nordic and Baltic countries in Europe, the emerging markets of Eurasia, including Russia and Turkey, and in Spain. At the end of the second quarter of 2013, TeliaSonera had more than 183 million customers through its majority-owned operations and associated companies.
TeliaSonera is one of the largest telecom operators in Europe, holding a leading position in Sweden, a number two position in Finland and Norway, and a No. 3 position in Denmark. The company also holds leading market positions in the three Baltic countries Estonia, Latvia and Lithuania. In emerging markets, it is the leader in Kazakhstan, Azerbaijan, Tajikistan, Georgia and Nepal. These markets have on average lower mobile penetration rates than developed markets, and should be the major source of the company's growth over the next few years. On the other hand, in Spain it is only the fourth market player and has a small market share of 5%. TeliaSonera has stated that this operation is for sale, but so far it is not able to dispose of it.
Indeed, TeliaSonera's seven companies in Eurasia remain its engines of growth, with high margins and four times as many subscriptions today as in 2007. These operations are very profitable, with EBITDA margins around 50%. The company's major priority at present is to expand its business in Eurasia, where it enjoys a market of a combined 380 million with modest access to internet/telecommunication services. Although the operations in Eurasia are an important growth driver for TeliaSonera, they also carry a higher risk profile than the company's traditional operations. For instance, the company was hurt due to allegations of bribery in Uzbekistan a few months ago, which increases its risk-profile and adds uncertainty to its earnings visibility.
Associated Companies
Apart from its majority-owned mobile operations in Eurasia, TeliaSonera has two large shareholdings in associated companies Megafon in Russia and Turkcell (NYSE:TKC) in Turkey. TeliaSonera owns 25% of Megafon, the second-largest mobile and broadband operator in Russia and is one of the company's controlling shareholders since its inception in 1994. It also owns 38% of Turkcell, the mobile market leader in Turkey. These two associated companies account for more than 111 million of TeliaSonera's subscribers and almost half of its operating income. Moreover, the subscription growth is much higher in the associated companies than subsidiaries, implying an even higher weight on the group's number of customers and income over the coming years.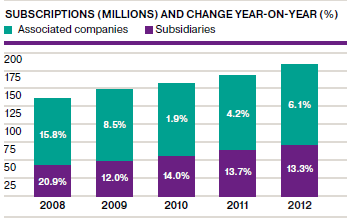 However, these associated companies have been an issue for TeliaSonera over the past few years due to shareholder disputes. It was able to resolve the situation at Megafon in 2012, reaching clear ownership conditions and have floated the company on the stock market. In Turkey, TeliaSonera continues to face issues due to the Cukurova-Altimo dispute, with two Annual General Meetings canceled during the past quarter. Moreover, Turkcell's dividend payments are suspended and a resumption is not expected until the ownership dispute is resolved.
Financial Results
In 2012, despite the strong growth (about 15 million) in the number of subscriptions, TeliaSonera's revenues were unchanged from the previous year at $16.5 billion. Eurasia posted strong growth during the year (+13.9%), which compensated the revenues decline on Mobility Services (-1.8%) and Broadband Services (-2.6%). Its EBITDA declined 3% to $5.7 billion, leading to a lower EBITDA margin of 34.4%. TeliaSonera's net income increased by 8% to $3.1 billion, benefiting from higher income from associated companies and lower tax expenses. Its earnings-per-share amounted to $0.73, an increase of 9% from the previous year. TeliaSonera has recently launched a cost reduction program that it expects will lead to cost reductions of more than $300 million over the next two years, supporting its profitability going forward.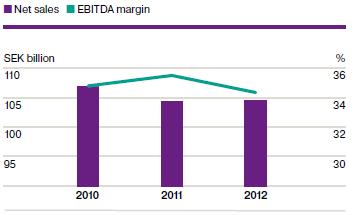 In the second quarter of 2013, revenues decreased by 3.9% to $4 billion, impacted by currency fluctuations. In local currencies, TeliaSonera's revenues increased by 0.4%. Its EBITDA margin increased to 35.3%. On the other hand, its net income and EPS decreased considerably. Nevertheless, the group's outlook for 2013 is for net sales in local currencies to be flat, and its EBITDA margin should improve slightly compared to the previous year (34.5%).
Dividends
Regarding TeliaSonera's dividend history, it has a very good history since its merger in 2002. Over the past five years its dividend CAGR was 12%, which is very good, but in 2012, the dividend was unchanged from the previous year at SEK 2.85 ($0.45) per share. However, compared to many European operators, which are cutting or not paying dividends, TeliaSonera's unchanged dividend does not appear that bad. Its dividend payment frequency is annual.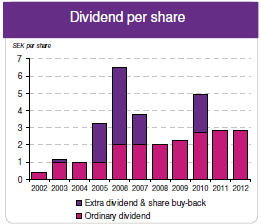 Its dividend payout ratio was between 42% and 67% from 2008 to 2012, which is an acceptable range for a telecom company. In 2012, its dividend payout ratio was 62%, a small decrease from the previous year due to higher EPS. TeliaSonera's dividend policy is to pay at least 50% of net income, and it can pay extraordinary dividends to shareholders if it considers to have excess capital. However, the last time the company paid an extraordinary dividend was in 2007 but has performed share buybacks in 2010.
TeliaSonera is investing primarily in infrastructure, licenses for mobile network and fiber. In 2012, the company's capital expenditures (capex) amounted to $2.53 billion or 15% of its revenues. It has launched 4G in all the Nordic and Baltic markets, as well as in several countries in Eurasia. Capex was amply funded by the company's cash flow from operations, which amounted to $6.1 billion in 2012. Operating cash flow increased considerably during the year, mainly driven by dividends from associates, namely dividends received from Megafon. For 2013, the company expects capex to be lower than in 2012, which will improve even further its cash flow generation.
TeliaSonera's cash flow generation capacity is quite good, and in 2012 it reached its record high free cash flow. Before dividends, the company's free cash flow amounted to $3.75 billion. This was more than enough to finance dividend payments ($.19 billion) and to reduce the company's leverage, which is clearly a good proposition for income investors. Therefore, from a cash flow perspective TeliaSonera's dividend appears to be sustainable.
Regarding the company's balance sheet, it has a strong position given that its net debt at the end of the second quarter of 2013 was about $10.5 billion. Its net-debt-to-EBITDA ratio was only 1.85x, which is within its target range of 1.5 and 2.0. This is relatively low and a lower ratio than for many of its European peers, which is also supportive for TeliaSonera's dividend policy.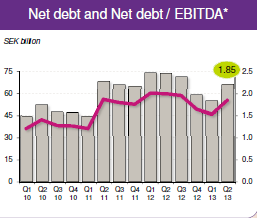 Conclusion
TeliaSonera is an interesting income investment benefiting from strong market positions in Nordic countries, which are less susceptible to the European crisis and broad geographical diversification into emerging markets. Moreover, the dividend is supported by a relatively low payout ratio, the company's good cash flow generation, and strong balance sheet. On the other hand, although TeliaSonera's valuation appears to be undemanding, trading at only 11.8x its 2013 earnings, its exposure to volatile emerging markets with high geopolitical risks and its ownership disputes in Turkey justify TeliaSonera's low valuation.
Disclosure: I have no positions in any stocks mentioned, and no plans to initiate any positions within the next 72 hours. I wrote this article myself, and it expresses my own opinions. I am not receiving compensation for it (other than from Seeking Alpha). I have no business relationship with any company whose stock is mentioned in this article.