In contrast to many reports on SA by analysts, outlook for the iPhone 5s has greatly improved, as sentiment on the street is going from negative to positive. In light of the recent news for the iPhone, Apple's (NASDAQ:AAPL) iPad still remains an important component of its business model, and the iPad needs success in the future if Apple wants to generate future revenue growth.
The rise of the tablet computer has been a great thing for Apple so far, with the release of the iPad in 2010. When writer Walt Mossberg asked Steve Jobs how he considered making a tablet after the iPhone became a big hit, which came out first in 2007 before the iPad, Jobs gave an interesting response:
I'll actually tell you. It's kind of a secret. I actually started on the tablet first...this was in the early 2000s. (AllThingsD8, 36:55)
It's precisely these kind of moments that fuel the speculation of Apple watchers wondering what exactly is Cupertino up to nowadays as it sits on its pile of cash?
For now, it is important to analyze Apple assuming that it won't release a revolutionary and profitable product in the near future. It'll be clearer to see if revenue growth is sustainable. In my last article using China as a case, opportunities do exist for Apple's iPhone as the global market for smartphones continues to grow, and people in emerging markets buy Apple products. The iPhone and the iPad are the two products that are the main drivers of Apple's revenue growth, as it has transformed into a company that no longer relies solely on PC sales. Long-term prospects for revenue growth from the iPad still look promising as the global appetite for tablets is forecasted to increase substantially.
Steve Jobs' Prediction For The Future of Tablets
The "magical" Apple iPad was announced in a media event in January 2010. In June 7, 2010, Steve Jobs made his prediction for the future of the tablet industry publicly with an analogy:
When we were an agrarian nation all cars were trucks because that's what you needed on farms...but as Americans moved into the urban areas cars got more popular. And now, probably one out of every 35 vehicle is a truck. PCs are going to be like trucks. PCs...are still going to be around...but they are going to be used by one out of X people. And this transformation is going to make some people uneasy...I think we have embarked on that. (AllThingsD8, 43:30)
The iPad Since Jobs' Prediction
Apple iPad Quarterly Revenue 2010-2013
| | | | |
| --- | --- | --- | --- |
| Quarter | Units (in thousands) | Revenue $M | Sequential Revenue Change |
| Q3'2013 | 14,617 | $6,374 | -27% |
| Q2'2013 | 19,477 | $8,746 | -18% |
| Q1'2013 | 22,860 | $10,674 | 50% |
| Q4'2012 | 14,036 | $7,510 | -18 |
| Q3'2012 | 17,042 | $9,171 | 39% |
| Q2'2012 | 11,798 | $6,590 | -28% |
| Q1'2012 | 15,434 | $9,153 | 33% |
| Q4'2011 | 11,123 | $6,868 | 14% |
| Q3'2011 | 9,246 | $6,046 | 113% |
| Q2'2011 | 4,694 | $2,836 | -38% |
| Q1'2011 | 7,331 | $4,608 | 65% |
| Q4'2010 | 4,188 | $2,792 | 29% |
| Q3'2010 | 3,270 | $2,166 | N/M |
*includes revenue from sales of iPad, iPad services, and Apple-branded and third-party iPad accessories. Source: Apple Earnings Releases
The iPad has been a success, but revenue growth is fluctuating. Comparing sequential revenue change has its uses to depict iPad growth with somewhat of a discernible pattern. All the Q2s above have negative sequential revenue change. All of its Q1s, however, have been positive significantly. It'll be interesting to see if these trends continue in the future. 2013 Q2 and Q3 are the only back to back negative changes sequentially so far. Luckily this was offset by an increase in iPhone sales. Comparing quarters year over year (Y/Y) demonstrates growth by also taking seasonal consumer patterns into account. In terms of revenue Y/Y growth, there has been an increase in every set of quarters other than the most recent quarter.
More importantly, the key highlight from what the numbers suggest is that iPad sales are growing in an upwards trend. In the short-term, iPad sales have fallen from its peak, but it has tripled in revenue if comparing 2010 Q3 to the latest quarter.
In the case of Apple, Job's prediction of tablets taking over PCs is coming true. In the first quarter the iPad was introduced the Mac PCs (includes laptops) generated $2.23 billion more than the iPad. With Macs still holding strong in revenue, in the most recent quarter the iPad made $1.48 billion more. Since 2011 Q3, Apple has made more revenue on its iPad than its Mac PCs each quarter for two years. In comparison, Dell (NASDAQ:DELL) and HP (NYSE:HPQ) have not been able to innovate and introduce a new product that generates more sales than its PCs.
The Tablet Market Will Grow Long-Term But Competition Is Increasing
In a recent report, International Data Corp. (IDC) forecasts growth to reach 227.4 million units in 2013. By 2017, worldwide shipments could reach 407 million units. These kind of numbers are certainly extremely encouraging for all tablet makers. If Apple can maintain its market share, then revenue growth from the iPad should be great in the future. These forecasts directly rebut arguments that there is no longer any opportunities for growth for Apple.
Gartner has more conservative estimates for 2013 at 201 million. More importantly, they see a decline in PC shipments as tablets are expected to over take PCs in number of unit sold sometime in 2015. They, however, confirm future growth in tablet shipments as 2014 is expected to sell 38% more tablets.
Worldwide Devices Shipments by Segment (Thousands of Units)
| | | | |
| --- | --- | --- | --- |
| Device Type | 2012 | 2013 | 2014 |
| PC (Desk-Based and Notebook) | 341,273 | 305,178 | 289,239 |
| Ultramobile | 9,787 | 20,301 | 39,824 |
| Tablet | 120,203 | 201,825 | 276,178 |
| Mobile Phone | 1,746,177 | 1,821,193 | 1901,188 |
| Total | 2,217,440 | 2,348,497 | 2,506,429 |
Source: Gartner (June 2013)
Tablet shipments have been increasing year over year. 2013 Q2 indicates Apple lost market share however. Recent earnings also did not see any revenue growth from the previous quarter. Although after losing almost half of its market share to competitors, remarkably, Apple only lost 14% in Y/Y shipment growth. This is attributed to a growing tablet market. Samsung's (OTC:SSDIY) tablet sales grew at a considerable pace.
Top Five Tablet Vendors, Shipments, and Market Share, Second Quarter 2013 (Shipments in millions)
| | | | | | |
| --- | --- | --- | --- | --- | --- |
| Vendor | 2Q13 Unit Shipments | 2Q13 Market Share | 2Q12 Unit Shipments | 2Q12 Market Share | Year-over-Year Growth |
| 1. Apple | 14.6 | 32.4% | 17.0 | 60.3% | -14.1% |
| 2. Samsung | 8.1 | 18.0% | 2.1 | 7.6% | 277.0% |
| 3. ASUS | 2.0 | 4.5% | 0.9 | 3.3% | 120.3% |
| 4. Lenovo | 1.5 | 3.3% | 0.4 | 1.3% | 313.9% |
| 5. Acer (OTC:ASIYF) | 1.4 | 3.1% | 0.4 | 1.4% | 247.9% |
| Others | 17.5 | 38.8% | 7.4 | 26.2% | 136.6% |
| Total | 45.1 | 100.0% | 28.3 | 100.0% | 59.6% |
Source: IDC Worldwide Tablet Tracker, August 5, 2013.
When confronted with this evidence of loss of market share and surging demand in tablets other than the iPad, CEO Tim Cook rebuts by citing data from Chitika Insight's survey of tablet usage. This study finds that 84.3% of web traffic usage on tablets in North America come from iPads. Apple still has a large market share. People might be buying more tablets of other brands, but people who have iPads use theirs significantly more. There may also be people who have both an iPad and a non-Apple tablet but use their iPad more. Although Cook's argument does carry some weight it's limited in scope to North America. It also raises the question of what exactly can Apple do about its loss of market share to competition other than fight it out overtime? Apple already has brand, quality, customer service, and a superb application ecosystem on its side.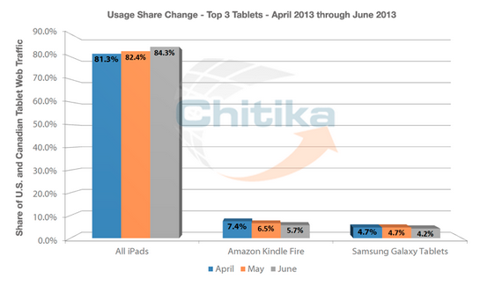 Source: Chitika Insights, June 2013
Conclusion
Ever since Steve Jobs made his prediction in 2010, it is safe to say that Apple has been preparing for the decline of their Mac PC business. So far Macs have been holding up fairly well but its only been a few years since the rise of the tablets. PC shipments are expected to decline. The iPad has replaced the Mac as the second largest source of revenue, correctly predicted by Jobs at the start. What is unclear however is the extent of the decline of the PC industry going forward. Will PCs really become trucks in the future? There are indicators now that would say yes. In any case, Apple is positioned well for this trend as iPads have replaced their PC division in terms of revenue.
Overall, the market for tablets going forward looks very promising. If IDC forecasts hold up then shipments are going to be almost twice as much as what they are now by 2017. As the industry leader in tablets, it would be fairly safe to presume Apple is going to benefit from this trend. In the short-term things look unclear with declining market share, increased competition, and a recent slow down in revenue from iPads. If everything was great Apple would be at $700 though. It is precisely because there is uncertainty that allows investors to profit. Once again, some strengths of Apple include brand, quality, and a huge pile of cash to weather storms. Not many people really expect Samsung, Lenovo, or Acer to really be the first to revolutionize an industry either. Apple, on the other hand, is arguably a different story as people demand newer and more innovative products every year. The iPad will be a driver of growth in the long-term.
Disclosure: I am long AAPL. I wrote this article myself, and it expresses my own opinions. I am not receiving compensation for it (other than from Seeking Alpha). I have no business relationship with any company whose stock is mentioned in this article.