Coleman Cable (NASDAQ:CCIX) is a small-cap company that is likely to benefit from the recovery in the housing market. The company manufactures wire, cable, and other electrical products. Coleman's Distribution segment comprises 69% of total revenue with the OEM segment comprising 25% and Engineered Solutions comprising 5.4%. The Distribution segment sells its products to a variety of industries which includes: appliance, automotive, construction, HVAC, industrial, OEM, and security. Some of the individual products in this segment include various wires & cables for buildings, industrial power, voice/data, high temperature, irrigation/pump, thermostats, temporary power, and welding. It also includes lighting solutions, timers and home controls, extension cords, and automotive aftermarket products. Many of these products are used as the veins and arteries of new homes and commercial buildings. So, I think that the company will experience increased sales as the housing market continues to show gains and as new construction in commercial real estate recovers. As the market for new construction improves, Coleman's various wires will be in greater demand. Wires for appliances, house and commercial building electrical wires, HVAC wires, etc. should all see increased demand as a result of the recovery.
Priced Well in Relation to Competitors
The company's competitors, Belden (NYSE:BDC) and General Cable Corp. (NYSE:BGC) have a higher valuation, so I think that Coleman is better positioned to capture the gains from the housing market recovery. As an investment, Coleman's stock is likely to outperform these competitors based on valuation and future earnings growth. Here's how the companies stack up:
| | | | | |
| --- | --- | --- | --- | --- |
|   | Coleman | Belden | General Cable | S&P 500 (NYSEARCA:SPY) |
| Trailing PE Ratio | 14.5 | 16.2 | N/A | 17.4 |
| Forward PE Ratio | 10.5 | 15.6 | 11.5 | 15.6 |
| PEG | 1.19 | 1.9 | 1.6 | 1.4 |
| EV/EBITDA | 7.61 | 13.52 | 8.7 | N/A |
Belden is trading approximately in-line with the market as measured by the S&P 500. This is a result of the company performing well, beating its earnings estimates in its last three quarters. General Cable had a rockier record, beating estimates in two out of its last four quarters. Coleman had a great year, beating its estimates in the last three quarters while the housing market has recovered. Although Coleman's stock doubled this year, the valuation remains under that of the S&P 500 and its competitors. Coleman is not a household name for many investors since it is a small company and sells products that most people take for granted. With its products located behind walls & inside appliances, Coleman's valuation has remained attractively below the market as the stock is not well known to many investors. I like that Coleman is priced at only 10.5 times next year's earnings of $1.94 per share. The PEG slightly above one shows that the stock is priced well in terms of its 5-year projected earnings growth as compared to competitors. Coleman's low EV/EBITDA shows that the company has strong earnings in terms of its theoretical takeover price (enterprise value) as compared to its competitors. Overall, Coleman is priced more attractively than the market and its competitors. Therefore, the stock should continue to experience gains as the price is still attractive while earnings continue to grow, driven by the recovering housing market.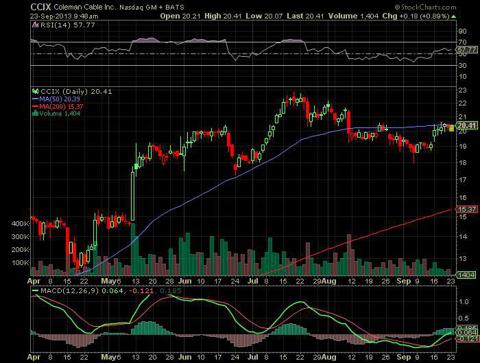 New Home and Commercial Construction to Drive Growth
New home construction has shown strength in 2013. This momentum should continue into next year as interest rates are still low and as pent up demand for new construction drives the market for new homes. Commercial construction typically follows new home construction, so that should provide a boost for Coleman as both residential and non-residential markets make gains. Coleman's products are the veins and arteries of these structures in the form of electrical wires, appliance wires, etc. Therefore, increased demand for new home and commercial construction should drive demand for Coleman's products.
I wouldn't worry about the U.S. Federal Reserve tapering its bond buying program to increase interest rates. If the Fed does taper, it will be because the economy has shown significant improvement, which should be positive for new construction. If the need to taper arises, then the economic strength should outweigh any resulting rise in interest rates in terms of growth for new construction. Money is simply flowing into new home construction, which means that non-residential construction is not far behind. I don't think that a slight rise in interest rates will put much of a damper on the momentum in new home construction sales. I think that new home sales will be able to continue their increase in the face of slight increases in interest rates because of gains in the economy.
The U.S. is still well below the 50-year average annual sales of 1.5 million for new homes. New housing starts are estimated to be about 1 million units this year and approach about 1.3 million units next year. This growth should provide a significant boost to Coleman's product sales. Demand for Coleman's building wires, appliance wires, security wires, HVAC wires, etc. will be needed for these new structures. The resulting increase in sales should allow for increased earnings growth.
With the costs of copper relatively low, Coleman's margins are likely to widen. The company should also be able to pass on reasonable increases in copper prices to customers. This will keep margins healthy as the increases in revenue keep up with the increase in costs. Competitors such as Belden and General Cable will be faced with doing the same in the event of rising input costs. Rising input costs would only be troublesome if Coleman was unable to pass on the costs to customers. This would be a result of high inflation. However, I think that the Federal Reserve will be able to keep a lid on inflation by tapering its bond buying program when the need arises. The Fed can also raise interest rates to keep inflation down when necessary.
Outlook for 2013 and Beyond
Coleman had a great start to the year, beating its earnings estimates for the 1st and 2nd quarters. The company tends to experience seasonality, where sales are typically higher in the third and fourth quarters. Therefore, the company is set-up well for the second half of the year. The company is already nearing the end of its third quarter and I think the momentum that it experienced in the 1st half of the year will continue in the second half. One reason is due to customers responding to the increase this year in new housing starts. Customers are likely to boost orders in anticipation of higher new construction starts for the second half of 2013 and into 2014. The company tends to benefit from sales about 6 months after a housing recovery is underway. Therefore, sales should increase for the third and fourth quarters as Coleman sees the benefits of the recovery. The company should be able to meet or beat its expectations of sales of $230 million to $250 million and EPS of $0.37 to $0.52.
The company is currently testing three products that would produce significant revenue if they make it from the pipeline to the market. If these products pass the test, the order flow is expected to begin by mid-2014. There are not many details about these products at this time. However, the company did sound positive about this development on the recent conference call. If these products make it to the market, the company could get a nice revenue boost for the 2nd half of 2014.
Coleman has a plan to expand margins by 30 to 50 basis points per year. The company is likely to accomplish this by achieving operating cost efficiencies. By using a 'just in time' inventory system, Coleman is better aligning its manufacturing capacity with end market demand. Since the business is typically seasonal, Coleman increases its inventory for the busier third and fourth quarters. This allows for a leaner, lower cost inventory system, which positively contributes to margin expansion.
The company also has its eyes on strategic acquisitions when such an opportunity arises. In 2012, Coleman completed its acquisition of Watteredge Inc. Coleman was able to widen its product diversity with this acquisition. Secondary power connectors such as electric arc furnace cables, resistance welding cables, and industrial high-performance copper bus and similar products were added to the portfolio. Coleman continues to look for other strategic acquisitions to grow the business and increase value for shareholders.
Commoditized Products Cause Competitive Risks
Since the company's wire and cable products are similar to its competitors in terms of quality, Coleman competes mostly on price. This creates a risk for Coleman as foreign competitors could increasingly enter the market and offer lower prices for similar quality. A Foreign competitor such as China-based Hangzhou Galaxy Wire & Cable could increase its business in the North American market and eat into Coleman's market share. I think that Coleman can compensate for this by keeping a focus on close customer relationships, brand recognition, and efficient delivery of orders. Customers may feel more comfortable dealing with a company that is reliable in these areas. Customers may also feel more comfortable dealing with a local, U.S. based company where orders can be received timely and reliably.
Conclusion
With sales of new homes on the increase again and with the likelihood of the new non-residential construction market to improve, I think that Coleman is in a good position to experience increased business. The company's products act as the cardiovascular network for electrical systems in new homes and buildings. Not only are Coleman's products used behind walls, but they are also in some of the appliances and HVAC systems in these structures. The company's valuation is still attractively undervalued relative to the market and to its competition. Operating efficiencies such as just in time inventory management should allow for margin growth. If new home construction increases as expected over the next year, I think that Coleman's stock can reasonably increase by about 20% over the next year. This is based on an approximate 13% increase in earnings growth for next year as sales of new homes increase by about 30% to about 1.3 million units. The stock price increase is also based on the current undervaluation, which should help catalyze the stock.
Disclosure: I have no positions in any stocks mentioned, and no plans to initiate any positions within the next 72 hours. I wrote this article myself, and it expresses my own opinions. I am not receiving compensation for it (other than from Seeking Alpha). I have no business relationship with any company whose stock is mentioned in this article.