Dividend Growth Newsletter portfolio holding Realty Income (NYSE:O) announced John Case will succeed the departing Tom Lewis as CEO. Being named CEO is a rare feat at Realty-he will be just the third CEO in its 44-year history.
Case isn't short on experience, spending 19 years in real estate investment banking, spanning several firms and working on over $100 billion worth of transactions. Case came to Realty in April 2010 as President and Chief Investment Officer, so he's incredibly familiar with the corporate culture and the strategy that the firm has successfully implemented over its history. It's fair to believe Case was behind some of the recent reshuffling in the company's property portfolio that includes a reduced reliance on movie theaters, replacing them with strong tenants like LA Fitness and FedEx (NYSE:FDX). Case should be a strong leader.
As for Lewis, we aren't reading much into him leaving. Lewis had been CEO since 1997, and during his reign as CEO, he made himself (and shareholders) plenty of money. At 59, Lewis isn't terribly old, but we believe his decision for retirement was for personal reasons rather than a belief that the company is heading toward a decline.
Recent Events
In late August, the firm announced its 518th monthly distribution payment. The monthly dividend was flat sequentially at 18.15 cents per share, but the firm has plenty of room to grow its payout going forward. Realty Income also just raised its dividend from 18.12 cents per share to 18.15 in July.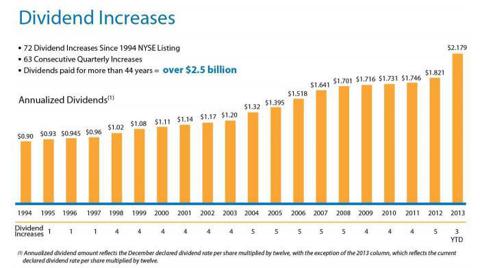 The firm recently reported fantastic second quarter results July 25 driven largely by improving adjusted funds from operations (AFFO) that surged 18% year-over-year to $0.59 per share. Revenue was 63% higher than the prior-year period at $184.3 million, driven mostly by acquisitions. Same-store rents rose 1.1% year-over-year, representative of a more-favorable rent environment, but also of Realty's ability to negotiate leases with upside.
Importantly, AFFO distribution coverage remained robust at 1.08x (AFFO/Distributions), allowing the company to readily pay distributions out of income rather than equity or debt raises.
Speaking of debt, Realty received positive news from the credit markets with S&P now assigning the company a BBB+ rating on senior unsecured debt (was BBB) and a preferred stock rating of BBB- (was BB+), reflecting broader confidence in the firm's viability. This helped Realty sell $750 million of senior unsecured 10-year notes at 4.65%, allowing the firm to repay all existing borrowings under its credit revolver. Carrying an effective rate of 4.678%, the annual $35 million interest commitment will not be cumbersome at all.
Valuentum's Take
All-in, recent news bodes well for Realty Income. The firm had strong financial performance during the second quarter, and it continues to diversify its holdings to potentially uncorrelated fortunes. Unfortunately, a stronger economy and housing market have led to discussions of the Federal Reserve tapering bond purchases and allowing interest rates to rise, which has caused downward pressure on higher-yielding equities.
Still, we think shares of Realty Income look relatively inexpensive, and the firm has the potential to keep increasing dividend coupons going forward. We may look to increase our position in the portfolio of our Dividend Growth Newsletter on any material weakness.
Disclosure: I have no positions in any stocks mentioned, and no plans to initiate any positions within the next 72 hours. I wrote this article myself, and it expresses my own opinions. I am not receiving compensation for it (other than from Seeking Alpha). I have no business relationship with any company whose stock is mentioned in this article.