Value-oriented retailer Dollar General (NYSE:DG) posted solid second quarter results. Revenue increased 11% year-over-year to $4.4 billion, modestly exceeding consensus estimates. Earnings-per-share was 12% higher than the year ago period at $0.77 (excluding certain items). Free cash flow was strong year-to-date at $176 million, equal to 4% of total revenue.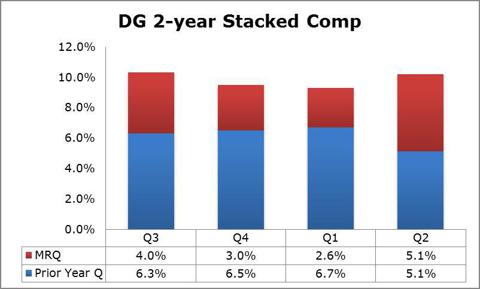 Click to enlarge
Image Source: Company Filings
Dollar General's same-store sales expansion was incredibly strong during the second quarter, growing 5.1% year-over-year on top of 5.1% growth during the prior year period. Tobacco product sales appear to be driving much of the increase, and management provided an interesting way of looking at product sales, as CEO Rick Dreiling said on the conference call:
"Our experience so far reinforces my belief that traffic is the most important metric to watch as we measure the overall success of our decision to add tobacco products in our stores. Our sales and our traffic are continuing to build each week, along with our customers' awareness.
Tobacco sales are consistently running about 1/3 tobacco-only, and the remaining 2/3 are tobacco plus one or more items."
We agree with Dreiling's assessment, though it is hard to quantify what percentage of the tobacco buyers that make other purchases were already shopping at Dollar General. Still, we're happy to see positive momentum in traffic, especially after the poor showing from Wal-Mart (NYSE:WMT) during its second quarter. Family Dollar (NYSE:FDO) also posted positive comps during its second quarter, but the firm's numbers weren't as robust as those of Dollar General.
With tobacco sales and consumables accounting for a larger percentage of the sales mix, the firm's gross margin (%) continues to decline, falling 65 basis points year-over-year to 31.3%. A declining gross margin (%) isn't necessarily desired, but as long as gross margin dollars ($) keep growing faster than SG&A expenses, then we do not believe that a lower gross margin (%) should be much of a concern. In fact, SG&A declined 23 basis points year-over-year to 21.9% of total revenue as higher sales helped leverage fixed costs.
Merchandise inventory growth was roughly in-line with sales growth on a per-store basis, growing 11% year-over-year to $2.53 billion. We only become concerned when inventory growth exceeds sales growth, so we are comfortable with current inventory levels.
The firm did not repurchase any additional shares after it announced it had bought back $200 million worth in mid-June, fueling speculation that Dollar General may take a run at competitor Family Dollar. The relatively fragmented dollar store market seems ripe for consolidation, but we do not believe Dollar General has the financial strength to do so at this time. The firm could easily add more long-term debt to the balance sheet, but we doubt management would have spent so much money on share repurchases if a big acquisition was around the corner.
Looking ahead, fiscal year 2013 guidance was unchanged from that given in the prior quarter. Dollar General expects sales to advance 10-11% on same-store sales increases of 4-5%. With more tobacco and consumables, the company's gross margin is expected to decline 90 basis points compared to the prior year (31.7% in fiscal year 2012). As a result of strong sales growth and lower gross margins, management anticipates earnings per share of $3.15-$3.22, up from the $2.85 the firm earned in 2012.
Valuentum's Take
Dollar General's second-quarter numbers were solid and roughly in-line with what management had been forecasting. Consumables are having a positive impact on sales and a negative impact on the company's gross margin, but overall, total profit dollars are increasing. Still, we think shares look fairly valued at this time, so we're not rushing to add them to the portfolio of our Best Ideas Newsletter.
Disclosure: I have no positions in any stocks mentioned, and no plans to initiate any positions within the next 72 hours. I wrote this article myself, and it expresses my own opinions. I am not receiving compensation for it (other than from Seeking Alpha). I have no business relationship with any company whose stock is mentioned in this article.