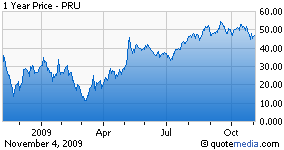 Prudential Financial (NYSE:PRU) is expected to report Q3 earnings today after the market close with a conference call scheduled for tomorrow at 11:00 am ET.
Guidance
Analysts are looking for EPS of $1.33 on revenue of $6.65B. The consensus range is $1.08-$1.77 for EPS, and $6.43B-$6.91B for revenue.
Analyst Views
Credit Suisse late last month said that it was comfortable with Prudential's liquidity and debt profile, after the company raised about $1.25B by issuing additional stock in June. Credit Suisse raised its target on the stock to $55 from $51 and increased its 2010 EPS estimate for the company to $5.80 from $5.61. It maintains an Outperform rating on the stock.
Meanwhile, Prudential investors may be heartened by Nippon Life Insurance's decision to buy a $500M convertible note from Prudential last month. Nippon Life will be able to exchange the note for Prudential stock in five years. Prudential shareholders may also be encouraged by in-line or better than expected results reported by several insurers. Hartford Financial (NYSE:HIG), Principal Financial (NYSE:PFG) and Progressive (NYSE:PGR) have all reported better than expected EPS recently, while MetLife (NYSE:MET) reported in-line EPS.
On a negative note, a Morgan Stanley analyst downgraded Prudential to Equal Weight from Overweight on September 30. The firm cited valuation, as well as Prudential's exposure to commercial real estate, for the downgrade. Morgan Stanley also downgraded the entire life insurance sector to In-Line from Attractive. The firm thinks the life insurers may face high credit losses, and it believes that the companies in the sector could be hurt by weakness in commercial real estate and downward revisions by ratings agencies. Prudential's stock has dropped to $46.45 in early afternoon trading today, from $54.63 on September 16.