After posting a strong end to fiscal year 2013, fiber-optics maker Finisar (NASDAQ:FNSR) registered fantastic results for its fiscal 2014 first quarter. The firm set an all-time quarterly revenue record of $266 million, up 9.3% sequentially and exceeding consensus estimates. Earnings per share on a non-GAAP basis soared 55% year-over-year to $0.31 per share, in-line with consensus expectations.
The boom in telecom carriers like AT&T (NYSE:T), Sprint (NYSE:S), and T-Mobile (NASDAQ:TMUS) investing in 4G LTE technology helped lift demand during the first quarter. Telecom had been an area of weakness during the firm's fourth quarter. CEO Eitan Gertel added some commentary on the products driving first-quarter strength and the potential for LTE to drive sales going forward, saying on the conference call:
"Our client-side solid XFP and SFP+ also had strong demand in the wireless base station markets. As more carriers deploy LTE, we expect the demand for these types of single-mode 10G transceivers to continue to grow for both remote antennas and backhaul applications."
Management also gushed about adoption of its 100GB Ethernet Transceivers that help transport Ethernet frames at higher speeds (they were the stars of the show during the fourth quarter). The firm also continues to ramp production of its next generation CFP LR4 modules which provide 1 terabyte worth of bandwidth.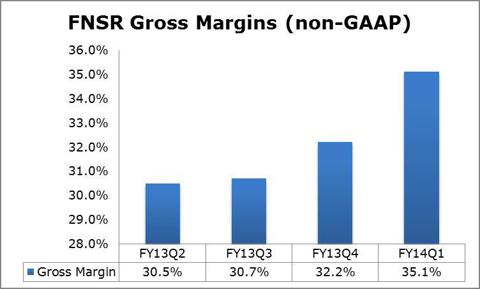 Source: Valuentum, Company Filings
On the cost side of the equation, we saw phenomenal gross margin performance. Non-GAAP gross margins were 290 basis points higher than the previous quarter at 35.1%. Management cited operating leverage as the main driver of margin expansion, though a favorable product mix also helped lift fortunes. Management is forecasting gross margins of 36% for the second quarter, above all-time highs. CFO Kurt Adzema skirted the question when asked if there was upside to that figure, but he did add on the conference call:
"…volume is one of the key drivers to improvement in gross margin because, again, we get more and more operating leverage because we're a vertical integrated manufacturer. So I think we feel good about the business, and then -- and hopefully, as the business continues to grow at this healthy pace, I think gross margins are going to be in this ballpark level."
Total operating margins were 400 basis points higher than the prior quarter at 12.2% of sales (on a non-GAAP) basis. Strong cost controls should make revenue expansion even more accretive to earnings going forward.
Looking to the second quarter, Finisar guided to above-consensus revenue of $277-$292 million, with non-GAAP operating margins of 13.7%-14.7% driving earnings per share of $0.37-$0.41, also above consensus expectations.
Valuentum's Take
Finisar's strong first quarter results and guidance for its second quarter underscore the tremendous amount of investment network providers are making in order to improve their services. This should be a powerful tailwind in the near term, and any revenue upside could result in higher gross margins thanks to the operating leverage inherent in the business.
Weakness in telecom weighed heavily on Finisar in fiscal year 2013, but fortunes appear to be changing course in fiscal year 2014. Nevertheless, we aren't interested in shares at current levels. Though the company is smaller and more nimble than Cisco (NASDAQ:CSCO), we prefer Cisco due to its better dividend and gross margin profile.
Disclosure: I have no positions in any stocks mentioned, and no plans to initiate any positions within the next 72 hours. I wrote this article myself, and it expresses my own opinions. I am not receiving compensation for it (other than from Seeking Alpha). I have no business relationship with any company whose stock is mentioned in this article.