Capital markets should be about to change gears. Last week's disappointing "no" taper certainly has the Fed losing some of its street "cred." This week, the markets are mostly in neutral, sometimes swayed by the erratic messaging from various Fed heads on display. However, the market's foot is on the clutch, ready to shift into a higher gear and again engage any fallout from the U.S. government, opposition and lawmaker's lack of cohesive agreement over the debt ceiling and U.S. budget – sadly, not unfamiliar territory.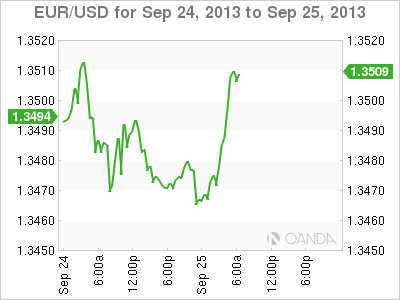 An equally long-drawn-out Washington budget battle two years ago led to the unprecedented downgrading of the U.S. government debt, sending shivers down the spine of global capital markets. U.S. fiscal cliff concerns are again on many investors' radar as its now highly probably that an agreement will not be reached by next week's October 1st deadline. Last week, Fed Chair Bernanke alluded to policy makers' concerns with Washington, the current political impasse is a good enough reason why not to start the QE tapering process.
Investors are beginning to question how much tapering is actually being priced in for October or December. The apparent event risk is the Fed not tapering at all this year. Obviously those odds will only get shorter with an ongoing budget battle in Washington. The possible suspension or delay of U.S. economic releases, like this month's employment report, will only make it more difficult for dealers and investors alike to interpret data to predict future events. The budget and debt ceiling standoff will quickly become the key driver for market uncertainty and volatility.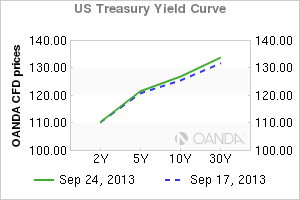 Pricing has subtly begun – U.S. Treasuries and German bunds yields have fallen below the lows of last week's FOMC meet announcement. Even the shorten end of the curve, money market instruments have removed most of the steepening priced in to taper. If anything, markets are pricing in things to get worse and a Fed taper to be further delayed – more lower yields.
The dollar is trying to edge higher against the so-called riskier or commonwealth currencies (NZD, AUD, CAD and GBP). The USD will be strongly favored if U.S. lawmakers fail to arrange a budget deal preventing a U.S. government shutdown. The historically go to safer haven currencies – the yen and the Swiss franc – are preparing to stand fast against the dollar as market attentions becomes more influenced by the lack of action or breakthrough on the U.S. budget front.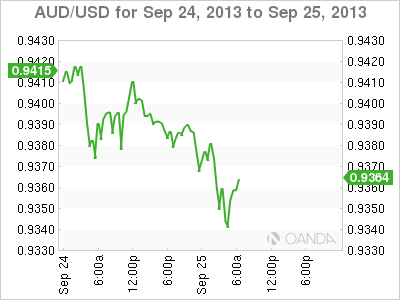 The somewhat nonchalant approach is beginning to irk higher command. U.S. Treasury Secretary Lew says Wall Street should take the looming debt limit more seriously. One has to look at equity indexes trading at -2% below their all-time highs reached last week and conclude that this is not a market wholly worried about the current ongoing shenanigans in Washington. Believing that everything will be "OK on the night" is not the most prudent of trading strategies – even the VIX is indicating calm markets.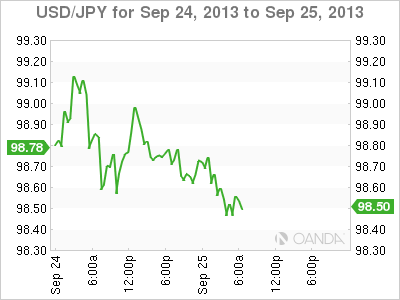 The lethargic market needs help, it will turn its attention to this morning's U.S. durable orders print and new home sales for some guidance. The durables release is expected to show another decline for a second consecutive month in August, held down by the usual suspect – aircraft. The ex-transportation orders could be the surprise component, bouncing back after falling in July. Market consensus has new U.S. home sales rallying between +6% and 8% last month, albeit good, it would only be a partial reverse of July's -13% decline. Released results like this do not help investors, if anything it will increase market uncertainty with regards to the Fed's policy intentions. Add in a little underrated Washington political discord, and capital markets will be having a negative impact on risk appetite.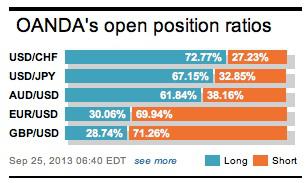 Investors who had expected better things of the dollar on a change in U.S. monetary policy now have to question their current strategies. USD/JPY (¥98.50) trading since the FOMC meet has all been about yen crosses and risk on/off again. Excluding the immediate purge of the dollar longs following the Fed's "no" taper surprise, yen has been sold mostly for carry positioning. Prudently, the market should be expecting the "mighty" dollar to face pronounced selling pressure against the yen as investors begin to wake up to the fact that a budget impasse could lead to a shutdown of parts of the U.S. economy. Dollar rallies should look like an enticing sell – however, there are many still to convince. The bulk of the current market remains short yen and is willing to add dollars, mostly via dollar buy stop losses. We should expect that "the wake up call" realization will lead to a nervous left hand side for USD/JPY.