Silver has been under pressure for the last two years, however, near-term tailwinds in the form of the Federal Reserve's "no taper" announcement exist, which present a trading opportunity. Long term, ever increasing demand for silver despite decreasing inventories annually should result in a higher price for years to come. To harness this likelihood, now may be the time to invest in silver equities that pay you a dividend to wait for the rise in silver prices.
Near-Term Outlook
One short-term reason to be bullish on silver (NYSEARCA:SLV) is the Federal Reserve. There has been some debate on this issue, but as most reading this article are aware, the much awaited and "market priced-in" taper of Fed purchases was supposed to be announced last week on 9/18/13 to the tune of $10-$20 billion a month. But to the Street's surprise, there was no taper announced. I have maintained that one reason to own gold and silver is to hold a store of value as currencies are watered down globally, and that is exactly what the Federal Reserve is guaranteeing. I suspect this will provide a bounce in metal prices into 2014.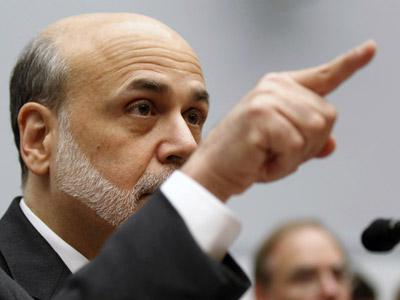 Long-Term Outlook
The last two years have given long-term silver investors an excellent chance to buy on the way down as we've pulled back steadily since April 2011. As the price has come down I have been recommending for some time to dollar cost average and/or pyramid down into silver. Despite the short-term pressure on the metals in 2012-2013, in many recent articles I have suggested that gold and silver prices have long-term tailwinds in the form of extensive inflationary pressures. I cannot say with certainty that we will not see some deflation first. However, I think that once inflation picks up, it could be severe. While gold is a straightforward way to benefit from the long-term currency debasement occurring globally, I believe that silver is poised to outperform in the next decade or so because it has unique supply and demand issues that gold does not benefit from. Bottom line, it could become more important than gold over the next century. What makes it so unique is that it is both a precious and industrial metal. More so than all other metals, demand is at unprecedented levels, particularly in technology, but also by those who can't afford to purchase investment gold. While demand is ever increasing, there has been reducing supply since the 1950s, despite all of the miners producing silver. What's strangest has been the poor price action in the last two years.
Price Action
Overall, the price action in silver has been awful in the last two years. However, it has provided a unique opportunity to acquire positions in silver and silver companies as the price has declined. At the time of this writing, silver is priced around $21.30 an ounce, well off its all-time highs set in April of 2011. Gold is currently priced at about $1,305 an ounce. That represents a 61.2 gold-to-silver price ratio, whereas the historical ratio is 16 to 1 (figure 1).
Figure 1. Historical Gold-To-Silver Ratio Over The Last 150 Years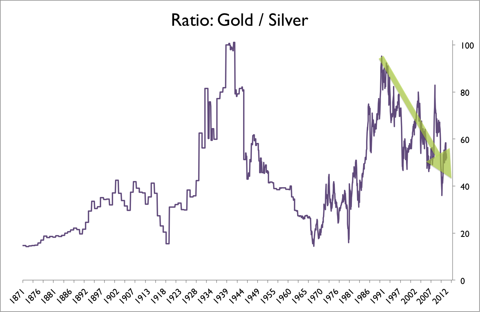 The respective prices of gold and silver have not approached this historical ratio in many years although the ratio is declining, and I believe a reversion is long overdue. In order to see this reversion, gold would have to fall over $1,000 an ounce or silver will have to rise at a greater rate than gold in value in the coming years. I believe the latter is far more likely than the former, especially in a climate of endless monetary easing, unprecedented demand in the technology sector, and the fact that industrial demand will return in full force once we have moved completely out of the recession and we have a strong case for an investment in silver. The ratio has crept up year to date as it has generally been in the 48-54 range for some time. I suspect we will at minimum return to this modern historical ratio, which, assuming gold holds its current price, suggests silver has at least 13.0% and 24.0% upside from current levels. By 2020, I expect to see new highs in silver as price action falls in line with the supply and demand for silver.
In this article, I specifically want to address readers who have inquired about the best long-term positions in silver equities that also pay a dividend. Therefore, I highlight four companies in the silver industry that currently return profits to shareholders in the form of dividends and can be considered long term.
A Chinese Play

Silvercorp Metals (SVM): SVM engages in the acquisition, exploration, development, and mining of precious and base metal properties in China, and Canada. It operates four silver, lead and zinc mines comprising the Ying, TLP, HPG, and LM mines located in the Ying Mining District in the Henan Province of China. The company also holds interests in the XBG silver, gold, lead and zinc mine with a mining permit covering 26.36 square kilometers; and the XHP silver-gold, lead and zinc mine comprising a 14 square kilometer mining permit located in the Ying Mining District in Henan Province of China. In addition, it engages in operating the BYP gold, lead and zinc project in Hunan Province, as well as mining at the GC silver, lead and zinc project in Guangdong Province in China. It currently trades at $3.28 with a 52-week trading range of $2.36-$6.71, with average volume of 1.55 million shares exchanging hands daily. It has a multiple of 21.9 yet a five-year PEG of 2.8. SVM does pay a decent dividend as it yields 3.0% annually based on a $0.025 dividend paid quarterly. The company has suffered the pain of low silver prices, fraud allegations and poor management. However, I think things are slowly beginning to improve at the company. It is cleaning up its practices but needs silver prices to go higher to stay profitable and maintain its high yield. At current levels, it is worth cherry picking at some shares, or, for those who have held diligently on the way down, to increase your position and decrease your cost basis.
North American Plays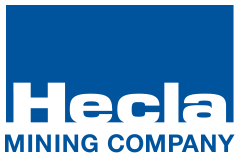 Hecla Mining (NYSE:HL): One of the oldest and low cost silver miners in the United States, HL operates out of Coeur d'Alene, Idaho. HL seeks to discover, acquire, develop and produce silver, gold, zinc and lead mines in the United States. HL currently has two mines operating in Alaska, and Idaho, and is the largest silver producer in the U.S. In 2011, HL produced over 9.5 million ounces of silver at a cash cost of a paltry $1.15 per ounce. Those costs have since risen, though HL has worked diligently to remain profitable. HL pays a unique dividend that has suffered lately. Its policy is to pay a minimum of $0.01 per common share annually. It also attempts to pay dividends that are tied to the payments it receives for the silver it produces. As this is highly correlated to the price of silver, it fluctuates throughout the year, but has ranged from $0.003 cents per share to $0.022 cents per share in 2012, resulting in an estimated 1.2% dividend yield last year. This year, it has returned to paying the one penny annually ($0.0025 per share quarterly). HL currently trades at $3.17 a share and has a 52-week trading range of $2.65-$6.90. On average, about 4.3 million shares exchange hands daily.

Pan American Silver Corp (PAAS): PAAS explores, develops, and operates silver producing properties and assets. The company engages in silver mining and related activities, including exploration, mine development, extraction, processing, refining and reclamation. It produces and sells silver, gold, copper, lead, and zinc. The company has seven mining operations in Mexico, Peru, Argentina, and Bolivia; the Navidad silver development project in Chubut, Argentina; and the La Preciosa joint-venture project in Durango, Mexico. It currently trades at $10.81 a share with a 52-week range of $10.23 to $22.83. It currently trades at a 1.5 five-year PEG ratio and yields 4.6% annually. It is well positioned to take advantage of a rising silver prices, but like its counterparts above, suffers from low silver prices and squeezed margins.
My Favorite Dividend-Paying Silver Equity With Global Exposure
Silver Wheaton (SLW): SLW operates as a worldwide silver streaming company. Silver streaming is basically a process by which the company purchases a mining firm's silver production in order to distribute that silver in the market. SLW has contracts to purchase silver in bulk at prices well below market value and then proceeds to sell the silver at a higher price. The company, based upon its current agreements, forecast 2013 attributable production is approximately 33.5 million silver equivalent ounces, including 145 thousand ounces of gold. By 2017, annual attributable production is anticipated to increase significantly to approximately 49 million silver equivalent ounces, including 180 thousand ounces of gold. Other than its initial upfront payment, Silver Wheaton typically has no ongoing capital or exploration costs, and the company does not hedge its silver or gold production. The company has projects/agreements and is developing projects globally (figure 2).
Figure 2. Global Interests Of Silver Wheaton As Of June 30, 2013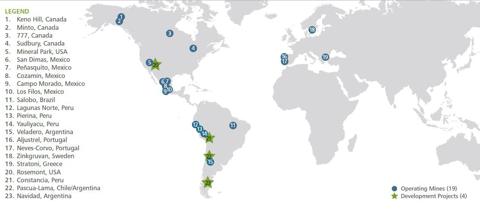 Other than holding physical silver, SLW is in my opinion, the perfect long-term dividend-paying silver equity. It is best positioned to take advantage of the coming rise in silver prices. And when it does, dividend growth is likely to follow. Compared with other silver companies, SLW also has the most reserves of any silver company (figure 3). This means that once prices rebound, margins, revenues and earnings are likely to grow faster than its peers and can likely be sustained for a longer period given its number of deals.
Figure 3. Global Reserves Of Silver, Comparing Silver Wheaton To Largest Peers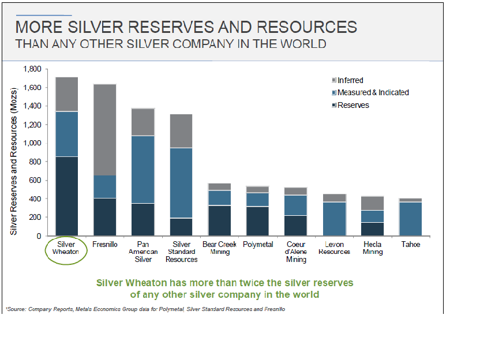 With SLW having a large reserve base, it is well positioned given its business structure. Essentially, the higher silver goes, the more it feeds the bottom line, because SLW has provided upfront financing for most projects in exchange for buying silver at fixed prices. Thus, with silver just a few dollars above its recent lows, it may be a good time to establish and build a long-term position.
SLW currently trades at $23.86 and has a 52-week trading range of $17.75-$41.30. On average, about 5.6 million shares exchange hands daily. The company trades at a 16.9 multiple but only a 0.67 five-year PEG ratio and currently yields 1.7%.
Bottom line: Those investors who wish to gain exposure to silver long-term can consider investing in the individual silver companies in addition to physical coins and bullion. At current levels, I believe silver and silver companies are opportunity buys, especially for the long-term investor. Over the long term, the price of silver is set to appreciate as a result of central bank stimulus, which in turn will feed the top and bottom lines of the silver companies. Thus with increased profit there is a strong possibility that companies could increase the dividends paid to shareholders, which if reinvested over the long term back into the stocks, could lead to compounded returns for years to come.
Disclosure: I have no positions in any stocks mentioned, and no plans to initiate any positions within the next 72 hours. I wrote this article myself, and it expresses my own opinions. I am not receiving compensation for it (other than from Seeking Alpha). I have no business relationship with any company whose stock is mentioned in this article.
Additional disclosure: I own physical gold and silver bullion and other individual mining companies not mentioned in the article.