In my last article on 3D Systems (NYSE:DDD), I argued that the short-term picture for the stock was mixed, and the stock did not make much headway until recently. Volatility, which largely followed the stock since the start of the year, has decreased significantly, and the stock seems ready to go higher.
Recent developments
In late August, 3D Systems acquired CRDM, a U.K. based provider of rapid prototyping and rapid tooling services. 3D Systems intends to immediately integrate CRDM into its global Quickparts Solutions custom parts and manufacturing services. With this acquisition, 3D Systems positioned itself in the U.K., and the management considers it as a strategic and geographically important addition. The company is making efforts to position itself in Europe, as it acquired French 3D printer maker Phenix Systems in June.
3D Systems has grown significantly through acquisitions, the latest being the 37th acquisition since 2009. The company may be stretching itself, as it intends to be "Jack of all trades" in the 3D printing business, which leaves it vulnerable to more specialized competitors, which might make better products and services. However, this strategy did not hurt the company yet, and the results are great so far.
Bursting the bubble theory
As 3D Systems is reaching new all-time highs, the valuation remains the main cause of concern for investors. These stocks trade at a very high forward valuation: 3D Systems trades at a forward P/E of 42, Stratasys' forward P/E is 41, and Exone's 109, so the future expectations are quite high. But the price remains the supreme fundamental, and it is telling us right now that the future is looking bright and investors are feeling confident that these stocks can live up to their expectations. 3D printing industry remains in the early stages of growth, and it is normal to pay a premium in order to participate. Another important fact is that these companies are investing heavily into expansion and that is another reason why the earnings are practically non-existent at the moment. When these companies reach their mature stage, the profit margins will expand and the valuation at that time will be much lower, as it is with the majority of mature companies.
Stratasys led the way higher in August, it's 3D Systems' turn now
Stratasys (NASDAQ:SSYS) began its move higher after reporting earnings and revenue above estimates in early August. I noted in my early April article that this seems to be the pattern for the two stocks before they make their respective moves higher. As of early September, Stratasys corrected sharply on a negative WSJ column, arguing technological limitations will continue to hinder the mass production of many 3D printed objects, and also the high material costs and limited use of 3D printers. Subsequent drop in share price of 3D printing stocks was followed by secondary offerings from Stratasys and Exone (NASDAQ:XONE). 3D Systems took the leadership role and made new all-time highs this week, which is also consistent with the previous performance patterns, as they showed that 3D Systems took the leadership in the later stages of their respective rallies. 3D Systems has done very well when the group movement is taken into account, and has shown relative strength.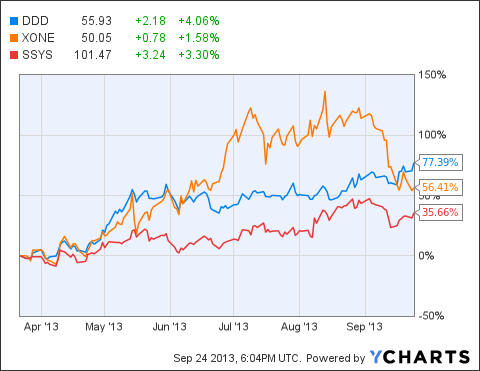 Exone, the best performer in the group since the February IPO, has been the weak link in the last few weeks. In late August, the company announced a secondary offering, with insiders selling the larger part of the 2.7 million offering. Exone is now almost 40% below its all-time highs. The market has largely ignored the company's two disappointing earnings reports, at least until the secondary offering was announced. Another possible source of pressure for Exone was the lockup expiration on August 30, with 7 million shares coming out of lockup.
Conclusion
3D Systems seems ready to go higher. The company's acquisition strategy has been very successful so far, and the valuation concerns are overblown since 3D industry is in the early stages of growth. 3D Systems is positioning itself in Europe with two strategic acquisitions of Phenix in France and CRDM in United Kingdom. One thing that could drag 3D Systems down near-term is the weakness of Stratasys and Exone, since their correlation is quite high.
Disclosure: I have no positions in any stocks mentioned, but may initiate a long position in DDD over the next 72 hours. I wrote this article myself, and it expresses my own opinions. I am not receiving compensation for it (other than from Seeking Alpha). I have no business relationship with any company whose stock is mentioned in this article.