In Ontario, it is apple harvesting time. It should be on Wall Street as well.
Apple's (NASDAQ:AAPL) new products are out and the air is full of excitement. People lined up at Apple stores all over the world to get one. The high end 5S is the blow out success. Apple reports selling 9 million phones over the first weekend, a record for the company and for any phone ever launched. Apple inked a deal with Japan's largest carrier DoCoMo with 60 million subscribers and some see 40% of DoCoMo's future sales as likely to be iPhones. The iPhone 5S is the big seller outselling the lower priced 5C version by over three to one. That suggested the colorful 5C is popular as well, even if it is selling only one third the volume of the 5S, with weekend sales of about 2 million units. The new Operating System interface has been downloaded by almost half the using population.
Some analysts have just upgraded their price targets for Apple with Susquehanna at $625 a share and Cantor Fitzgerald at $777 a share.
The excitement could not be much higher.
But, the stock has not really moved since the initial spike when the new phones were introduced and the absence of follow through should be concerning.
Maybe the weekend sales included a lot of hype. Gene Munster reports that the actual iPhone sales to end users were not 9 million but closer to 5.5 million, with the balance comprising iPhone 5C phones sold into inventory but not sold through to customers.
In my view, if there ever was a time to sell, this is it. Future quarters may reflect the growing headwinds Apple must face.
The mobile device market is pretty saturated now. Growth of 7% is forecast in 2014 by IDC. Smartphone growth will be much higher, growing from 1 billion units in 2013 to an estimated 1.7 billion in 2017, when they will represent virtually the whole market in developed economies. But, in some markets mobile device sales have started to decline. For example, IDC reports that sales in New Zealand and Australia have declined for two quarters running.
But the bulk of the growth is in sub $200 phones and so-called "phablets". Android phones dominate the sub-$200 segment with some competition likely from Windows 8 phones currently made by Nokia and soon to be made directly by Microsoft. Apple has no sub-$200 phone and no plans to introduce one.
The "phablet" market is growing extremely quickly. In India, for example, "phablet" sales soared 17 fold this year and now make up 30% of the smart phone market in India, up from 5% last year. IDC expect tablets sales in India to suffer as "phablets" grow in popularity.
IDC reports a dramatic increase market share by smart phones with greater than 5 inch screens in the fast growing India market.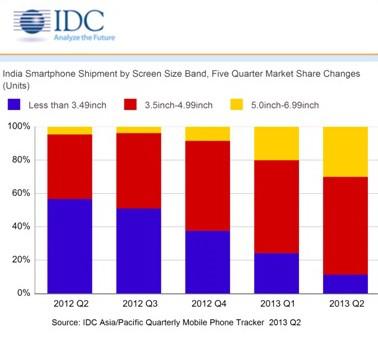 In Taiwan, one of every three smart phones shipped in the second quarter was a "phablet".
In Asian markets excluding Japan, "phablets" have now overtaken tablets according to IDC.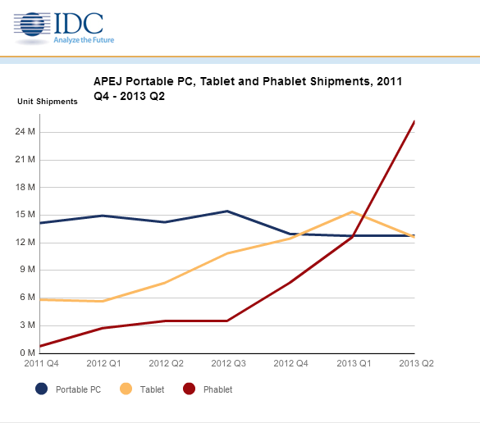 Samsung took the lead in creating the "phablet" market with its Galaxy version but Sony, HTC, LG, Lenovo and many others have entered that space. A Nokia "phablet" is anticipated in October.
Apple has no "phablet" offering. Every "phablet" sale is one less tablet and one less conventional smart phone in all likelihood. Apple is standing in front of this freight train and iPads are likely to be wounded by it.
Apple's attempt to build share in China is a key element of its growth plans, and a rumoured deal with China Mobile (NYSE:CHL) is often reported. That will help if it happens but is no panacea. As it stands, some reports say Apple's new iPhone 5C got a chilly reception in China, with potential customers complaining it was over priced and looked like "a potato peeler". Competition in China is steep. As I pointed out in an earlier SA article, there has been a dramatic upsurge in sales by homegrown Asian suppliers like Xiaomi and Yulong along with a dozen or so others.
Apple's beautiful new 5S phone comes with a fingerprint reader suggesting higher security. Apple may have shot itself in the foot with this feature. Senator Al Franken reportedly believes this may be a security menace. At least one security expert agrees. If a thief hacks your password, you can change it. If someone gets a digital copy of your fingerprint, you are at risk for life.
Apple's new iOS 7 has some security problems as well, with a bug that lets hackers access your Twitter, Photos, or Email. Apple will no doubt move quickly to close off this risk, but it is troubling to see it in a highly promoted new smart phone to begin with.
The good news on Apple is out. The next quarter should see some very good sales numbers and the hype is at the highest level for some time. But as USA Today reports, Apple market share is in decline and the new phones may not be enough to reverse that trend.
With its reported 9 million weekend sales of iPhones, Apple announced that fourth quarter results would be at the high end of guidance of $35 to $37 billion with margin of about 37%. My fourth quarter estimate is for sales of $38 billion and net income of $7.39 a share, slightly higher than Apple's guidance.
| | | | |
| --- | --- | --- | --- |
| Product | Units sold (NYSE:MM) | ASP | Revenue ($B) |
| Mac PCs | 4 | $1,300 | $5.20 |
| iPads | 15 | $437 | $6.56 |
| iPhones | 35 | $587 | $20.55 |
| iPods and other | | | $5.50 |
| TOTAL REVENUE | | | $37.80 |
| GROSS MARGIN (37%) | | | $13.99 |
| EXPENSES | | | $4.00 |
| TAXES (26%) | | | $2.60 |
| NET INCOME | | | $7.39 |
Earnings around $7 a share for the fourth quarter is consistent with annual earnings of roughly $35 to $37 per share. In my view, this will not support a $500 share price unless there is a solid case for growth.
I don't see earnings growth likely, as Apple continues to lose share, the smart device market approaches maturity, and prices come under increasing competitive pressure.
Technology titans like Microsoft (NASDAQ:MSFT), Intel (NASDAQ:INTC), Oracle (NASDAQ:ORCL) and Cisco (NASDAQ:CSCO) trade at multiples in the range of 12 to 13 times trailing earnings and 10-11 times forward earnings. Apple is likely to fall into the same pattern in my opinion. That suggests a stock price in the low $400s unless earnings grow materially.
Investors can wait and see how it goes in the hopes that higher profits are in the cards and are followed by a higher stock price. Or, they can take advantage of the recent strength in the stock following the positive announcements and cash out.
I am short Apple and will add to the short on any strength.
Disclosure: I am short AAPL. I wrote this article myself, and it expresses my own opinions. I am not receiving compensation for it (other than from Seeking Alpha). I have no business relationship with any company whose stock is mentioned in this article.
Additional disclosure: I am long BBRY through calls and short AAPL through a short call position at a $500 strike expiring January 2014.