Intel (NASDAQ:INTC) is one of the favorite stocks for dividend growth investors. And why should it not be? Intel boasts a generous dividend yield of 3.8% and has a rich history of dividend hikes; Intel has a 5-year dividend growth rate of 18%. Investors usually take it for granted that Intel would raise its dividend at least once a year; after all, the only time that Intel failed to raise its dividend at least once a year was during the 2008-2009 recession when Intel kept its dividend on hold for 7 quarters.
Thus spoiled investors were highly disappointed when Intel announced that it was to keep the dividend on hold at 22.5 cents per share for the 5th consecutive quarter.
In this article, I will explain the reasons why Intel did not raise its dividend. I will also comment on what the future holds for the chip-making giant.
Business is not growing
The simplest reason why Intel kept its dividend on hold is that its business has been struggling. In its latest earnings results, Intel reported EPS of $0.39, down 28% year-over-year. Since companies usually raise their dividend when their business is growing, it's easy to see why Intel kept its dividend on hold.
When the revenue and earnings are not growing, companies can still make room to raise the dividend by raising their payout ratio just to meet investors' expectations. Many people have wondered why Intel did not do the same. The way I see it, Intel did not want to increase its payout ratio because it is already too high. Over the past 12 months, Intel paid 48% of its earnings as dividends. Over the same period, this ratio was 33% for Cisco Systems (NASDAQ:CSCO), 25% for IBM (NYSE:IBM) and 34% for Microsoft (NASDAQ:MSFT).
Looking at the income payout ratio can sometimes be misleading, so let's look at Intel's free cash flow payout ratio.
In an earlier earnings conference call, Intel's CFO and Senior Vice President Stacy Smith explicitly stated that Intel aims to pay around 40% of its Free Cash Flow (FCF) in dividends. The chart below shows Intel's FCF payout ratio over the past decade.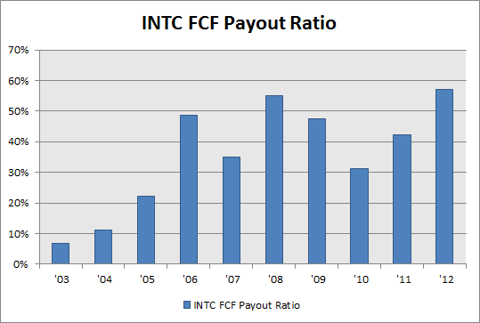 Click to enlarge
Chart data from Morningstar
You can see from the chart above that Intel's FCF payout ratio is running well above the management's stated target; in fact, in 2012, Intel's FCF payout ratio of 57% was at the highest point in its history. If you look at this chart in tandem with Intel's history of dividend hikes, you will notice that Intel manages its dividend payments so that the FCF payout ratio remains close to 40%.
For example, during the 2008-2009 recessions when the FCF payout jumped over 50%, Intel kept its dividend on hold for 7 quarters. Subsequently, when the cash flow situation improved and the FCF payout ratio started falling below the 40% mark, Intel rewarded its investors with quick dividend hikes, raising its dividend 4 times in just 11 quarters from Q1 2010 to Q3 2012.
Now that the FCF payout ratio has climbed above the 50% mark, we again saw that Intel did not increase its dividend despite the passage of 4 quarters.
What does the future hold?
The last time Intel kept its dividend on hold for more than a year was due to cyclical factors; the recession in the global economy meant that Intel wasn't able to grow its cash flows at a regular pace. However, at that time there was always a belief that once the recession was over, Intel would start to grow again, and it did.
This time, the situation is trickier. Although the global economy is not in the best health, the primary reason for Intel's falling growth is secular rather than cyclical. Corporations are sticking with their PCs for a relatively longer period of time before upgrading, and consumers are buying smartphones and tablets in place of laptops for their computing needs.
Despite this gloomy outlook, I'm rather bullish on Intel's future.
We all know that no competitor comes even close to Intel's manufacturing leadership, and the introduction of Intel's latest processor, Haswell, enhances Intel's leadership even further. Haswell is Intel's largest ever generational leap in terms of processing performance, power consumption and graphics performance and should be a game changer for the PC market. Haswell brings sleek Ultrabooks and innovative 2-in-1 form factor PCs at mainstream prices, and thus should give Intel a healthy boost as OEMs pile up inventory for the upcoming holiday season.
Intel made a huge miscalculation in ignoring the mobile market opportunity, but now that the company has realized its mistake, it is quickly catching up to rival processors designed by ARM Holdings (NASDAQ:ARMH) in terms of power, performance and pricing. Intel claims that its mobile-oriented Bay Trail processor that is based on the 22nm process technology and the latest Silvermont architecture outperforms those designed by ARM, a claim that ARM Holdings vehemently rejects.
I won't go into the technical details comparing the products from ARM and Intel; there are other SA authors who have given a much better explanation. However, I am quite confident that as Intel increases its focus on mobile, there is no reason why the chip-making giant cannot transfer its well-established manufacturing leadership in the PC chips industry to mobile with the help of its monstrous CapEx and R&D resources.
At this moment, Intel is merely catching up to ARM; however, I believe that Intel's upcoming Airmont atom chips based on the 14nm technology would be a game-changer for the industry and would give Intel a significant advantage over its rivals. Airmont is expected to be released in late 2014, at a time when foundries using ARM designs would be barely catching up to the 22nm process technology.
My view: Think long term
As noted, dividend growth investors were not happy when Intel announced that it would keep its dividend on hold for the 5th consecutive quarter, and the idea to dump Intel stock must have crossed investors' minds. However, my advice would be to be patient.
If Intel's management believes that the cash that would've been returned back in the form of a dividend hike can instead be reinvested to make Intel more competitive in the mobile-computing market, I'd be happy to receive the same dividend for a few quarters if that means better and sustained dividend growth in the long term.
To me, it seems like Intel is just waiting for some signs of improvement in its sales before hiking its dividend. I believe that the upcoming holiday season would be great for Haswell based products. I also think that the prospect of a hybrid Windows/Android tablet would drive strong Broadwell sales. All in all, I believe that Intel would see a significant improvement in sales in the next few quarters, and thus Intel's management should be comfortable with raising the dividend by Q2 2014, in anticipation of rising future cash flows even if its cash-flow payout ratio is not strictly below the 40% mark.
Disclosure: I have no positions in any stocks mentioned, and no plans to initiate any positions within the next 72 hours.
Business relationship disclosure: This article was written by Dividend Pros' analyst covering technology.