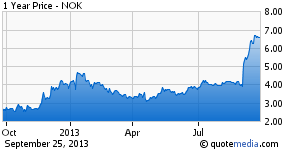 Nokia Corporation (ADR) (NOK) shares rallied a massive 60% after the announcement of the firm's deal that would see it fully acquire Siemen's (SI) 50% stake in the Nokia-Siemens joint venture. According to Credit Suisse analysts, this was, perhaps, one of the clearest indications of the full extent of the negative value associated with Nokia's handset business. Nokia's IPR (Intellectual Property Rights) is, however, one of the firm's bright spots. The company still has significant potential to further grow its value creation, primarily through its IPR segment. Shares of the Finnish firm may still rise about 20% from current levels.
IPR portfolio a real gem
Nokia's impressive IPR portfolio, reflects the patent agreement deals the firm has with Apple, Inc. (OTC:APPL), Qualcomm, Inc. (NASDAQ:QCOM) and BlackBerry (NASDAQ:BBRY). According to the Credit Suisse analysts, since Nokia is no longer in the handset business, the company can use these patents in multiple areas. Presently, the company is not licensing to all mobile players, meaning that it can now partner with vendors in Japan, Korea and China, a move that can potentially increase its royalty rate by about 40%. Nokia can also choose to renegotiate the deals that have been taken over by Microsoft Corporation (NASDAQ:MSFT) once they attain their expiry date. Nokia also has similar deals with Ericsson (NASDAQ:ERIC), IBM (NYSE:IBM), Motorola Mobility and Motorola Solutions (NYSE:MSI).
Nokia currently has 10,000 patent families which include 30,000 patents and applications. Just 10% of these are licensed, meaning that the company still has a good opportunity to cover the entire CE and computer market. That should not prove to be too hard, especially when you consider the wide range of patents that the company owns, from OS and interfaces to component and hardware design.
Nokia may also choose to sell its IPR portfolio, which is valued at around 8.4 billion Euros, or €2.3 per share. The valuation is considered conservative, and Nokia might get a lot more since a wide array of companies such as Google (NASDAQ:GOOG), Huawei, Samsung (OTC:SSNLF), Broadcom (BRCM), among others, will be lining up to buy get a piece of the pie.
HTC (OTC:HTCCY) has of late been fighting off Nokia's patent infringement case, which it seems poised to lose. Nokia won the preliminary round of the case it had filed in May this year, when International Trade Commission Judge Thomas Pender ruled that HTC had breached two Nokia patents, although no evidence of infringement was found on the third. Nokia had sued HTC on grounds of infringement upon its patent that relates to the removal of errors from radio signals. The second infringement is related to the management of various radio frequencies.
Nokia a target of acquisition
The strategic importance of Nokia's IPR make it a prime acquisition target by a cross-section of companies such as Apple, Qualcomm, Ericsson, Samsung Electronics, Google and Huawei. This pours a higher take-out value.
Analysts upgrade Nokia
Nokia's market cap has more than doubled in the past one year to its current perch of $6.59. Several analysts have raised the firm's PT, even as the rest of the world goes easy on the adulation. Analyst HSBC is one of the Nokia bulls who remain more sanguine about the company's future prospects, and raised their PT from 2.20 euros to 4.80 euros. ABG Sundal Collier, a leading Norwegian investment bank, raised its PT for Nokia to €6. The investment bank believes that NSN is the firm's key iteration.
The option market has been decidedly bullish about Nokia, with calls racking up at a faster-than-average pace for the Finnish giant. The 50-day call/put ratio has hit 2.42, thus confirming that the calls bought to open have more than doubled the puts during the past ten weeks.
Nokia's problems solved
The acquisition of Nokia's smart phone business by Microsoft has probably solved a number of thorny problems for Nokia. The biggest among these is Nokia's erstwhile high cash burn rate, which had been pushed into the stratosphere. Nokia's cash burn rate was so high that it looked as if the firm was trying its best to push itself out of business. With the buyout of its smart phone division, that burden has been transferred to Microsoft, and Nokia is now fundamentally stronger than it was prior to the buyout. Nokia now has a less restrictive set of accounts, as well as a boatload of cash to spend on new businesses.
Better-managed Nokia networks
The NSN has been mismanaged for a number of years. The former ownership structure made it difficult for Nokia to maneuver strategically. Now that the firm has gained 100% control of the networks, the company now has a free rein to add value to the business.
New Nokia worth
Nokia's Microsoft deal might have left it sans its iconic mobile device division. However, the move unlocked a lot of value for its shareholders. Nokia will now grant Microsoft access to its highly lucrative patent portfolio for 10 years. The deal is further sweetened by the fact that Nokia gets to keep all its patents and can choose to bring other licensees to the deal table.
Before the Microsoft deal, Nokia's Market cap stood at $14.7 billion. Nokia's non-handset business probably accounted for 75% of its $18 billion-fair value. The markets were therefore valuing Nokia's perennially underachieving handset business at a little over $1 billion. The patent business is part of the handset division, and this segment is in the pink of health, generating cash flows of approximately 500 million euros. This implies that Nokia's handset business, excluding its licensing revenues, was negatively valued. This should prove to be hugely accretive to the firm's shareholders. In response to this reality, Nokia shares have shot up close to 60% since the deal was consummated. But Nokia's patent business is the real jewel in its crown. Financial analyst Trefis calculates that Nokia s worth post-deal is around $7.75 per share, suggesting a 20% potential upside.
Nokia Services & Networks
The new Nokia will have three main business heads namely NSN, Here Maps and IP licensing. Most of the firm's business value comes from NSN which the company acquired for a measly 1.7 billion euros, thereby reducing its net cash by 40.60 per share. The outflow is however more than offset by its higher ownership stake, which increases its near-term cash flows attributable to the firm's shareholders by 600-700 million euros and about 500 million euros by 2020, thus adding about 1.70 per share, or $6 billion to the stock. NSN generated 1.4 billion euros in cash flow last year alone, mainly benefiting from the global 4G LTE transitioning. The long-term lowering in NSN cash generation will be precipitated by the end of the LTE restructuring. NSN transactions add about $1.10 per share ($0.60 to $1.70).
NSN restructuring has in fact proceeded so well that the division plans to realize an extra $500 million euros cash savings.
IP Licensing
Nokia's IP licensing division generates an income of 500 million euros in steady royalties. If this situation was to hold over the remaining 13-years average for US patents, cash flow discounted at 12% would result in the patents being worth $4 billion ($1 per share). Nokia's exceptionally strong patent portfolio consists of 16,000 issued patents and about 4,500 pending US patent applications.
The sale of the firm's hardware division cuts its value by about $1.10, but improves cash flow by $1.33.The net positive value for the firm is therefore about $6.7 billion ($1.80 per share). The NSN and Microsoft deals, therefore, increase Nokia's price estimate by $2.90 to $7.75.
Disclosure: I have no positions in any stocks mentioned, and no plans to initiate any positions within the next 72 hours. I wrote this article myself, and it expresses my own opinions. I am not receiving compensation for it (other than from Seeking Alpha). I have no business relationship with any company whose stock is mentioned in this article.