I hate delivering bad news. I'm an "idea man" and I try to steer away from negativity, but I just see things that lead me to believe that Facebook (NASDAQ:FB) will eventually slip slowly into stock obscurity. The good news, you are probably up from wherever you purchased shares, so if you decide to lower your risk by selling some shares, you won't take a big loss. But I believe that despite the potential for a little bit more upside, Facebook actually faces "irrelevancy," similar to AOL (NYSE:AOL). AOL's irrelevancy still means a $2.7B market cap, but if you remember the late 90's, you know how far it has fallen. I think that Facebook could face a similar fate, retaining a chunk of users, but losing many to social networks of the future.
The Good
Let's start with the good news. Facebook is obviously a growth company in terms of valuation. It has ridiculous value metrics which we'll cover in the next section. But its proponents would suggest that its current valuation is warranted because sales and EPS growth are slated to grow rapidly the next few years.
Analysts are expecting EPS to come in next year at .96, a 34% increase over this year's expected EPS. Additionally, analysts expect the company to grow earnings at 30.5% per year over the next five years.
The company has yet to monetize its 150 million Instagram users, and plans to start putting ads on that site in 2014. This should generate revenue and add to EPS.
Another positive is that the company has managed to keep its debt low. Facebook sports a long-term debt-to-equity ratio of only .15.
And finally, despite the fact that the growth of new members is slowing, it is growth never-the-less, which is better than losing them. I do wonder how many users are truly active though. I scaled down my usage for months before deleting my account, and I know of other people that just stopped using it without deleting their accounts.
The Bad
The company has a P/E ratio of 175, which is obviously high. It has a forward P/E ratio of 49, which is also quite high, but better than 175. But it seems over-priced considering its fast 5 year growth rate. The company has a PEG (P/E ratio to growth rate) of 5.74 which is very high. For context, Peter Lynch stated that normal stocks have PEGs of around 1. PEGs significantly under 1 mean that the company may be undervalued when taking into consideration its 5 year expected EPS growth. On the other hand, a PEG of 5.74 either means that the stock is i) overvalued compared to its 30% expected growth rate, or ii) that analysts are way off on that growth predictions. It is worth noticing that if predictions for next year's earning growth are correct, you could then see a more reasonable PEG of 2.16 show up. However, that is still relatively high.
Facebook's price-to-sales ratio sits at a quite high 18.57. Additionally, its Q/Q sales are down -19%. Compare it to another (overpriced) online network -- LinkedIn (NYSE:LNKD). LinkedIn has a price-to-sales-ratio of 21.42, and a Q/Q sales increase of 59%.
Facebook also has an Enterprise Value/EBITDA of 39, which is pretty high. Other "high flyers" like Chipotle (NYSE:CMG) and Priceline (NASDAQ:PCLN) have Enterprise Value/EBITDA of 21.2 and 22.81 respectively.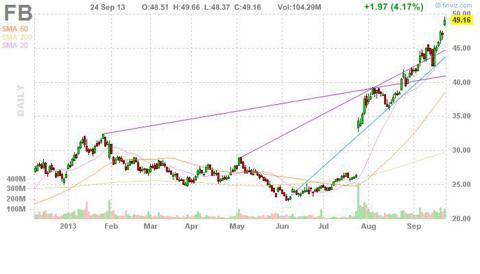 Click to enlarge
The Ugly
In the end, the company is worth what it makes on advertising & games revenue (unless it starts begins selling other things). The games are one anchor that keeps members coming back. The users friends and family are the other anchor. Facebook is not producing unique content aside from Farmville and Candy Crush games, and unless it offers members other incentives, they will eventually migrate away. Newer and more innovative social networking site will be developed, and they will steal users. This has already begun.
This doesn't actually mean that Facebook won't be the biggest social network for a long time. It just means that users will emigrate to other networks and revenues will not meet predictions. This will lower its significance, its ad revenue, and its stock valuation.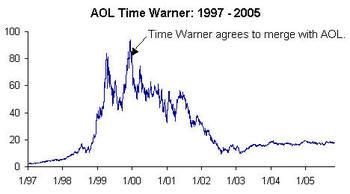 The Play
If you must own Facebook, I think you have to buy put spreads after you see these huge gap ups in price. Facebook is at $49.17 at the time of this writing, and it might hit $50-51. But it is likely to see some profit takers soon.
If you don't own Facebook, but want to play the volatility, use options. At least that way you can limit your risk. Call spreads and put spreads make some sense for directional plays.
Disclaimer: We do not know your personal financial situation, so the information contained in this article represents an opinion, and should not be construed as personalized investment advice. Past performance is no guarantee of future results. Do your own research on individual issues.
Disclosure: I have no positions in any stocks mentioned, and no plans to initiate any positions within the next 72 hours. I wrote this article myself, and it expresses my own opinions. I am not receiving compensation for it (other than from Seeking Alpha). I have no business relationship with any company whose stock is mentioned in this article.