Thinly traded small-cap companies can carry a significant amount of risk associated with purchasing their shares. However, great opportunities also arise in this category when there is a lack of information available on a company or in specific circumstances where unusual insider selling or other trading volume spikes lead to short-term changes in share prices. Both of those situations apply to Transcat Inc. (NASDAQ:TRNS), and a lack of analyst coverage as well as unusual insider selling have led to an opportunity in this stock at the current price.
Transcat, Inc.
Transcat, Inc. is a small company with a market cap of $59 million. The company derives income from two business segments, Service and Distribution, relating to measurement and control instruments and calibration services for pharmaceutical, industrial, chemical manufacturing and energy companies. Though small and relatively unknown, Transcat has consistently grown revenues year over year for the last ten years. During that time, the company has also increased earnings per share, delivered strong free cash flow for its size, and has performed well against its peers.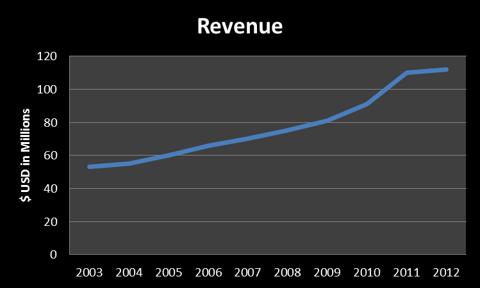 Since 2003, the company has steadily grown revenues which have more than doubled from $53 million in 2003 to $112 million in 2012. Over the same time period, though unpredictable at times, the company has also increased earnings per share.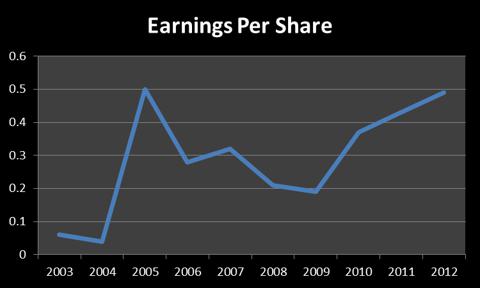 Though the volatility in EPS illustrated in the chart above may seem daunting to some investors because of apparent uncertainty, it is not uncommon for small cap, and particularly microcap, companies of this size to experience large swings in net income and earnings per share as the companies grow and gain footing in their respective markets. Further, management's capital efficiency is illustrated by the company's TTM return on equity of 13.5% and return on assets of 8.3%.
Financial Stability
As with any small-cap company, Transcat must rely on lines of credit and other debt financing activities as the company continues to grow. While the company does have some debt, it maintains a low debt to equity ratio and continued to show a strong balance sheet in the most recent quarter.

As compared to its industry and sector peers, and as indicated in the table above, Transcat's leadership has been very effective in managing debt levels and cash flow. Further, consistent free cash flows over the last five years have provided the company with the ability to address debt repayments and capital expenditures for continued growth.
Valuation
At the current relative valuation, Transcat appears to be an undervalued opportunity. In comparison to its own historical valuation as well as the current valuation compared to its peers, the company is undervalued across a number of different metrics.

As evidenced by these relative valuation numbers, Transcat is trading well below its average and well below its industry peers. With a P/E of 15 times earnings, only half that of the industry's 30x, as well as low price/book and price/cash flow values, Transcat could be positioned for a rebound. Further, after a share price decline in early 2012, the company is now trading at only half of its own five year P/E average.
These valuation metrics obviously do not show the entire picture behind Transcat's current position. The company's on the decline often show strong relative values that only become clear after a deeper look at the company itself. But in this case, Transcat is not on the decline, and a closer look only shows a more compelling case for this company's rebound.
The Opportunity
Share prices of small and micro-cap companies can experience wild short term swings when institutional holders or other large inside owners sell shares. While an insider selling large positions can be an indication of trouble on the horizon, it can also provide a tremendous value opportunity when the sales are unwarranted. In the case of Transcat, there is strong evidence that recent insider sales by a single shareholder may have been the culprit of a massive share price decline. The most compelling part of it, though, is that these sales appear unrelated to performance of the company itself, creating opportunity for investors.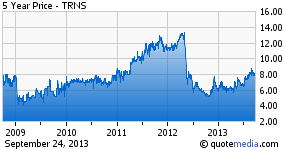 The share price chart over the last two years, with a massive selloff in early 2012, certainly does not seem to make sense given the company's performance and underlying financial position. 13G filings show two related major holders of Transcat, Inc. stock began selling large positions in the company from late 2011 into mid-2012. What appears to be an increase in trading volumes and lack of purchasers to make up for the increased volume led to a near 50% drop in the stock's price over a one month period from April to May 2012. So was all the selling by these major shareholders a result of underlying fundamentals of Transcat, Inc. that were unknown to the public or unrelated sales? A closer look at other 13G and 13F filings for these two shareholders over the same time period shows a common theme that seems to indicate these two filers were selling for outside reasons unrelated to the performance or financial stability of Transcat, Inc. From late 2011 through mid-2012, these two shareholders exited major positions in a handful of small and micro-cap companies, not just Transcat. And over the same period, neither shareholder appears to be purchasing additional shares in other companies. While the true reason for their exits is unknown, it could be simply a matter of needing to raise cash or unfavorable macro outlook on the market as a whole. Regardless, the circumstances appear to be external and unrelated to Transcat itself.
This selling spree has created a major opportunity for a solid entry point in Transcat, Inc., but while opportunity exists, so do certain risks.
Risks
While the selloff in Transcat shares seems to be explained by the exiting of one or two major holders for unrelated reasons, it is possible that those investors uncovered something about the company they didn't like. This could obviously lead to additional sales by other major holders, driving the price down further. And with a thinly traded, relatively un-researched and uncovered company like Transcat, that is certainly a possibility. Further, micro-cap companies in general come with inherent risks not as prevalent in larger companies. First, there is more information and research available on larger companies, leading to more consistent information on larger companies. Second, smaller companies often rely on a larger level of financing to continue operations, and adverse market conditions impacting a small company's revenue could leave the company with no ability to repay debts. For all of these reasons, share prices of micro-cap companies are volatile and investors must be prepared for this volatility and added risk.
The Bottom Line
For experienced small- and micro-cap investors who understand the risks of investing in this space, Transcat appears to be a tremendous opportunity. With large shareholder sales having led to a major drop in price that has yet to rebound for this otherwise solid company, perhaps it is a good time to purchase this hidden gem.
Disclosure: I have no positions in any stocks mentioned, and no plans to initiate any positions within the next 72 hours. I wrote this article myself, and it expresses my own opinions. I am not receiving compensation for it (other than from Seeking Alpha). I have no business relationship with any company whose stock is mentioned in this article.