As the largest of the soda and nonalcoholic beverage makers, The Coca Cola Company (NYSE:KO) has been a favorite among institutional and individual investors alike, and not without good reason. The stock has long been a solid performer with consistent revenue and earnings per share growth, dividend increases, share buybacks, and significant free cash flow. However, the obesity epidemic in the U.S., Mexico, and other developed nations that make up a large portion of Coke's revenue, has created cause for concern in recent years. The question is, how much of a concern is it, and will it affect the company in the long run?
The Coca-Cola Company - A History of Performance
There's no denying that Coca Cola stock has been a great investment for a long time. It has long been one of Warren Buffett's largest holdings through Berkshire Hathaway, and one share of Coca Cola stock purchased for $40 ($531 inflation adjusted equivalent) in 1919 would have been worth $9.8 million in 2012, according to a daily finance article.
As an investment, Coca Cola's share price performance has certainly made long term investors happy as share price alone, excluding dividends, doubled over the last ten years.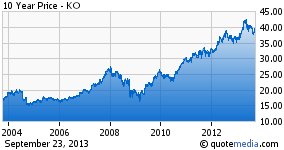 As a company, Coca Cola stock has a number of positive attributes. For one, the current dividend and historical dividend growth as well as EPS growth has been a positive factor in the company's overall return to shareholders.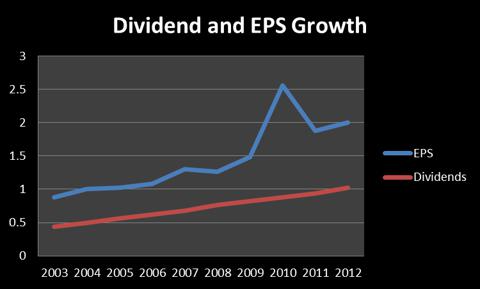 While earnings per share declined in 2011, annual EPS growth has still averaged 13.44% over the last five years and 12% in the last ten. Likewise, dividends have increased an average of 8.46% annually over the last five years and 9.8% over the last ten years. Another Coca Cola article recently posted on Seeking Alpha by Valuentum delves into the details of the company's dividend and does a great job of outlining some of the company positives as it relates to dividend growth. With Coca Cola's free cash flow of $7.8 billion ($1.72 per share) in 2012 and its history of strong cash flow, I wouldn't argue with the company's ability to pay and grow dividends.
Though the company's U.S. revenue growth rate has been slowing in relation to other segments, overall revenue has continued to climb with growth from Latin America and a number of emerging markets. Total revenue has more than doubled over the last 10 years from $21 billion in 2003 to more than $48 billion in 2012.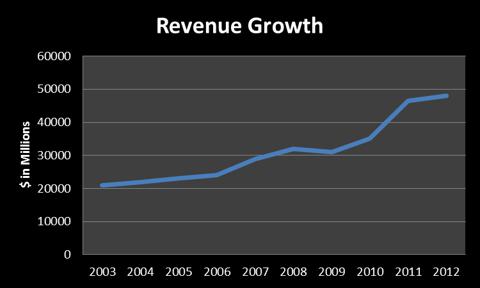 All of these factors are clearly positive attributes for the company, and positive signs of the stocks continued performance.
So What's the Fuss About Soda Consumption and Obesity?
As Coca Cola and other soft drink makers have enjoyed revenue growth, share price appreciation, and expansion into new markets over the last couple of decades, a growing obesity epidemic in the U.S., Mexico, and other Coca Cola revenue producing markets has turned the spotlight on these soda makers. In recent years, a handful of analysts and investors have voiced concern over the long term effects this trend will have on soft drink makers, fast food chains, and other companies that have come under scrutiny over this looming epidemic.
In the first of a series of attacks on sugary drinks, New York Mayor Mike Bloomberg unsuccessfully attempted to limit the size of soda drinks available to consumers. Though unsuccessful, the attempt points out the growing concerns over obesity among policy makers and leaders. A more potentially impactful campaign led by Mexico's president Enrique Pena Nieto has been in the news in recent weeks. The president's reform package is aimed at increasing the price of soft drinks in Mexico to fight obesity and is set to go before Congress in October. If approved, this could certainly impact soft drink sales in Mexico and could lead to similar legislation in other countries. Mexico is the second largest consumer of soft drinks behind the United States and has now surpassed the U.S. in number of citizens suffering from obesity. Latin America is also one of Coca Cola's largest market segments, and a decrease in sales there could adversely affect the company's overall revenue in a short period of time. A widespread adoption of laws or taxes attempting to reduce soda consumption would negatively affect drink makers. For Coca Cola and other companies, it's simply a matter of if that will occur on a widespread basis and over what time frame.
Q2 Results - A Bump in the Road or Hint of What's Ahead for Soft Drink Makers?
Coca Cola has certainly disappointed investors and analysts on earnings expectations numerous times throughout its history, but the most recent quarterly result was the first negative surprise since the first quarter of 2011. In Q1 2011, EPS came in at $.41 on expectations of $.44. The earnings miss was attributed to a number of impactful events, including Europe's economic problems as was as the earthquake and tsunami in Japan on March 11th. While the earnings miss was a surprise, it was for good reason. The most recent earnings miss, however, isn't so straightforward. Unrest and slowing economic conditions in Europe were again cited as one issue, along with…the weather. While adverse weather conditions can absolutely affect any company's performance, when this is stated as a cause of an earnings miss, more homework should be done. In this case, it seems as though the weather conditions could simply be masking the underlying fundamental problem of declining soda consumption around the world. Only time will tell, but next quarter's earnings may not be promising either.
A March 2013 CNBC article pointed out that soda consumption fell in 2012 for the eight straight year to levels not seen since the Clinton administration. The article further addresses the issue of consumption per person declining to the lowest level since 1987. While Coca Cola management cited the weather as a major factor in its recent earnings miss, the truth is in the numbers, and the real problem lies in the growing trend of consumer abandoning soda for coffee, water, and energy drinks. While Coca Cola produces a number of drinks including energy drinks Full Throttle, Nos, and others, the decline in soda consumption is not being offset by the increase in energy drinks and other areas.
KO - Overvalued at Current Price
In light of the recent earnings miss and the growing consumer trend away from soda, Coca Cola has some making up to do. While many investors cited the recent earnings miss and subsequent share price as a buying opportunity, I would heir on the side of caution. The stock, while off its recent highs, is still trading at a premium.
On a relative value basis, KO is priced at a premium. It is currently trading at a P/E of 20.4 times earnings versus its five year average P/E of 17.6. Further, in relation to its closest competitors and the soft drink industry as a whole, KO seems overvalued. The recent miss and guidance do not support a P/E this high.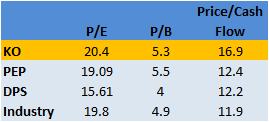 Further, on a discounted cash flow basis, KO would be worth no more than $38 assuming a 6%-7% growth rate. However, the recent earnings miss along with a global slowdown in demand for soda as evidenced by the CNBC article may not warrant a growth rate this high. If the trend away from soda and toward anti-soda legislation continues, the growth rate of the company will decline, further devaluing the price on a discounted cash flow basis.
For the Critics
With so many staunch supporters of Coca Cola, even at its current price, and very few negatively tilted articles on Seeking Alpha or elsewhere, this article will no doubt be unpopular and receive its share of fire. However, the fact remains that soda consumption is declining and Coca Cola must increase its sales in other drink lines at a rate that outpaces the decline in soda consumption. With traditional soda sales still the largest portion of the company's sales that will be hard to do.
Coca Cola will survive the long haul, but management will just have to face the reality of a rapidly changing environment and address the issues head on rather than blaming the weather for a serious macro trend unfolding before their eyes. And it's not just Coca Cola, it's an entire industry. The question remains as to what will happen to sales as these companies continue to change course and develop new strategies to address changes in consumer behavior.
The Bottom Line
Ultimately, a company with the foundation, product lines, underlying financials, and consumer following as strong as Coca Cola's will have the resources and foresight to change with the times, it just may be a bumpy road along the way. The company's current strength is obvious based on the positive attributes relating to dividends, earnings, cash flow, and other factors. Future expectations of investors just may need to be reassessed, and a fair entry price on the stock may be lower than the current levels.
Disclosure: I have no positions in any stocks mentioned, and no plans to initiate any positions within the next 72 hours. I wrote this article myself, and it expresses my own opinions. I am not receiving compensation for it (other than from Seeking Alpha). I have no business relationship with any company whose stock is mentioned in this article.