Background
Back when I was in school I used to have a professor who would say something along the lines of:
"If you and I saw each other in Wal-mart we'd pretend not to recognize each other but if we met in Target we'd be high-fiving."
While that statement may be a bit of an exaggeration, I can sense a kernel of truth to it. When it comes to discount and general merchandise retailers in the United States, Target (NYSE:TGT) has built one of the strongest brand names in a field with some particularly weak brand names. More than that, Target has made a serious effort to push up-market over the past decade to the point where you can now purchase everything from electronics to organic produce to inexpensive yet attractive home furnishings at your local store.
First things first, I started my very modest position in Target this last February at a cost basis around $62. Since then it has been up and down to say the least. Early year excitement over new store roll out in Canada met midyear realities with current guidance pointing to Canada as a loss making business for the time being. I try to keep an even keel in investing so I am not terribly concerned by these developments. One of the tools that I use to ensure this is by focusing on the income generating aspects of my investments. At the same time though, I realize the importance of reviewing my investment choices as information changes over time and as my own methodologies change. That leads me to this article where I will review Target as an investment choice and make a decision on my current holding
The facts:
| | |
| --- | --- |
| | TGT |
| Current Price | $63.91 |
| Market Cap | $40.3B |
| Yield | 2.69% |
| P/E | 15.4 |
| Consecutive Years of Growing Dividends | 46! |
Data Source: Morningstar, David Fish's list of Dividend Champions
Peer Comparison
Recently I came to the conclusion that my personal investment research was lacking in one key area. When I reviewed a stock I would fail to take into account how that company stacked up against its peers. While there are probably many problems with this approach, the thing that really bothered me was the fact that if I'm going to be invested in a given industry or sector, I want to be invested in the best performers in that sector. While my tendency to focus on companies that increase their dividends helps as a built-in filter, it was not a sufficient judge of quality.
The way I look at industry peers is a work in process. Furthermore, my focus is on the business itself, not the stock. Therefore I am not looking if the peers are over- or undervalued and I am not looking at the dividend or dividend history of the peers. It is more of an overall look at profitability, use of leverage, and earnings. Finally, this is not meant to be an exhaustive list; in the case of Target my review includes 5 other companies. If after reviewing its place among its peers, the company that I am evaluating is among the leaders, I will continue my review onto the next stage.
| | | | | | |
| --- | --- | --- | --- | --- | --- |
| | | Profitability | Leverage | Earnings Growth | Overall Rating |
| Target Corp. | TGT | 3 | 4 | 2 | 2 |
| Wal-Mart | | 2 | 4 | 3 | 2 |
| Costco | | 4 | 2 | 4 | 4 |
| Family Dollar | | 1 | 2 | 1 | 1 |
| Walgreen Co. | WAG | 3 | 1 | 5 | 4 |
| The Kroger Co. | | 5 | 6 | 6 | 6 |
The numbers above are a forced ranking of the different rating criteria (lower is better). For the purposes of this evaluation, leverage is considered a negative since I would rather own a highly profitable company with no debt than one with high debt. At the same time, since leverage isn't in and of itself a bad thing, it isn't weighted as heavily as profitability and earnings growth. Profitability takes into account various profitability ratios like ROE, ROIC, and Gross Margin. Earnings growth is literally the growth of diluted earnings per share in recent years. While Target is not the top finisher in this section, it does finish near the top and as a result, I feel comfortable moving on to the next area of analysis.
Making a Profit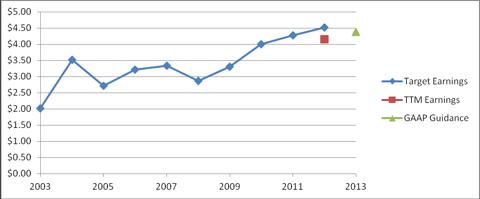 Data Source: Morningstar, Target Earnings Guidance
The next thing I look for from any potential investment is a sustained history of earnings. For a company like Target, it should come as no surprise that the last decade has shown fairly sustained success. The Canadian expansion has taken a bite out of earnings over the last twelve months and will further eat into earnings in FY2013. The assumption however is that this will begin to build earnings in the near future. The reality, however is that the Canadian business represents a small portion of the business (124 stores by the end of the year vs. 1784 presently in the US) and as such represents a small risk with good upside potential. Looking backward, there are no examples of negative earnings and the price does not seem to be terribly high compared to the earnings over the previous 10 years.
Cash Flow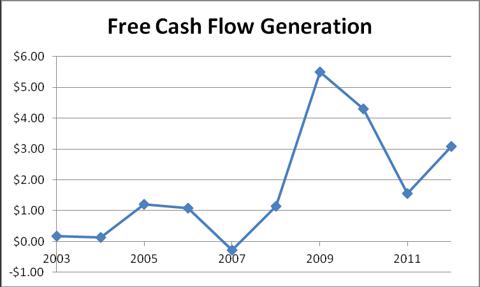 Data Source: Morningstar
The thing about the Canadian expansion is that it is obviously capital intensive to roll out all of those new stores and the distribution network to support them. This process started in earnest in FY2011. That said, FY2012 saw Target generate about $3 of free cash flow per share, which is a nice buffer to build from if capex continues at high levels in order to support growth. I'm looking for positive numbers here and for the most part, Target has been able to deliver.
Future Growth Prospects
I'm a bit more reserved on Target's growth prospects than analysts tend to be. Right now, Yahoo! Finance is pegging the average analyst long-term growth rate at 10.45%. This is to be fueled by slow US growth, Canada, and… what else? Some of their corporate presentations reference increased customer retention and engagement via their REDcard rewards. This is a nice initiative and helps to protect their business but I hardly see it as having a large positive effect on earnings. There is also some talk of multichannel approach involving eBay and Google to defend against Amazon which I like but I have a hard time putting a dollar figure on. Finally, Target is devoted to a buyback program which will help earnings if not net income. Starting in FY2008, the number of shares outstanding has dropped from 774 million to 663 million on a diluted basis in FY2012 with the trend expected to continue. I suppose in a worst-case scenario over the next few years is Canadian expansion doesn't work out and US consumer spending stagnates for a year or two. If that happens, I could see earnings stagnating but do not see much of a huge fall
Conclusion and Price Target
Putting it all together, I end up with a fairly positive view of Target over the long term. I mentioned the worst case scenario above and if I were to outline a best case it would be that Target is able to expand into Canada and see benefits by the middle of 2014. Furthermore US consumer spending keeps slowly improving thereby strengthening the core of Target's business. In this case, I could see it hitting something close to the analysts' 10% growth average over the next half decade. For me, this means that I'm keeping my position and would even be willing to add to it. For my price target, I like to keep things simple by utilizing the dividend discount model over a 5-year period. In Target's case, I arrive at a fair value of about $68.96. For a Dividend Champion like Target, I like to add a 20% factor of safety giving me a theoretical entry point of $57.46. I don't treat my entry points as written in stone however so I will probably be re-evaluating if and when Target drops below $60.
Disclosure: I am long TGT. I wrote this article myself, and it expresses my own opinions. I am not receiving compensation for it (other than from Seeking Alpha). I have no business relationship with any company whose stock is mentioned in this article.
Additional disclosure: I am not a professional investment advisor or financial analyst; I am writing this article because I feel that investing is not a zero sum game and because I believe that the process of writing and receiving feedback improves my own performance.