As crazy it sounds, frontrunner DryShips (NASDAQ:DRYS) is not a pure play on the dry bulk shipping bull market that's been happening. Sure, they have a dry bulk shipping segment, and it will no doubt benefit from the recent large rise in shipping rates, but these days that's only a minority of its business. In 2012 only around 20% of its revenues were derived from dry bulk shipping. Meanwhile, most of its peers in the sector such as Genco Shipping & Trading Limited (NYSE:GNK) , Star Bulk Carriers (NASDAQ:SBLK) , Navios Maritime Holdings (NYSE:NM), and Diana Shipping (NYSE:DSX) actually are pure dry shipping plays with most or all of its business actually being dry shipping. You wouldn't know that looking at the chart though.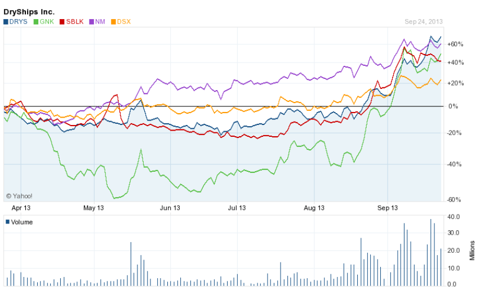 Click to enlarge
(Click to enlarge)
DryShips owns and operates 11 offshore ultra deepwater drilling units, comprising of 2 ultra deepwater semisubmersible drilling rigs and 9 ultra deepwater drillships. This is where most of its business comes from. It does own a fleet of 42 ships, but that's not even as many ships as Genco which has one-seventh the market cap of DryShips. I will note that DryShips has around 15% more tonnage capacity than Genco.
Some investors may simply feel more comfortable with the larger, more familiar name. Obviously as rates rise more and more (the Baltic Dry Index rocketed up 106 points today alone), the companies that will benefit the most are the ones whose operations are most closely tied to rates.
There have been several excellent articles lately addressing the debt concerns of shippers such as Genco such as Genco Shipping Offers A High-Risk Charter Rate Call Option. It's certainly a legitimate concern, and it's exactly why it's absolutely vital that rates rise significantly for the survival of many shipping companies is at stake. The author, Stephen Simpson, points out:
Capesize rates have leaped from an average of $6,100 per day in the second quarter to almost $30,000, only about $5,000 below the level where I believe Genco could be profitable. Panamax rates have also improved, with rates up almost $3,000 from the second quarter average to about $10,500. Whereas Capesize rates are only about 10% below their 2010 average level, those Panamax rates are still less than half the 2010 level and about half the level where Genco could be profitable.
Capesize rates as of today are now up to $42,211, well above the author's minimum threshold for profitability. Genco generates around half of its revenue (based on current rates) from Capesize shipping. Panamax rates still have a ways to go, around $7,000, before they are profitable in the author's view. They are up $1,144 today alone so it's certainly an excellent start.
It's time for investors to take profits on DryShips and consider other names. As a Genco long, I'm obviously biased toward Genco, but investors should at least pick other names in the dry shipping business that actually focus on dry shipping. DryShips has had a fantastic rally, but there's no way the fundamental picture supports a larger rally over other business that are 100% dry shipping instead of just 20%.
Disclosure: I am long GNK, NM, SBLK. I wrote this article myself, and it expresses my own opinions. I am not receiving compensation for it (other than from Seeking Alpha). I have no business relationship with any company whose stock is mentioned in this article.