U.S.-based company Alcoa (AA), the world's leading producer of primary and fabricated aluminum as well as the world's largest miner of bauxite and refiner of alumina is among the few companies in the aluminum industry posed to benefit from the expanding U.S. economy from where it generates 52% of its total revenues. The company is also considered to be the inventor of the modern day aluminum industry.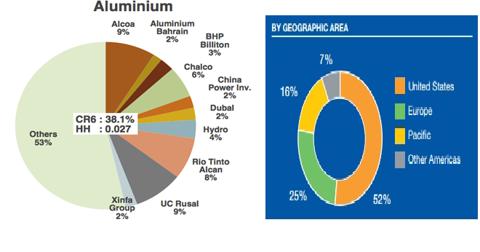 There are numerous reasons for choosing Alcoa from the aluminum industry. Most noticeable are: its size, its expanding domestic economy and its very well integrated business segments.
Aluminum demand
Aluminum is the second-most abundant metallic element in the Earth's crust after silicon. Due to its utility soon after its debut as an industrial metal, aluminum's use exceeded any other metal except iron and now it is important in virtually all segments of the world economy.
It weighs about one-third as much as steel or copper, it is malleable, ductile, easily machined and casted, durable and has excellent corrosion resistance. Some of the many uses of aluminum are in transportation, machinery, packaging, construction, consumer durables and electrical transmission lines etc.
Metal prices depend mainly on supply and demand phenomena; which in turn depends on the overall world economy, especially the economy of the developed world. There has been a significant supply demand mismatch since the 2008 financial crisis but in the present fiscal 2013, demand has increased. This demand has not been able to eliminate supply surplus yet, which has kept aluminum prices down.
The expansionary monetary policy of the Fed brought some signs of relief for the U.S. economy. A noticeable increase has been observed in GDP and consumer spending along with a decrease in jobless claims.
As a result of the on-track economy, demand for industrial metals is now expected to increase gradually. As reported by MSCI [pdf], aluminum shipments from U.S. service centers rose 5.5% from June to July, to 128,600 tons and rose 5.7% versus the July 2012 shipment total.
Global demand for aluminum is expected to increase by 7% as illustrated in the graph below.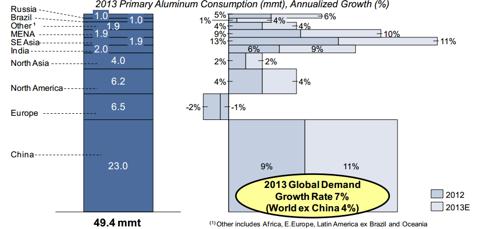 Customer wise demand growth at the end of fiscal 2013 is expected to be aerospace (9-10 percent), automotive (1-4 percent), commercial transportation (3-8 percent), packaging (1-2 percent), building and construction (4-5 percent) and industrial gas turbine (3-5 percent) end markets.
Historical Results
In second-quarter 2013, the company generated $228 million in free cash flows by successfully executing against its annual financial and operational targets to maximize profitability and generate cash.
Days working capital, which ultimately equates to cash, was a second-quarter record low of 27 days, 6 days lower than second-quarter 2012. This milestone was the 15th successive year-over-year improvement and equates to approximately $400 million in cash.
In the first half of 2013, Alcoa achieved $539 million in productivity savings across all business segments against a $750 million annual target; managed growth capital expenditures of $203 million against a $550 million annual plan and controlled sustaining capital expenditures of $318 million against a $1.0 billion annual plan.
Progress and expenditures on the Saudi Arabia joint-venture project were on track with $75 million year-to-date invested against a $350 million annual plan.
Alcoa's debt-to-capital ratio stood at 34.5 percent, 20 basis points lower than first-quarter 2013 and 160 basis points lower than second-quarter 2012. Net debt-to-capital stood at 31.1 percent.
Alcoa ended the quarter with cash on hand of $1.2 billion and reduced debt by $566 million from first-quarter 2013.
Segment wise revenue and operating results
Engineered Products and Solutions
In the first six months of fiscal 2013 this segment reported revenues of $2.891 billion representing growth of 2.88% from the same period the previous year. This growth was derived from major contracts with third parties.
After-tax operating income in the second quarter was $193 million, up from $173 million in first-quarter 2013, a 12 percent improvement, and up 23 percent from $157 million in the second quarter of 2012.
Sequentially, favorable productivity and higher volumes across all market segments drove the improvement. Innovation continues to drive market share gains across all markets. This segment reported a record quarterly adjusted EBITDA margin of 22.2%, compared with 20.9% and 19.2%, respectively, for first-quarter 2013 and the same quarter last year.
Global Rolled Products
Revenues from global rolled products decreased 2.49% to $3.656 billion in first half of fiscal 2013 compared with the same period last year.
After-tax operating income in the second quarter was $79 million compared with $81 million in first-quarter 2013 and $78 million in second-quarter 2012. Consecutively, lower metal prices were largely offset by strong demand from the aerospace, automotive and packaging businesses. Adjusted EBITDA per metric ton decreased to $322 from $385 in first-quarter 2013. This segment reported its best second quarter ever in days working capital, which improved by 7 days compared with second-quarter 2012.
Alumina
The Alumina segment reported revenue of $2.824 billion in the first half of fiscal 2013 representing an increase of 3.89% from the same period the previous year.
After-tax operating income in the second quarter was $64 million up from $58 million in first quarter 2013, and up from $23 million in second quarter 2012. Sequentially, the increase was driven by relatively higher Alumina Price Index-based pricing, a favorable impact from foreign exchange rates, and strong productivity savings, partially offset by lower LME prices. Strong performance across the business also offset increased costs in mining due to the Myara crusher move in Australia, and an increase in bauxite costs in Suriname. Adjusted EBITDA per metric ton was $47, up from $44 in first-quarter 2013 and up from $31 in second-quarter 2012. This segment reported its best ever days working capital in second-quarter 2013. It improved by 12 days compared with second-quarter 2012.
Primary Metals
In first 6 months of fiscal 2013 Alcoa reported revenues of $4.782 billion for this segment representing negative growth of 9.62% mainly because of declining third-party sales in the first quarter of fiscal 2013.
After-tax operating income in the second quarter was a negative $32 million compared with positive ATOI of $39 million in first-quarter 2013, and negative ATOI of $3 million in second-quarter 2012. The sequential decline was driven by lower LME prices and higher costs, including the previously announced maintenance costs tied to power plant outages in Australia and the U.S., partially offset by favorable mix, productivity gains, and a favorable impact from foreign exchange rates. Third-party realized price in the second quarter was $2,237 per metric ton, down 7% sequentially and 4% lower than second-quarter 2012. Adjusted EBITDA per metric ton decreased to $88 from $205 in first quarter 2013.
Conclusion
In contrast to the industry, most of Alcoa's key statistics are better off. The company has operating and net margins of 1.8% and 0.6% compared with the industry average of 1% and -2.2%. Similarly other hybrid and pure balance sheet measures are also slightly better than industry averages that make it evident that the company has over performed relative to the industry and is among the winners. On the negative side though, Alcoa's 3-year average compound annual growth rate (OTCPK:CAGR) is 8.7%, which is approximately 50% less than the industry.
On the relative valuation side, all the company's valuation measures except price/sales ratio are convincingly better than the industry benchmarks.
The profitability of aluminum producers depends mainly on the spot price of this metal, which has been low since 2008, whereas labor cost and other expenses have increased year over year and that has hampered the profitability of the aluminum industry. To overcome this problem companies in the aluminum industry have finally realized that key to long-term profitability is a production cut and efficient operations. This production cut will ultimately change the supply surplus to a deficit that will lift aluminum prices.
Alcoa is taking the right steps that will not show up in the current fiscal year but growth expectations in 2014 and onwards are alluring. Therefore, I think this stock is worth investing in. My recommendation is a 'Buy'.
Disclosure: I have no positions in any stocks mentioned, and no plans to initiate any positions within the next 72 hours. I wrote this article myself, and it expresses my own opinions. I am not receiving compensation for it (other than from Seeking Alpha). I have no business relationship with any company whose stock is mentioned in this article.