Company Overview
Sears Holdings Corporation (SHLD) is a retailer with 2,172 full-line and 1,338 specialty retail stores in the United States operating through Kmart Holding Corporation (Kmart) and Sears, Roebuck and Co. (Sears) and 500 full-line and specialty retail stores in Canada, operating through Sears Canada Inc. (Sears Canada), a 95%-owned subsidiary. The company operates in three segments: Kmart, Sears Domestic and Sears Canada. As on January 28, 2012, it had 38 domestic supply chain distribution centers, of which 12 were owned and 26 were leased for terms ranging from 3 to 5 years. Of the total, 11 primarily support Kmart stores, 23 primarily support Sears stores and four support both Sears and Kmart stores. On December 31, 2011, the company completed the spin-off of its interest in Orchard Supply Hardware Stores Corporation. In April 2012, it sold 11 Sears full-line store locations to General Growth Properties. In April 2012, it added MetaScale as a wholly owned subsidiary.
Current performance
Sears Holdings Corporation reported Q2 revenues of $8,871 million, a decrease of 6.3% from Q2 2012. Moreover, revenue has decreased in every business segment of the company; Kmart decreased 6.1%, Sears Domestic decreased 5.5%, and Sears Canada decreased 10.8% (however Sears Canada recorded operating income, which was not the case in the Q2 2012). What is even more of a concern is that comparable store sales declined in Q2 2013 versus the same quarter last year for 2.1%, 0.8%, and 2.5%, for Kmart, Sears Domestic, and Sears Canada, respectively. Gross margin has also decreased in every business segment of the company when compared to the same quarter last year; namely, Kmart 22.4% vs 23.4% Q2 last year, Sears Domestic 25.9% vs 28.7% Q2 last year; and Sears Canada 25.9% vs 28.3 Q2 last year. So it seems that the company is having operational troubles in every segment. Adjusted EBITDA as a percentage of revenue is negative for the three segments of the company for this quarter and was positive for all three in the same quarter last year. All of these dire results have led to the loss per share for the quarter of $1.83, a decline of 32% compared with the second quarter of 2012. In fact, this is the worst second quarter for the company since 2004; and worst first half of the year, as well.
Company Comparable Analysis
I have used Target Corp. (TGT), J. C. Penney Company, Inc. (JCP), Wal-Mart Stores Inc. (WMT), and the industry averages for this comparison.

SHLD P/E is not meaningful due to negative earnings ttm. Its P/S is lower than any of the competitors and if we go over the other metrics we will see why investors are valuing this stock so low. ROE is the second worst [only JCP is worse], gross margin is second worst [only WMT is worse (but that is due to WMT operating a very different business model)] and operating margin is second worst [only JCP is worse].
When we turn to the financial position of SHLD and compare it to the financial positions of the main peers the situation does not improve.

The quick ratio is worst of all the peers; the current ratio is better but, as I previously stated, this is due to the business models of the companies in question. What is of concern is the high debt to equity of the company and its negative interest coverage ratio. Although JCP has worse debt to equity, at least it does not have negative interest coverage. SHLD's high indebted position, coupled with the inability of the company to earn money to cover its interest, can be a huge drain to any future operations. The questions is: who will lend much needed funds to the company in the future and how is it going to pay off existing debt?
Growth
SHLD's has recorded negative EPS for the last 2 fiscal years of -$8.78 in 2012 and -$29.40 in 2011. Current quarter earnings have also declined by 32%, compared to same quarter last year, and in the last 10 quarters only in one quarter has the company managed to return positive EPS.
Moreover, the yearly ending forecast for 2014 and 2015 are also negative, with EPS estimates of -$5.84 for FY2014, and -$4.03 for FY2015 (as per Reuters). Moreover, the sales forecasts are also showing declines in the next two years, and given the continuous declining margin, the company might be in more trouble than it can see at this point.
Valuation
Presented below is a method of comparable valuation model based on EV to revenue/EBITDA/FCF. Based on it, the company is currently trading above its intrinsic value of $35.28.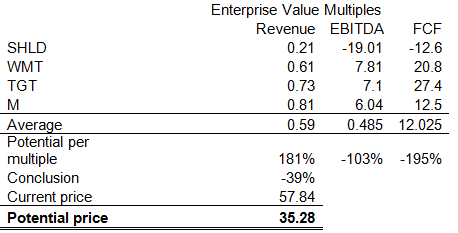 Conclusions
The main point of concern for Sears is the continuous decline in same-store sales, and the disaster called Kmart (acquired for $11 billion in 2004). Moreover, store traffic has become so weak that the recent cut in stores may not be enough.
This, coupled with the huge debt load, paints a grim picture. The company has to maintain a fixed charge ratio of 1.0 and with the falling EBIT and increasing interest payments, Moody's B3 rating might be due for a downgrade.
In my opinion SHLD's worst times are not over and the current seemingly low price might worsen in the coming future.
Disclosure: I am short SHLD. I wrote this article myself, and it expresses my own opinions. I am not receiving compensation for it (other than from Seeking Alpha). I have no business relationship with any company whose stock is mentioned in this article.