The July S&P/Case-Shiller home price figures were released yesterday, so below is our monthly update of the most recent data.
The S&P/Case-Shiller home price indices track changes in median home prices for 20 cities around the country. The indices were started at a base level of 100 in January 2000, and below is chart showing current levels for the 20 cities and the two composite indices.
As shown, Los Angeles currently has the highest reading at 206, followed closely by Washington DC. San Diego, San Francisco and New York round out the top five. Detroit -- at a level of just 91 -- is the only city where prices are lower now than they were in 2000. Cleveland is close, though, at 106.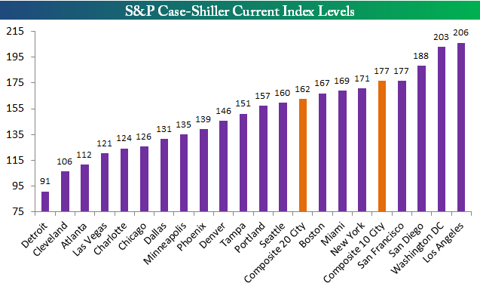 Click to enlarge
Below is a table showing the month-over-month and year-over-year changes in home prices for the twenty cities tracked. It is noteworthy that every single city and the two composite indices were up from June 2013 to July 2013 and July 2012 to July 2013. As shown, Chicago gained the most month-over-month at +3.24%, followed by Las Vegas (+2.81%) and Detroit (+2.69%). Charlotte and Cleveland showed the smallest month-over-month gains.
Las Vegas is up the most year-over-year at +27.50%, followed by San Francisco (+24.81%), Los Angeles (+20.80%) and San Diego (+20.35%). The West Coast has definitely seen the biggest gains recently. New York, on the other hand, is up the least year-over-year at just 3.52%.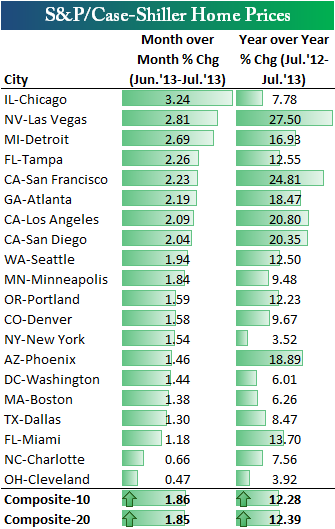 Below is a chart showing how far each city is from its all-time high (reached in the mid-2000s). As shown, the two composite indices are still just over 20% away from their prior highs, so they have a ways to go. Las Vegas, which has seen the biggest gain over the last year, is still nearly 50% from its all-time high! Dallas and Denver, though, have already gained back all of their housing-bust losses to trade at new highs this month.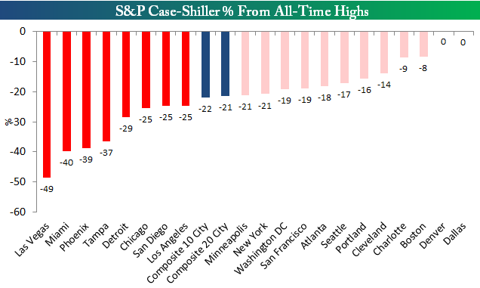 Click to enlarge
Below are home price charts for the 20 cities tracked by S&P/Case-Shiller and the two compositie indices. Keep in mind that each city began at a level of 100 in January 2000. The new highs for Denver and Dallas stand out, and the huge declines for West Coast cities stand out as well. Even though they have bounced back a lot, they are still well below their bubble highs. It looks like Boston and Charlotte will be the next to test their all-time highs if the recovery continues.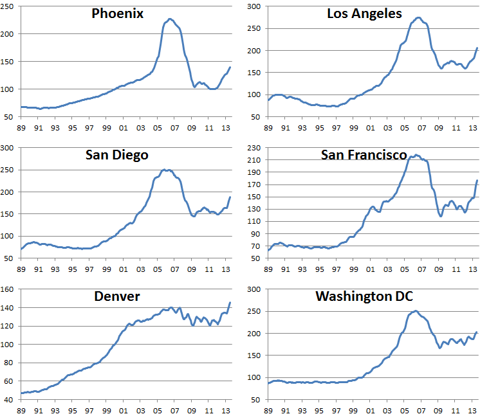 Click to enlarge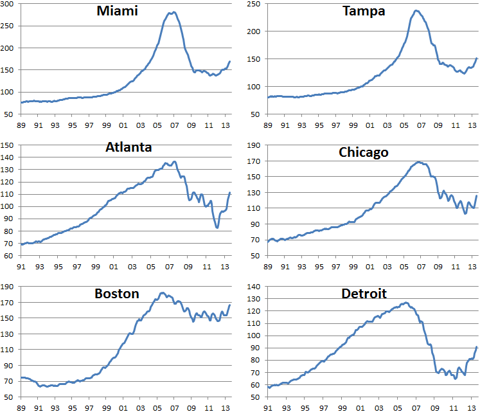 Click to enlarge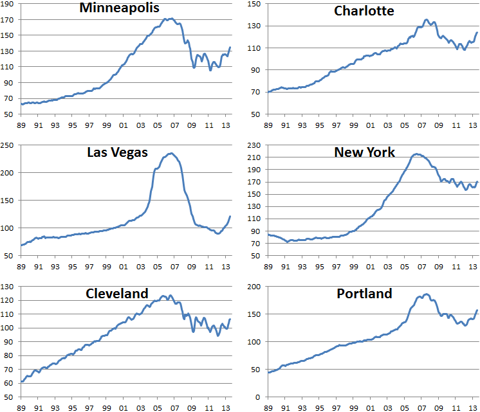 Click to enlarge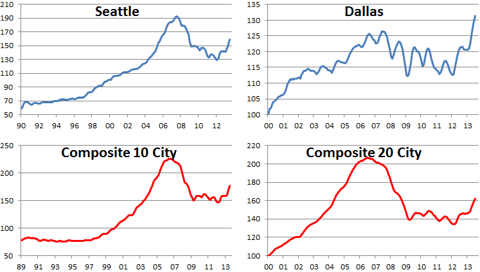 Click to enlarge