It's no secret that Democrats and Republicans in Washington don't exactly see eye-to-eye on how to handle the government's finances and, as was the case back in 2011, this could have a big positive impact on the price of gold (NYSEARCA:GLD).
Earlier today, Senator Ted Cruz (R-TX) staged a 21-hour floor discussion with the intent of focusing attention on the House Republicans' effort to remove funding for "Obamacare" from the "continuing resolution" bill, legislation that is necessary to keep the government running come October 1st. We'll find out how successful he was later in the week when there will be a showdown between the House and Senate, one that could result in a government shutdown early next week.
Conditioned to expect some last-minute deal to avert a crisis, it seems financial markets are just now starting to pay attention to these developments and, given how assets were bought and sold today, there's been a marked change. U.S. stocks and the dollar were sold while safe haven assets such as Treasuries and gold were bought.
If this is a sign of things to come, it could be a very interesting week ahead for financial markets and a very good week for precious metals.
But, the events of the next week could just be a warm-up for even bigger fireworks in October when the debt ceiling must be raised in order for the U.S. government to avoid a credit default.
I think the odds are about 50-50 for a government shutdown, but I'd still bet on a last minute deal to avert a credit default as a result of not raising the debt ceiling. The nation has had some experience with handling government shutdowns, but not with the inability to pay its bills which could be catastrophic.
Then again, both sides appear to be entrenched in their current positions, so, anything's possible. As such, it's worth pointing out what happened last time around when lawmakers in the nation's capital couldn't agree on how the government handles its money.
As shown below, it's a pretty simple relationship. When lawmakers dicker, turning a debate into a crisis as a deadline approaches, the U.S. dollar and broad equity markets falter while Treasuries (NYSEARCA:TLT) and gold move higher.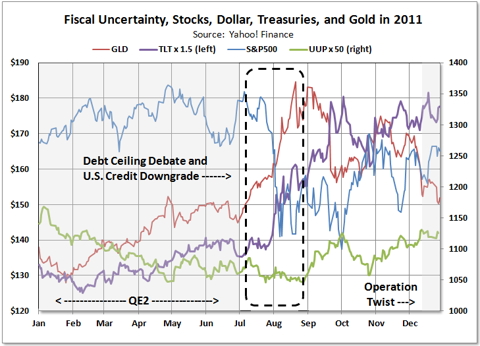 Of course, the idea of investors bidding the price of U.S. debt higher as the U.S. is about to default on said debt doesn't make much sense. But, that's what it's like to be the "cleanest dirty shirt" in the eyes of global financial markets.
Weary gold bugs out there should also take note that the metal's price reached its all-time high above $1,900 an ounce during the 2011 debt ceiling crisis. Few are expecting a repeat of those late-summer events two years ago, but dickering in Washington could give precious metals a real boost that could change the outlook in a very positive way for technical traders.
The Treasury Department said today that October 17th is the drop-dead date for raising the debt ceiling, so, there is now a 16-day window from a potential government shutdown on October 1st and the more dangerous raising of the debt ceiling.
Naturally, the credit rating agencies are keeping a close eye on things in Washington and it's worth remembering that the big moves for financial markets back in 2011 didn't come until after Standard & Poor's stripped the U.S. of its Triple-A rating.
Though Standard & Poor's and Fitch Ratings haven't commented, according to this Bloomberg report yesterday, Moody's warned that a shutdown or default "would damage the nation's credit quality." Like most investors, Moody's expects lawmakers to avoid a shutdown and raise the debt ceiling.
After today, they may be rethinking that view. Gold investors certainly are.
Disclosure: I am long GLD. I wrote this article myself, and it expresses my own opinions. I am not receiving compensation for it (other than from Seeking Alpha). I have no business relationship with any company whose stock is mentioned in this article.
Additional disclosure: I also own gold coins.