Peter Lynch may be one of the most beloved among the investment all-stars. Back when his he ran the Fidelity Magellan fund, his track record served as a whopping in-your face to academicians who taught that nobody could consistently outperform the market.
But Lynch was never the only great stock-picker, as is evident from other all-stars whose work has inspired us and others to create models based upon their ideas. Numbers aside, when it comes to just-plain lovability, it's always seemed to be a neck-and-neck race between Warren Buffett and Peter Lynch, with affection for the latter springing from the backyard investing with which he's most readily associated.
Actually, though, the nuts and bolts of the Lynch strategy probably owes a lot more to the haystack than to the yard itself.
Putting the backyard into perspective
Yes, it's true. Peter Lynch really does advocate discovering companies based your day-to-day activities. It's in Chapter 6 of One Up on Wall Street.
But that chapter contains an important and often-overlooked sentence: "The average person comes across a likely prospect two or three times a year -- sometimes more." How much more? It's hard to say. But whatever the case, it's not likely to be enough to be the core of a consistent investing strategy, especially one that is properly diversified. (The average person is likely to mainly encounter consumer-facing companies and those in the industry in which he or she works and many of the latter might be privately owned or small subsidiaries of larger companies and hence, unavailable as investment plays.)
Elsewhere in his book, Lynch mentions many kinds categories of attractive stocks not likely to be discovered through day to day life. One example is spinoffs. Here are the winners he lists in Chapter 8:
Argonaut (NASDAQ:AGII)

American Ecology (NASDAQ:ECOL)
AP Green
Gotaas Larsen
Masco (NYSE:MAS)
Premark
Intertan
SSMC
American President
Acme Steel
Imo Delval
International Shipholdings (ISH)
Kenner Parker
York International
Temple Inland (NYSE:TIN)
How many of these might you, or even the typical fund manager, have discovered during the ordinary course of day-to-day life?
It's not that I have anything against the backyard approach. In fact, I picked up Green Mountain Coffee Roasters (GMCR) in precisely this manner, made enough to take all my initial investment off the table through a reduction in the position, and am now still riding nicely with a stock I essentially own for free. Many readers probably have similar experiences with particular stocks. But as good as it feels, it's just an occasional thing. If you encounter one as you live your life, by all means, go for it. (I'll continue to do that.)
But this can't be the core of a properly diversified day in and day out investing strategy. So I'm not at all disappointed by the fact backyard investing does not lend itself to screening or multi-factor ranking and, hence, could not be incorporated into our Lynch model.
The haystack
I don't recall if Lynch ever used the word haystack in his book, and given that I only have a hard copy text, I'm not inclined to search for the word. But even if he didn't, he could have. Finding needles in haystacks is a big aspect of what he does, so much so that this might even be the true core of his strategy. I'm not absolutely sure Lynch would endorse the phrase, but even if he were to demur, I suspect he'd at least have to give the matter serious thought.
Lynch loved companies that were under-owned or completely un-owned by institutions and under-followed or not followed at all by Wall Street analysts. Given that stock prices are determined by supply and demand, the appeal of such a strategy should be apparent. If you can find a good company whose stock is in low demand, you're likely to be able to get it at a bargain price and, hopefully, sell later for much more (Lynch's ideal was a "ten-bagger") when others discover it causing demand for the shares to overwhelm supply.
Another important aspect of the Lynch strategy is to favor stocks that are unloved. Investors know about these firms, but they dislike the stocks either because of the nature of the company's business (the company is boring, the company's business is repulsive to ordinary sensibilities, etc.). And there's the hot company in a cold industry. Wall Street tends to paint with a broad brush so if an industry is lagging, investors tend to disdain all stocks in the group often ignoring the fact that oddball firms here and there might be doing well. To continue my haystack image, we're not looking here for needles in haystacks, but bigger objects that investors chose for one reason or another to bury there.
The key to all this is that fundamentals be sound and that valuation be reasonable, and our model addresses both in ways that seem consistent with Lynch's writings. But I don't think it's the numeric analysis that made his approach special. Arguably, he may have been one of the earlier proponents of the PEG ratio, which allows a value investor to get in on growth companies. But that sort of thing certainly is not special today given how well known PEG has become.
I believe if you want to really try to apply Lynch's teachings, you need to be rummaging through the haystack. As to the numerical analysis, use the concepts mentioned by Lynch, use similar concepts you pick up elsewhere, mix and match, just do something reasonable. It's the haystack that will give your fundamental and valuation work a Lynch flavor.
Implementation in the 21st Century
The first edition of One Up on Wall Street came out in 1989. Lynch ran the Fidelity Magellan fund from 1977 through 1990. Since then, he has not invested n a public setting, such as a mutual fund.
We're not accustomed to thinking of Lynch as a classic from another era, like we are with Ben Graham. Actually, though, as we consider how to implement the Lynch strategy, we may have to start thinking of him this way.
The investing world in general and the equity markets in particular are vastly different from the way they were even in 1990, and more so when we look at how things were during the bulk of the period in which he managed Magellan. A complete list of changes would be huge, but there are two that are important to implementation.
One is the increasing institutionalization of the stock market. Of the 8,439 stocks in the Portfolio123 database as of this writing, there were only 541 that had no institutional ownership, just 6.4% of the database.
Some of the largest are ADRs issued by foreign corporations that are probably un-owned have been discovered but are bypassed as a matter of choice or policy. If I eliminate ADRs with market capitalizations above $1 billion (the ones most likely to be known), the non-ownership number is 522 out of 8,033. In this latter group of 522, the average market capitalization is $78.4 million. If I get a bit less literal and allow institutional ownership to climb, say to 10 institutions or less, the number of candidates soars to 3,956. But the average market capitalization grows only marginally, to $80.9 million.
Clearly, when it comes to market capitalization, the institutional radar is reaching very far down the size scale.
Another major change is the growth of Wall Street analysis. Believe it or not, there was a time when pronouncements of sell-side analysts could not move a stock, and nobody holding a job like that had a prayer of getting his or her face on TV. But like institutional ownership, Wall Street research has become much bigger than it was in Lynch's day.
Of the 8,033 stocks (excluding again the larger more-likely-to-be-known ADRs), there were 4,455 that had zero analyst coverage. That's a lot. But the average market capitalization is just $105 million. There were 6,395 companies covered by up to 5 analysts. The average market capitalization here is $285 million.
As with institutions, we see the Wall Street research radar reaching very far down on the size scale.
I think you can see where I'm going with this. If you want to do Lynch-type investing, you need to be willing to invest in very very very small companies. It's not absolutely necessary. There are big firms that were shoved under the haystack because they are unloved. But unless you're willing to go small, you're missing out on a major aspect of what Lynch did. It's the difference between a model based on Lynch versus a model based on fundamentals and valuation that looks like a whole bunch of other models based on fundamentals and valuation.
Strictly speaking, this should not be a problem. Lynch liked small companies - a lot. Here are some quotes from Chapter 7 of One Up On Wall Street, where he discusses different categories of companies:
The size of a company has a great deal to do with what you can expect to get out of the stock. How big is this company in which you've taken an interest? Specific products aside, big companies don't have big stock moves. In certain markets they perform well, but you'll get your biggest moves in smaller companies.
Page 109 of the 2000 Fireside edition.
Everything else being equal, you'll do better with the smaller companies.
Id at 110.
Lynch's sentiments are very valid even today. Many Portfolio123 users have seen how quickly backtested performance results can fall when one increases minimum market-capitalization rules.
The challenge for many today is how to define small. Usually, I start with a minimum threshold of $250 million. But that obviously is not going to produce a full-fledged Lynch-style haystack portfolio. What we're going to have to do is adjust our thinking regarding trading liquidity.
With electronic trading, we've become spoiled by the notion that we can get any stock we want at a good price just by clicking a mouse a few times, and then see our confirmations by refreshing a web page a few seconds after our last click. To invest Lynch style, we're going to have to pull back from that sort of thing. We're gong to have to travel back in time to an era when we had to think about how, or even if, we could get a stock we want once we decided we wanted it.
Our Lynch model has no minimum size requirements. That means that when we find stocks on the list we want, we'll sometimes need to be a bit thoughtful. Most of the time, there will be enough liquidity to allow us to trade in the usual rapid-fire way. But we have to stay alert to situations where we'll need to be patient in executing, and perhaps even willing to pass based on liquidity alone. I suspect Lynch, and other all-stars from that era who liked to go small, had to think this way. We need to do so as well.
The details of our Lynch model, consistent with the themes discussed above (solid fundamentals and valuation overlaid on a haystack strategy coupled with a willingness to go as small as we must) can be found here. (I'll add that we omit utilities and the often-utility-like telecom services group because these seem to fit the slower-growth category to which Lynch was less favorably disposed.) Note that our model consists of a Lynch screen with passing companies sorted based on our Lynch ranking system. We select the top 15 stocks.
Figure 1 and Table 1 show how the model (the top 15) performed when we ran it through the backtester (assuming rebalancing every four weeks) on StockScreen123.com, a new easy-to-use screening-backtesting application just launched by Portfolio123 for individual investors.
Figure 1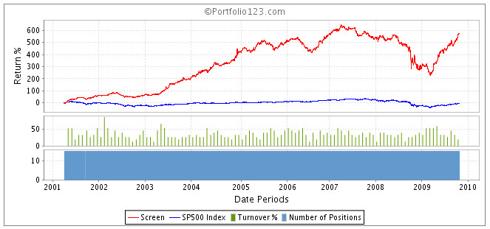 Click to enlarge
Table 1

Click to enlarge
As noted, execution issues may surface from time to time. But on the whole, we believe the backtest results support the usefulness of this model as an idea-generator for case-by-case study and selection.
(StockScreen123 users who want to expend their range of choices, in deference to potential execution snags with some of the top 15, can simply set the portfolio size to a different number and re-run the backtest. An increase in list size to 25 still backtests quite well.)
Here are some examples of what you can find among the current list of top 15 Lynch stocks:
Monarch Cement (OTCPK:MCEM): If you read Chapter 8 of Lynch, entitled "The Perfect Stock, What A Deal!" you may recall part 9, entitled "It's Got A Niche." To illustrate potentially attractive niche firms, Lynch wrote:
I'd much rather own a local rock pit than own Twentieth Century-Fox, because a movie company competes with other movie companies, and the rock pit has a niche. . . . [I]f you've got the only gravel pit in Brooklyn, you've got a virtual monopoly, plus the added protection of the unpopularity of rock pits.
Given that, how could I resist when I saw Monarch Cement among the model's top 15. It's not exactly a gravel pit in Brooklyn - it's a cement company serving Arkansas, Iowa, Kansas, Missouri, Nebraska, and Oklahoma.
But you get the idea. Contractors in Nebraska are unlikely to bring in cheaper cement from India or China. Fundamentals and valuation ratios are fine considering the horrible construction cycle. And as far as size, market cap is OK. Volume, however, is very lean, much more so than a couple of years ago, when some still were optimistic about building construction, so when it comes to trade execution, think 1979, not 2009. In other words, use limit orders and be patient.
And be prepared to hold pending a turn in the cycle. I'm guessing that today, it'd be a lot easier to find sellers than buyers (something to think about if you wanted to buy for a four-week trade).
U.S. Lime & Minerals (NASDAQ:USLM): To paraphrase a pop song, "whoops we did it again." After moving my eye down the list, I spotted anther rock-pit type stock that sells limestone and related products in the southwestern and south central portions of the U.S. Its fundamentals and valuation are also good all things considered. Its market cap is near 4225 million. Volume isn't massive, but individual investors ought to be able to trade it 2009 style.
Span-America Medical Systems (NASDAQ:SPAN): This is another niche company: polyurethane and foam products used mainly by the medical-care industry to control patient positioning (specialized mattress pads, seat cushions, and other gadgets to position certain body parts at particular angles).
With all the uncertainty in the economy and in health care, providers are limiting spending as much as they can, so like many companies, SPAN is experiencing down results. But it's still solidly profitable, the balance sheet looks strong and returns on capital remain excellent. The consumer end of its business took a little hit by the failure of Sam's Club to select it to continue providing mattress pads (SPAN was one of three possibilities after a previous supplier's bankruptcy).
But SPAN is gaining in other consumer channels such as Bed, Bath & Beyond and it continues to sell to Wal Mart. SPAN's market cap here is around $38 million. Volume can be lean at times, with some days at a few hundred shares or less. But those spells don't persist too long and with patience, you can get some better days. Use limit orders if you trade.
For those who may be feeling a bit of execution fatigue, a challenging but very real aspect of a vintage-2009 Lynch-style haystack strategy, here are two stocks that can easily be traded using all the speed and impatience we've come now to cherish.
Brookfield Properties (NYSE:BPO): Another section of Lynch's chapter on the attributes of ideal stocks was entitled "It Does Something Disagreeable" or put another way, "[s]omething that makes people shrug, retch, or turn away in disgust" (page 132). Lynch used, as an example, Safety-Kleen, a firm that sold machines used to wash greasy auto parts. But in this day and age, I think we can top that. How about real estate! BPO looks, on the surface, like a REIT.
Actually, though, it's a real estate operating company, one that is allowed to reinvest some profits back into the business (REITs have to pay out nearly everything as dividends). When looking at real estate, it's interesting for investors to debate the relative merits of low-quality firms (whose shares usually have high yields) versus high-quality, safer, outfits that may feature better growth prospects. BPO is clearly planted at the upper end of the quality range specializing in the better-grade downtown high-rise office buildings. Even this segment is depressed right now, and so, too, are the hares of the firm.
If you can get either of two types of real estate exposure at depressed prices, why not go for quality. So far, BPO's dividend has been holding up. That may not continue of the slump persists indefinitely, but it's impressive that BPO has been able to keep things going thus far.
NVE Corp. (NASDAQ:NVEC): This is a part of the Lynch strategy that often fails to get as much attention as others, the quest for garden-variety, plain-vanilla growth. NVE is a nanotech company. Lynch wasn't necessarily a tech fan, but that's understandable. Back when he worked, it seemed as if stock could get way overpriced even if a CEO said the word "deck," which rhymes with "tech."
shudder to imagine how a late-1970s market would have reacted the word "nanotech." In late 2009, in the aftermath of so much market trauma, the reaction can be much tamer. NVEC's P/E is now in the mid-teens, down from near 80 back in 2004-05. And by the way, there is plenty of the E, earnings, with returns on capital in the mid-20s. One thing that's absent is debt.
As to the business, NVE's stock in trade is "spintronics," a protocol that uses electron spin, rather than charge, to acquire, store and transmit information. This technology is presently being used for sensors and couplers. I'm not going to pretend to be able to predict the ultimate size of the commercial market for spintronics.
But as an investor, I have to take notice any time I can get in on a fashionable new sub-set of high tech and still get the sort of fundamentals and valuations that pass a Peter Lynch model.
Disclosure: Author is long GMCR