Investors who are bullish on the generic drug industry may consider implementing a 130 / 30 global pharma investing strategy through equal-weight (5% each) short positions for the six brand drug companies outlined below with 30% of their assets while investing 130% of assets in long positions among generic drug makers. The list of brand drug companies with significant patent expiration exposure over the next 2-3 years includes Pfizer (NYSE: PFE), GlaxoSmithKline (NYSE: GSK), Takeda Pharma (OTC: TKPHY.PK), Sanofi-Aventis (NYSE:SNY), AstraZeneca (NYSE:AZN), and Merck (NYSE:MRK).
The HavRx Global Generic Drug Index is actively managed and tracks the performance of companies which meet any of the following three requirements:
Derive either $500 million (USD) OR more than 50% of trailing 12-month revenues from the manufacture and sale of any type of generic (off-patent) prescription or over-the-counter (OTC) drug product intended for use by humans, including contract manufacturing services for drug products and biological agents;
Have one or more compound(s) in active clinical development OR have a pending ANDA with the FDA for a generic drug candidate;
Receive FDA approval for an ANDA within the past 12 months.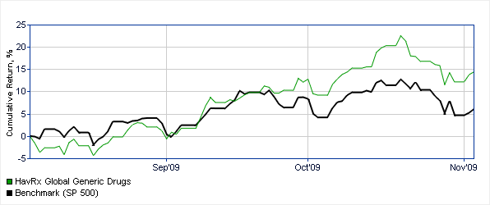 The breakdown by region for the companies in this index includes U.S. (27%), India (27%), Europe (16%), China (18%), Japan (6%), and other (6%). This index has been tracked at the Investars YOU website since 6/24/09 at a starting value of $1000 and currently includes a total of 73 stocks with a last closing price of $1305.48 for a gain of approximately 30.5% on an equal-weight basis for the entire period and gain of about 15.5% in the past three months. Since there is a total of 73 stocks in the generic drug index; a semi-active ETF structure would be idea for selecting the top 30-40 rated companies on a monthly or quarterly basis through a quantitative, rules-based system.
According to IMS Health, the generic drug industry is growing at 7.8%, which is a faster pace than the worldwide market for pharmaceuticals. In addition, the National Association of Chain Drug Stores estimates that in 2007 the average retail price of generic prescription drugs was $34.34 as compared to a much higher (over 3X) average price for brand name drugs at $119.51.
Other factors in favor of the global generic drug industry include approximately $70 billion in brand name drug patent expirations through 2012, a projected increase in generic drug substitution rates from 65% to over 70%, and continued industry consolidation of small / mid-cap generic drug companies by industry leaders such as Teva Pharma (NASDAQ: TEVA), Mylan Labs (NYSE: MYL), and India-based Sun Pharmaceuticals (BOM: 524715).
Disclosure: No positions