Last week, I wrote to tell you why I don't like Cheniere Energy Partners LP (NYSEMKT:CQP). Today, I want to tell you about a midstream gas storage operator that I do like.
Gas storage is a key element in the energy sector. It is the means by which essentially constant production levels are balanced to seasonal cycles of demand.

Shifts from coal to natural gas for electrical generation and increases in use as a transportation fleet fuel will continue to provide upward price pressure on natural gas as demand growth outstrips production growth.


North American natural gas oversupply has kept prices well below international market levels. The development of LNG export terminals will result in rapid growth of North American Exports. This trend is developing now and will extend for at least a decade. Development of LNG export capability for North American gas will make it a globally fungible energy commodity like petroleum is now. Domestic prices can be expected to rise into equilibrium with global markets. Increases on the order of $10/mcf can be expected.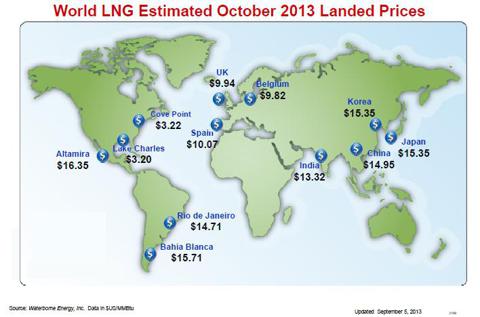 The company best positioned to benefit from these mega-trends in gas storage and marketing is Niska Gas Storage Partners (NYSE:NKA).
Niska Gas Storage Partners is the largest independent owner and operator of natural gas storage in North America. It owns and/or operates gas storage facilities in the USA and Canada, including 154 BCF at the AECO Hub in Alberta, Canada, 75 BCF at Wild Goose in California, and 13 BCF at Salt Plains in Oklahoma. It also contracts 8.5 BCF of gas storage capacity on the Natural Gas Pipeline Company of America pipeline system.
As of 31 March 2013, the company had 225.5 billion cubic feet of gas storage capacity. Its customers include financial institutions, marketers, pipelines, power generators, municipalities, utilities and producers of natural gas. It also uses uncommitted gas storage capacity for storage of its own gas purchased and held for trading. Niska has been engaged in these activities since its founding in 2006.
Niska customer contracts include multi-year, multi-cycle storage services to its customers under long-term firm reserved storage (LTF) contracts. The volume-weighted average life of its LTF contracts at March 31, 2011, was 2.6 years. The company also provides services for customers under short term firm storage (STF) contracts. STF contracts typically have terms of less than one year.
The 25 BCF increase in storage capacity at Niska's Wild Goose facility represents more than a 10% increase in system storage. This will benefit the bottom line in both fixed term storage contracts and optimization capacity used by Niska to buy and store gas for resale at more favorable future prices using a fully hedged strategy to control risk.
Niska has a strong history of growing its capacity.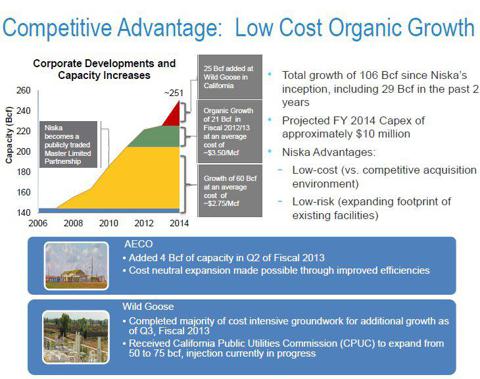 Future projects in planning and development will continue this growth trend. The Starks storage facility on the Gulf coast uses fully brined caverns for gas storage. This saves significantly on static gas storage needed to maintain pressure for recovery from storage, up to 40% of total stored gas capacity savings is possible. The use of existing caverns allows for an in-service date by 2015.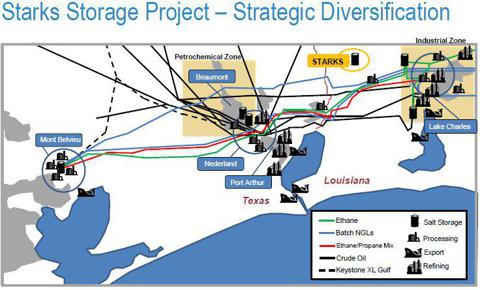 The Sundance Gas Storage Project under development in western Canada promises further future growth of strategic assets for NKA. The depleted gas field storage project has 70 BCF working storage capacity. It is being planned in a 50/50 joint venture with a gas producing partner. It is sited near Niska's existing Canadian AECO Hub and close to the west coast where Canada has 6 LNG projects currently under development.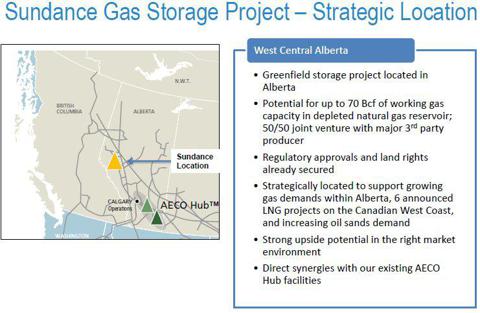 With a price/book ratio of 0.85, a PEG of 2.33, and a yield of 9.6%, Niska represents excellent value for a dividend income equity investor seeking above average income returns and potential for strong price growth in the equity investment.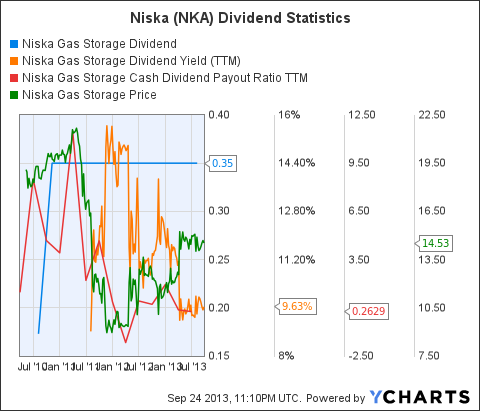 NKA Dividend data by YCharts
Several factors help to limit the downside potential for Niska:
Niska cleaned its balance sheet in 2012, writing down $250 million in goodwill. This non-cash adjustment was done to reflect the weak gas markets at the time.
Gas demand and prices have continued to rise off the 2012 lows and are forecast by the US EIA to continue to do so.
Niska continues to add capacity and thus grow revenues from fixed fee storage contracts and trading on its own account.
The emerging North American LNG terminal capacity will transform domestic gas into a global fungible energy commodity. This will result in greater storage capacity needs and higher prices.
Domestic gas demand is forecast to continue to increase, largely in response to increased electrical production from natural gas.
NKA continues to buy back its senior note debt, saving over $14 million annually. The debt repurchase program will continue in 2014.
Wild Goose storage expansion just opened in late 2013 will increase storage capacity (and potential revenues) by over ten percent system wide.
Having shown the ability to navigate the turbulent environment of declining prices and shifting markets in the 2008 through 2012 period, Niska is positioned for growth with limited downside risk (mainly that of a renewed drop in North American gas prices accompanied by declining demand - factors deemed unlikely by EIA and most industry forecasts).
The following table shows Niska to be a standout on value metrics among its leading peers.
Value Metrics for Leading Gas Midstream Partnerships
Company
Share Price
Yield

Price

/Book

5 year PEG

Profit Margin

Operating Margin

Revenue Growth YOY

Niska
$ 14.25
9.6%
0.85
2.33
0.86
31.25
210.50%
Mid Con (NASDAQ:MCEP)
$ 23.53
8.7%
6.45
5.65
27.20
31.09
52.50%
Calumet (NASDAQ:CLMT)
$ 28.72
9.0%
1.60
(48.70)
2.52
5.96
24.60%
LeHigh (LGP)
$ 28.16
6.8%
33.81
19.69
0.66
1.52
0.60%
CVR Energy (NYSE:CVI)
$ 38.35
7.7%
2.56
(0.43)
6.74
13.79
- 3.80%
A clean structure, proven track record of generating returns from operating cash flow, modest debt and a leading position in its industry sector make this high yield midstream partnership one worth considering for value and dividend income equity investors. With 50% upside potential to $21.37 and an effective 6.55% yield, Niska simply makes dollars and sense.
I am not a licensed securities dealer or advisor. The views here are solely my own and should not be considered or used for investment advice. As always, individuals should determine the suitability for their own situation and perform their own due diligence before making any investment.
Disclosure: I have no positions in any stocks mentioned, but may initiate a long position in NKA over the next 72 hours. I wrote this article myself, and it expresses my own opinions. I am not receiving compensation for it (other than from Seeking Alpha). I have no business relationship with any company whose stock is mentioned in this article.