Recent turmoil in the potash industry, based on Uralkali's (OTC:URALL) announcement to leave the oligopolistic structure of the potash market, has caused extreme value destruction. Potash producers were punished across the board without specific consideration of the strength and weaknesses of each individual company. Potash Corp. (NYSE:POT), Mosaic (NYSE:MOS), Compass (NYSE:CMP) and others took extreme hits to their equity valuation as fears of massive supply increases emerged and investors thought the industry was poised to go down.
Recent industry developments
I have recently written about a massively undervalued, off-the-radar, German potash company (here) that got literally destroyed in the wake of Uralkali's announcement and lost a mindless 40% of its market capitalization in a matter of a single month. K+S (OTCQX:KPLUY) ADRs are traded OTC. German companies have a reputation for being run efficiently, are shareholder friendly and I find it hard to believe that past capital allocations were utterly misplaced. Hence, it was encouraging to read K+S's response statement. K+S (and others) judged the death scenarios tossed around by investors and analysts as "not understandable" and "incomprehensible" .
Canadian-listed Passport Potash (OTCQX:PPRTF) issued a similar statement agreeing with K+S that the current market turmoil exhibits "a sky is falling" mentality that is not based in reality. The statement reads [emphasis added]:
It is our opinion that the present turmoil is likely to have more of a regional than a global impact. While Uralkali has advantages importing into the Asian markets, potash producers in the Western Hemisphere have similar advantages importing into the US and Brazilian markets, which are top import markets globally. The fallout to the greater potash industry from this muscle flexing between Belarus and Russia remains unclear. We would recommend a more cautious approach to making statements about the state of the industry than "the sky is falling" approach being taken by some analysts and media outlets. We certainly think it is a mistake to lend too much credence to the statements of Uralkali, whose motives at this time are unclear. From a financial standpoint this move by Uralkali makes little sense, as a receding tide will negatively impact all potash producers, including themselves. It will be interesting to see how the management of Uralkali, whose shares were down 20%, responds to the negative reactions of its shareholders.
Potash CEO Bill Doyle participated in a virtual Q&A in August and offered refreshing rationality and sense. The section of the interview below complements the above mentioned remarks from K+S and Passport: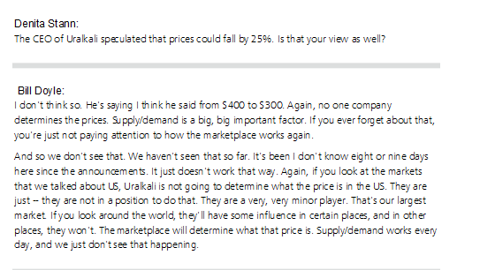 Apparently, Uralkali's intentions will not have an overwhelming influence on Potash Corp.'s position in its key markets. In fact, I miss any substantiation of how supply levels will be increased and doubt whether a break-up of the potash cartel is truly in Uralkali's long-term interest. In my opinion, the market totally rides on fear. In other words: A great time to buy.
Investment thesis
Of all the major potash producers, Potash Corp. is the company most punished: it lost nearly 25% of equity value on massive volume based on Uralkali's unsubstantiated supply announcement. Mosaic was equally thrown under the bus while CMP holds up better mainly because of a stronger 52-week performance: It is down only 4% over a year. Potash Corp. and Mosaic lost about 30% of their market value over the last 12 months.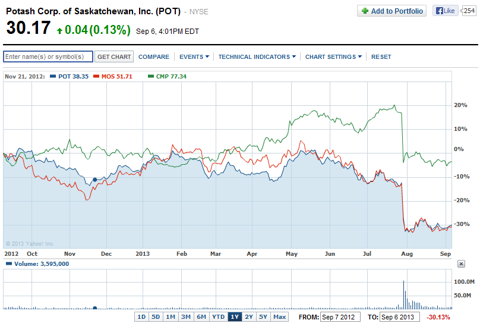 The recent market turmoil has the characteristic of indiscriminate panic selling and provides great opportunity for investors/shareholders who want to snatch up shares when they are on sale. There is more than a slight chance that the general investing public exaggerates the implications of Uralkali's announced supply increase. This logic gains weight with reference to the above mentioned statements from K+S, Passport and Potash Corp. While basic economics dictate that increased supply will lead to lower prices, the degree to which profitability will be impacted remains unclear. In addition, potential pricing impacts are openly contested by the firms in the arena. I take the statement from K+S and Passport Potash as confirmation that inside players also disagree with the ensuing hysteric market reaction. As such, I follow Warren Buffett's precise judgment to "be greedy when others are fearful". There is no fundamental reason to believe the industry will go down.
Key business drivers intact
The underlying fundamentals favor long-term investors in potash producers:
Growing world population especially in emerging markets with growing fertilizer demand
Limited supply: Arable land is flat and growth is very limited
Increased wealth in emerging markets changes nutrition demand and the need to increase crop yields
Agricultural products already fetch historically high prices with continued pressure to increase farm efficiency.
The favorable supply/demand economics that are supporting Potash Corp.'s business model are reflected in the following graph, which shows that food production barely held up with demand over the last 13 years.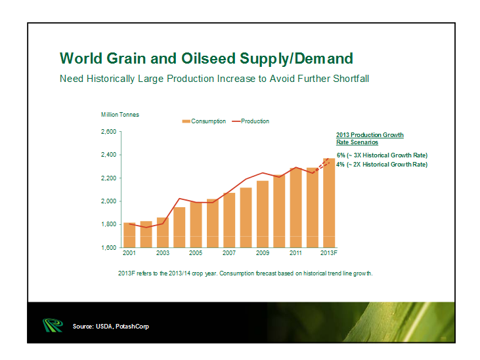 These fundamental business drivers are reality and favor Potash Corp. with its strong market position in potash, phosphate and nitrogen. Potash Corp. has a strong infrastructure in North America with transportation hubs and state-of-the-art facilities to provide customers with essential supply security. Uralkali does not offer such facilities nor has assets in place to guarantee just-in-time deliveries to Potash's key markets.
Valuation
While I do not deny there are short-term challenges facing the industry and increased supply (if it really occurs) could affect profitability, I like to look past the excitement and headlines and take a longer-term, differentiated perspective. As described above, Potash Corp. operates in an industry with attractive long-term supply/demand dynamics and the economics of the industry favor Potash Corp. as well: Establishing a just-in-time delivery system requires substantial infrastructure investments that are immensely capital intensive and represent classic barriers to entry.
In terms of valuation, Potash currently trades at low earnings multiples. The forward P/E ratio stands at 12 implying a strong earnings yield of 8.5%. The forward annual dividend yield stands at 4.7% giving investors/shareholders a strong recurring cash dividend. More important than Potash Corp.'s leading market position and extensive supply network is its shareholder wealth creation record, which justifies a higher equity valuation. Massive dividend hikes since 2010 have filled shareholder pockets supplemented by share buybacks. Potash Corp. also has a track record of initiating hugely NPV-positive acquisition projects (plus 352% value increase in equity investments) as shown below: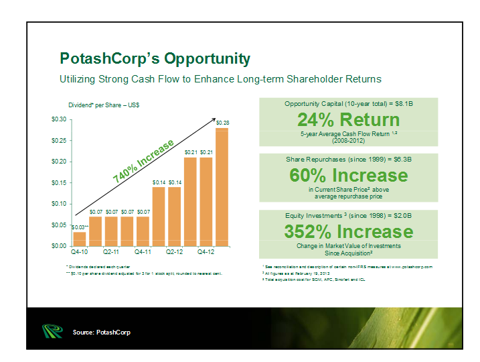 Bottom line
Investors who can look past short-term turmoil and value favorable long-term business drivers should take a closer look at Potash Corp., which suffered in a fear-driven sector meltdown. The collective loss in equity value based on a newsflash is truly mind-blowing. While there are others embracing a "sky-is-falling-mentality," I prefer to stick with the facts. I find it comforting that many industry CEOs engage in the same kind of thinking and judge the market hysteria to be overblown.
Given Potash Corp.'s strong market position and infrastructure assets, a great shareholder wealth creation record and a low equity valuation, I believe the company deserves a multiple of at least 15x forward earnings. It could sensibly trade at pre-crisis (that is pre-August) levels of around $40 a share once the market has digested its hiccough and returns to valuing Potash Corp.'s fundamentals.
Disclosure: I am long POT, MOS. I wrote this article myself, and it expresses my own opinions. I am not receiving compensation for it (other than from Seeking Alpha). I have no business relationship with any company whose stock is mentioned in this article.