Northern Tier Energy (NYSE:NTI) has certainly had a wild couple of trading days. On Sunday, the company announced that it had experienced a fire at its St. Paul Park Minnesota refinery. Many investors, including myself, were worried about this event, especially regarding its impact on the company's throughput and operations. On Monday, the stock responded quite negatively to this news, declining about 5%. However, late in the day, Northern Tier Energy released an update regarding its operating status. In general, the fire only caused minor damage to the refinery and will cause only about a 3 to 4 week outage. As a result of this news, units of Northern Tier Energy were up sharply on Tuesday, mostly erasing the prior day's decline.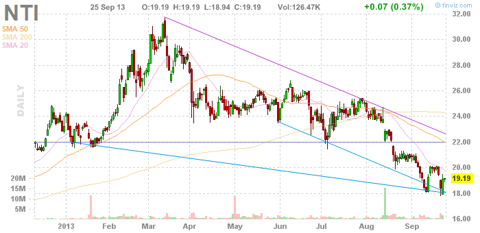 A closer look at Northern Tier Energy's update
Here is the key information from Northern Tier Energy update:
The cause of the fire and extent of the damage is currently being assessed, but preliminary estimates indicate that the outage of this crude unit will last approximately three to four weeks and repair costs should be less than $10 million. The smaller crude distillation unit and the downstream units at the refinery are in the process of being safely restarted. Current estimates indicate that this smaller crude unit and all downstream units, with the exception of the fluid catalytic cracking ("FCC") unit, will begin operating within the next day. The Company's planned turnaround on its FCC unit was scheduled to begin October 1st. However, the Company now intends to initiate this turnaround activity immediately due to the reduction in crude throughput. Increased total throughput levels of approximately 40,000 Barrels Per Day (BPD) are estimated to be reintroduced at the refinery by early October and rates of up to approximately 85,000 BPD are expected to be achieved by mid October. Until that time, Northern Tier Energy will continue to supply its SuperAmerica retail outlets and other term commitments.

Given the occurrence of these events, the Company is updating operating guidance on throughput for the third quarter of 2013. Original third quarter throughput guidance was expected to be between 90,000 and 95,000 BPD. Updated throughput for third quarter is now expected to range between 78,000 and 81,000 BPD. Throughput guidance for the entire fourth quarter will be provided during the Company's third quarter earnings call which will be held during the week of November 11th.
There is a lot of data here. However, to summarize:
Estimated repairs costs are under $10M.
The refinery outage is expected to take around 3 to 4 weeks. Northern Tier Energy noted that it will use this time to immediately start a turnaround of its fluid catalytic cracking, or FCC unit, which was originally planned to begin on October 1st.
The company revised downwards its throughput guidance for Q3 2013 to 78,000 - 81,000 BPD, about 14% lower from its previous range of 90,000 - 95,000 BPD. Throughput guidance for Q4 will be announced during the Q3 2012 earnings call.
Overall, not too bad. Frankly, Northern Tier Energy appears to have dodged a bullet as this refinery fire seemed to be a very minor event. The estimate of $10M for repairs is peanuts compared to what the damage could have been.
By starting the FCC unit turnaround in Q3 2013, Northern Tier Energy is basically "turning lemons into lemonade". This will result in more refinery uptime during Q4 2013 than originally anticipated.
The only large negative I saw in this update was the revised throughput guidance. It appears as if the refinery was running at or near its maximum capacity when this fire occurred.
Estimating Northern Tier Energy's Q3 2013 Distribution
Estimating distributions for variable MLPs such as Northern Tier Energy is always tricky. There are many moving parts here such as crack spreads, operating expenses, turnaround cash reserves, taxes, interest expenses, etc.
However, we can make some educated guesses. As I have mentioned in previous articles, crack spreads have declined during Q3. Northern Tier Energy is specifically tied to the PADD II Group 3 3:2:1 crack spread. This is derived from Group 3 benchmark pricing for gasoline and distillates and WTI benchmark pricing for crude oil.
The company has noted that a $1.00 change in its realized crack spread has about a $6M impact on its quarterly cash available for distributions, while a 1,000 BPD change in throughput has a $1.7M impact. I estimate that Northern Tier Energy's crack spread averaged from $16.00 to $20.00 per BBL during Q3 2013. This would mark a decline of about 25% to 40% from last quarter's crack spread of $25.95 per barrel. However, Northern Tier Energy's throughput is estimated to increase from last quarter's 55,486 BPD. Using the midpoint for Q3 2013 throughput of 79,500 BPD, I estimate that Northern Tier Energy's cash available for distribution to range from $43M to $62M. On a per unit basis, this comes out to about $0.47 to 0.67 per unit. I must caution that this is a very rough estimate. At current prices, this range implies a forward yield from 9.80% to 13.90%.
Conclusion
The reduced volumes for Q3 2013 will likely have a larger impact for Northern Tier Energy's Q3 2013 distribution than implied by the 14% loss in throughput. My reasoning for this is that operating costs are often fixed, hence this will lead to higher expenses per BBL.
However, Northern Tier Energy is moving its planned Q4 refinery maintenance up into Q3, which would likely positively impact Q4 results.
Overall, I would say that Northern Tier Energy remains a high-risk, speculative stock. Due to the variable nature of its operations, Northern Tier Energy's distribution is not stable and should not be relied on for income. Just to give you an idea, if crack spreads were to decline to about $10.00 per BBL, Northern Tier Energy quarterly distribution would drop to under $0.10 per unit. At crack spreads under $7.00, Northern Tier Energy's cash available for distribution would turn negative, hence implying no distribution for that quarter.
Disclaimer: The opinions in this article are for informational purposes only and should not be construed as a recommendation to buy or sell the stocks mentioned. Please do your own due diligence before making any investment decision.
Disclosure: I am long NTI. I wrote this article myself, and it expresses my own opinions. I am not receiving compensation for it (other than from Seeking Alpha). I have no business relationship with any company whose stock is mentioned in this article.