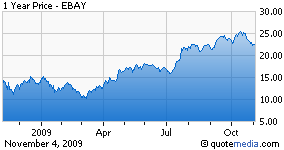 eBay (NASDAQ:EBAY) recently announced plans to launch PayPal X a platform that allows software developers to create payment applications that utilize PayPal. With PayPal incorporated directly into applications, users will not have to navigate to a separate payment site to complete a transaction potentially driving more transactions for developers and PayPal.
If PayPal X is adopted widely it could have a positive impact on eBay's stock price by driving more transactions for each PayPal account. Payments per account on PayPal has fallen in recent years from 1.7 payments per account on average in 2005 to less than 1.2 today.
We estimate that PayPal constitutes about 24% of eBay's value and the stock could gain about $4 per share if payments per account on PayPal were to rise to 2005 levels as a result of PayPal X.
Disclosure: No positions