The dry bulk shipping stocks have been in a strong up pattern during September, led by the Baltic Dry Index (BDI), which is the benchmark index for dry bulk shipping charter rates.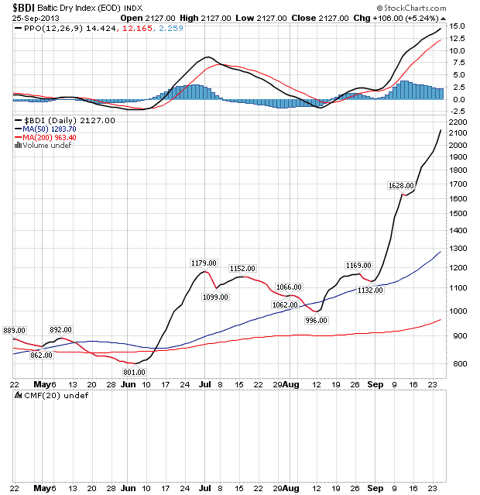 The most recent rally led by Capesize vessel demand and higher T/C rates (Time Charter or ship daily lease rates) was apparently driven by restocking demand by the Chinese for seaborne iron ore.
This sector has been hammered over the past few years due to overbuilding of new ships. I have been following this sector for years, and read the Hellenic Shipping News just about every day.
Because the shipping sector has been beaten up for several years yet is integral to world trade, I believe it could be in the early innings of a multi year bull market. Clearly there are several subsectors, including dry (commodity) bulk, tanker (crude oil), container and LPG to name a few. The dry bulk sector is what I am focusing on right now.
There are many stocks to choose from in this sector. A popular one is Dryships Inc. (DRYS), which has 34 ships, 10 Capesize and 24 in the smaller Panamax size. Pundits seem to feel the rise in Capesize rates should spill over into the smaller Panamax and HandyMax sized ships rates very soon.
Dryships also owns about 60% of Ocean Rig UDW Inc. (NASDAQ:ORIG), which leases out ultra deep water drilling rigs. Dryships has a market capitalization of $1.6 billion and its interest in Ocean Rig is worth about $1.45 billion, but Dryships has a significant amount of debt ($4.2 billion as of December 31, 2012).
This is a sector call, so I am not going into the financials in detail, although I have reviewed them. Earnings have been negative but EBITDA has been positive. Most of the revenues in the six months to June 30 have come from the consolidation of the drilling subsidiary.
When I started looking at this sector in earnest a week or so ago, Dryships was bid $2.96. It hit $3.99 today. So the rally has been fast.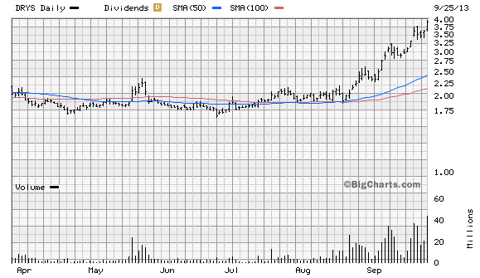 A near-term pullback is possible, but the stock has been much higher in the past.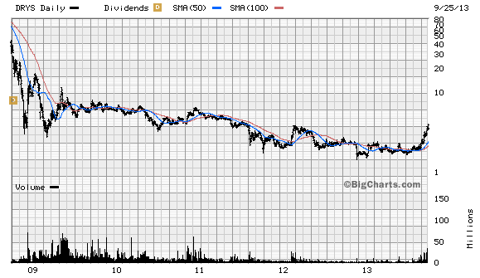 Dryships has seven ships coming off low fixed rates, two in the Capesize, and five in the smaller Panamax size. The two Capesize ships were leased at $10,000 per day, but could go for at least triple that in the spot market. Three of the Panamax ships are coming off less than $10,000 daily rates, and two of them are coming off about $40,000 per day. So there is some upside to Dryships' voyage revenues going forward.
Dryships is based in Athens but incorporated in a favorable jurisdiction, in this case, The Marshall Islands and is listed on the NASDAQ. As it happens, I am of Greek descent, have lived in Greece and have analyzed Greek companies, and most everyone should be familiar with the long history of shipping by Greek organizations. What is not so long is the experience of Greek companies in Western capital markets.
The Dryships head office is not far from my parent's old neighborhood in Athens. The annual meeting is being held October 31 (rather late) and the company's President George Economou is nominating his sister to the Board of Directors. This is a shipping company that is family controlled, as was traditional in Greece. It appears this company is sophisticated and actively refinancing its debt and ordering new ships and drilling rigs. There is growth being planned, but it is being financed largely with debt. So caveat emptor.
For those with less appetite for risk, I would suggest a diversified ETF of the major shipping companies, such as the Guggenheim Shipping ETF (NYSEARCA:SEA). The ETF owns a broad selection of major shipping companies including the Danish, Japanese and Chinese majors.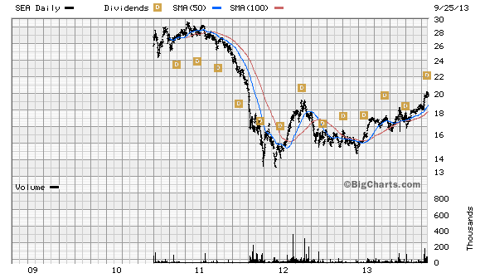 The components of the ETF have also had a good rally, but the majors are probably in better financial shape than some of the junior companies that were caught by the downturn, and have restructured, or have high debt. The Guggenheim Shipping ETF pays a quarterly dividend (41.8 cents over the last twelve months). The ETF is fairly illiquid so if you buy it, you should check the Net Asset Value on the website, which is also reported intraday with the symbol SEA.IV.
A couple of more junior dry bulk companies (also run by Greeks) have just completed equity issues today and therefore have fresh capital, and are Baltic Trading Ltd. (NYSE:BALT) and Navios Maritime Partners, L.P. (NYSE:NMM). You can check out these companies yourself if you are interested.
The Baltic Trading deal was 13.8 million shares for $63.5 million or $4.60 per share and has already rallied strongly, closing at $5.30 today. The company does not have a lot of earnings on paper as of yet.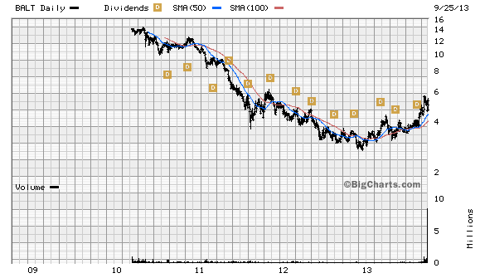 The Navios Maritime Partners deal raised $82 million from 5.75 million units (it is an Master Limited Partnership) and pays 44.25 cents per quarter, for a yield of 12.4% at the offering price of $14.26.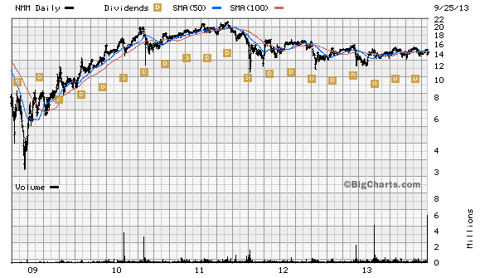 The MLP is controlled by General Partner Navios Maritime Holdings (NYSE:NM), which is also listed but has other interests in logistics. It might be worth looking at because it is more diversified.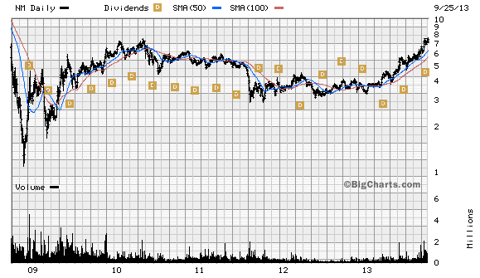 Another interesting one based in New York, but, you guessed it, run by a Greek, is Eagle Bulk Shipping (NASDAQ:EGLE). Several of its Supramax ships are coming off charter into the spot market. The stock has a sizable short position and has been squeezed lately, I think. Eagle has a big whack of debt ($1.2 billion) compared to its market cap of $125 million, but looks interesting for speculation if they manage to survive. I would think it should be doing an equity issue soon given the leverage, so a long position could be risky.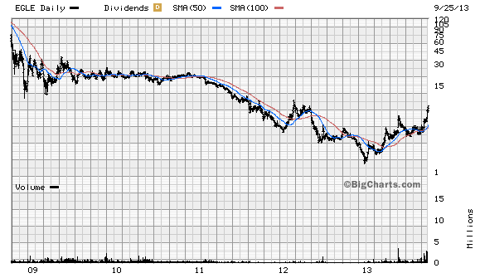 When a bull market begins in a sector that has been depressed for several years, as has shipping, there are fears that the rally will not endure for the reasons that led to its demise. The early going can be very bumpy. So staying power via moderation and diversification are key. Many a time I have gotten too big on a sector, been early, and been knocked out of my position only to see it grow several fold later.
This rally is predicated on seaborne trade picking up led by Chinese demand for dry bulk commodity shipping and less deliveries of newly built ships plus demolition of old, less economic and polluting ships.
Are these trends sustainable? The HSBC Flash China Manufacturing PMI recently came in at 51.2 (above 50 means expansion) and there seems to be a slow but steady trend upwards in Chinese manufacturing.
Some believe Chinese growth was/is completely-debt-fueled and not sustainable, and their big appetite for imported coal, either met or thermal, iron ore, or other commodities requiring bulk shipping will not come back again to such a great degree. The Chinese are trying to crack down on the pollution problem and reorient their export economy towards domestic demand with less raw material requirement. The Indian economy, if it ever works out of its fiscal crisis, has been a growth engine for dry bulk shipping as well.
The thing I like about shipping, perhaps more than some of the small players themselves, is that it matters not where the demand is coming, either by commodity or by country or continent. Be it coal, iron or other ores, grain, fertilizer, oil or LPG or whatever, as long as economic growth and international commodity trade expands, demand for shipping will increase. Therefore, I recommend a diversified portfolio of names if you choose to play in this sector.
Please do your own due diligence unless you are a technical trader, as I have not covered the financials of the companies mentioned.
Next time I will cover some of the crude oil tankers as the news Iran may be becoming more friendly with the Western World may be a catalyst for operators such as Frontline (NYSE:FRO) or Nordic American Tankers (NYSE:NAT).
Disclaimer: The information above was disseminated to clients and subscribers of The BCMI Report and/or The BCMI Flash anywhere from 12-48 hours before appearing on Seeking Alpha.
Disclosure: I am long DRYS, SEA. I wrote this article myself, and it expresses my own opinions. I am not receiving compensation for it (other than from Seeking Alpha). I have no business relationship with any company whose stock is mentioned in this article.