Athletic apparel maker Lululemon (NASDAQ:LULU) posted strong second quarter results, though the pace of both revenue and earnings growth have slowed. Revenue jumped 22% year-over-year to $345 million, slightly above consensus estimates. Earnings-per-share wasn't quite as strong, flat year-over-year at $0.39, but it still came in line with consensus expectations. Year-to-date, free cash flow stands at $26.9 million, equal to 4% of total revenue.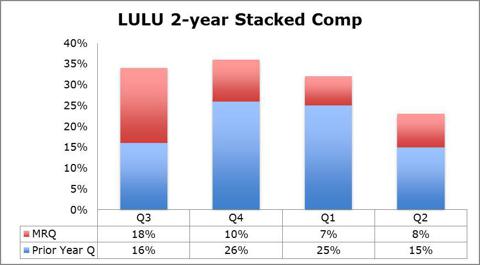 Image Source: Company Filings, Valuentum
The market is displeased with Lululemon's slowing comp sales growth of 8%, which is the firm's second consecutive quarter below a double-digit growth rate. Still, the 2-year stacked comp remains strong at 23%. Nearly any other company would be pleased with such a strong two-year trend, but Lululemon investors have become accustomed to 2-year stacked comps in excess of 30% (as shown above). Though growth slowed in the second quarter, we're pleased with how well stores held up during the period, especially as other retailers experienced a significantly lower rate of expansion.
Lululemon is also facing margin contraction. The weakness isn't much of a surprise given the robust 55%+ gross margins the firm has posted during the past few years, and it makes sense that, for sales to continue to grow at a high double-digit pace, the firm will have to sacrifice a little margin. Overall, the company's gross margin declined 110 basis points year-over-year to 54%. Still, the margin is well above that of competitors such as Nike (NYSE:NKE) and Under Armour (NYSE:UA).
Lululemon's SG&A as a percentage of revenue jumped 80 basis points year-over-year, to 31.1%. Without the same robust comparable sales growth, the firm isn't leveraging fixed costs to the same degree it was in previous quarters. This dragged the firm's overall operating margin down 190 basis points year-over-year, to 22.9% of sales-still an incredible figure for a retailer but down materially from prior periods.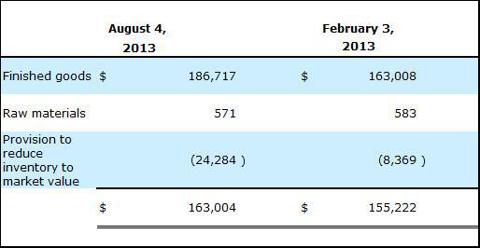 Image Source: LULU 10-Q
The other issue at Lululemon is that the 'Provision to reduce inventory to market value' has jumped since the beginning of the year, now sitting at $24.2 million as a result of the black luon pants issue. The current figure is only down slightly from the $25 million at the end of the first quarter, suggesting either these pants are mostly worthless or the firm is having additional inventory issues. We're keeping a close eye on the situation.
Looking ahead to the third quarter, Lululemon issued below-consensus guidance of $370-$375 million in sales driving earnings per share of $0.39-$0.41. Surprisingly, management reduced the full-year earnings outlook to $1.94 to $1.97 per share, below prior expectations of $1.96-$2.01 and even below the firm's initial fiscal year 2013 outlook of $1.95-$1.99. The full-year revenue outlook was also reduced slightly to $1.625-$1.635 billion from $1.67 billion. The reduced annual targets may reflect the need for the company to accept lower prices on some of the inventory it isn't moving (as well as the inevitable reality of slowing sales growth).
Valuentum's Take
As we noticed last quarter, CEO Christine Day's departure has coincided with growth slowing at Lululemon. That doesn't mean the company is ruined or that growth won't continue, but it certainly does suggest that expansion won't be as rosy as it was in the past. The firm is dealing with inventory and product expansion issues, and is starting to face increasing competition.
We think the brand itself is extremely valuable and continues to resonate with consumers. However, the current valuation simply doesn't provide a large enough margin of safety for us to be interested in establishing a position in the portfolio of our Best Ideas Newsletter.
Disclosure: I have no positions in any stocks mentioned, and no plans to initiate any positions within the next 72 hours. I wrote this article myself, and it expresses my own opinions. I am not receiving compensation for it (other than from Seeking Alpha). I have no business relationship with any company whose stock is mentioned in this article.