Armour Residential REIT (NYSE:ARR) is a mortgage REIT. It is managed externally by Armour Residential Management LLC. ARR pays a monthly dividend/distribution. For the three months of Q4 2012 that dividend was $0.09 per share per month. For the three months of Q1 2013 that dividend was $0.08 per share per month. For the three months of Q2 and Q3 2013, that dividend was $0.07 per share per month. ARR has just announced that it will cut its dividend again in Q4 2013 to $0.05 per share per month. Is this a continuation of a bad trend? I don't think so. Rather this probably represents at least a near-term bottom. The rise in interest rates and mortgage rates this year (and even in Q3 2013) almost certainly means that the net interest spread (the main basis of the dividend) will be wider. This should mean more net interest income per MBS. In addition, the calming of the excess volatility of Q2 in Q3 should further add to the net interest spread. On top of this, ARR's portfolio CPR (constant prepayment rate) has fallen dramatically in Q3 2013 as shown in the chart below.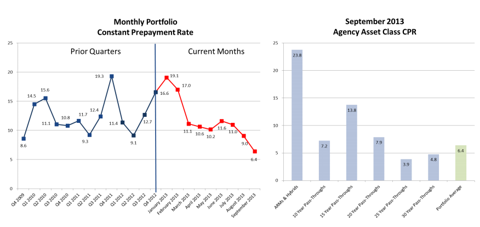 Click to enlarge
The portfolio CPR has decreased from 19.1 in January to 6.4 in September 2013. This should add to the increase in net interest spread also. ARR should also see further rises in net interest spread due to ARMs resetting to higher interest rates over the course of time. The net interest margin, which fell from 1.55% as of December 31, 2012 to 1.35% as of March 31, 2013, also stabilized to end Q2 2013 at 1.38% (a bit of a rise). This rise should have continued in Q3 2013; and that should mean more net interest income on the Q3 earnings report.
Some worry that ARR will have another big book value loss in Q3 2013. However, many factors argue against this. First, the rapid rise of roughly 100 bps at the end of Q2 technically demanded a mild retracement at least. Second, Agency RMBS prices suffered in the disorderly sell off at the end of Q2 2013. This volatility has eased in Q3. Therefore some of the volatility induced losses of value have almost assuredly been given back in the much more orderly Q3 Agency MBS market. Third, there have been further interest rate and mortgage rate increases in Q3. However, these have been smaller than those seen in Q2 2013; and the chart below of the 30 year FNMA 3.5% MBS shows that the value of the MBS is roughly today (September 25, 2013) what it was at the end of Q2 2013.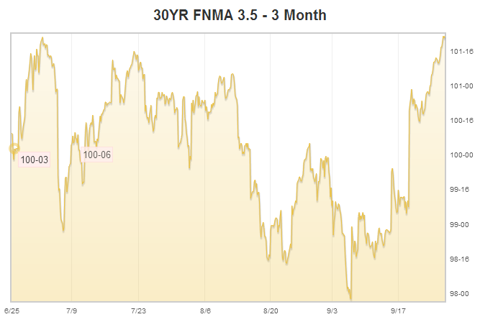 Click to enlarge
Admittedly, this is only one example. However, it is probably typical of ARR's holdings. If the MBS values stay approximately where they are between now and the end of the quarter (a few days away), ARR should see no book value losses due to decreases in the value of its Agency RMBS holdings.
On top of this, ARR should profit from its hedges in Q3 2013. The chart of the 10 year US Treasury note yield below shows that the interest rate has risen from the end of Q2 2013.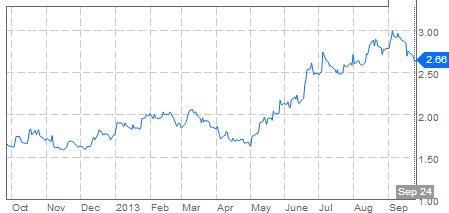 On June 28, 2013, the 10 year US Treasury Note yield was at 2.49%. It is at 2.64% as of this writing on September 25, 2013. That is a 15 bps difference; and it is easily enough to show a profit in ARR's hedges, which are essentially hedges against US Treasuries yield rises (typically 5 and 10 year US Treasuries). As of ARR's September 10, 2013 update, ARR had $13.1B in derivatives (swaps, swaptions, and futures). They hedge 82.3% on non-ARM assets (fixed rate Agency RMBS); and they hedge 88.6% of repurchase agreements. They should be profitable in Q3 2013, given the above data. Since the MBS values appear to be relatively flat, this should yield book value appreciation in addition to the still great dividend ($0.05 per share per month = 14.12% at the $4.25 closing price on September 25, 2013).
Added to the above, ARR is trading at a discount ($4.25/share) to its June 30, 2013 book value of $5.43 per share. ARR would have to appreciate almost 28% just to reach its June 30, 2013 book value. If it gains in book value in Q3 2013, then it will have to appreciate even more to get to its book value. This allows for a large increase in stock price in addition to the 14.12% current annual dividend. With little chance of another dividend cut in the near future, ARR is a buy.
When one considers that the Fed recently cut its US economic growth outlook for both 2013 and 2014, one is inclined to think that a rapid rise in the interest rates and mortgage rates is not likely in the near future. Rather ARR should be a good investment for the rest of this year at least; and it may be a good one for next year as well. We will all have to wait to see exactly how the US economic situation evolves. Under the best case scenario, ARR is probably a strong buy. Under the worst reasonable case scenario, it is probably a hold. The risks are minimal, and the potential profits are excellent at this time. If interest rates start to go up rapidly again, an investor can always sell.
The September 10, description of ARR's portfolio is below.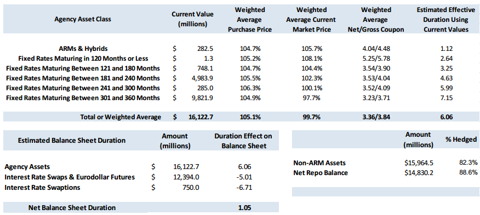 Click to enlarge
The two year chart of ARR provides some technical direction for this trade.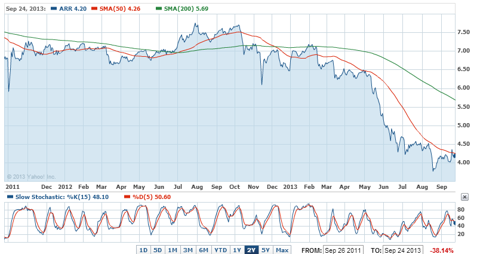 Click to enlarge
The slow stochastic sub chart shows that ARR is neither overbought nor oversold. The main chart shows that ARR appears to be rising off a bottom after a strong move downward for much of 2013. Thus far the chart shows a pattern of higher lows and higher highs. If this uptrend continues, a lot of buyers will jump in. Now is probably a good time to invest in this downtrodden stock.
ARR has an average analysts' recommendation of 2.6 (the highest hold). It has a CAPS rating of three stars (a hold). I consider it a buy. When others see on the earnings report what I believe I see now, they will likely upgrade their opinions of the stock. However, investors will likely have missed a good part of the upside by then. ARR is a buy now. However, investors may wish to consider averaging in. The overall market is currently in a downtrend; and it could take ARR down a bit with it.
NOTE: Some of the above fiscal data is from Yahoo Finance.
Good Luck Trading.
Disclosure: I have no positions in any stocks mentioned, but may initiate a long position in ARR over the next 72 hours. I wrote this article myself, and it expresses my own opinions. I am not receiving compensation for it (other than from Seeking Alpha). I have no business relationship with any company whose stock is mentioned in this article.