Ares Capital (NASDAQ:ARCC) announced another equity offering of 11 million shares and granted the underwriters an option to purchase up to an additional 1.65 million shares. The current share price is $17.56 and an 8% premium to its net asset value ("NAV") per share of $16.21. After hours trading reached a low of $17.00 in anticipation of the upcoming pricing this morning. I consider ARCC one of the 'safer' BDCs and it is currently a component of my "Risk Averse" and "General Optimal" portfolios. For those investors looking for a position in ARCC this could be an opportunity.
Here are the reasons why I think the recent offering is a positive for ARCC:
This transaction will be accretive to its NAV per share
Proceeds will be used to reduce debt
The debt paid off carries interest at variable rates
Market cap will be close to $5 billion and the largest in the industry
As of June 30, 2013, ARCC had a debt to equity ratio of 0.59 which is below the industry average. Approximately 75% of its borrowing had fixed rates. However in July 2013, ARCC issued $300 million of '2019 Convertible Notes' and recently reported that it had borrowed an additional $127 million on its revolving facilities since June 30. Once the proceeds from the offering are used to pay these down the new debt to equity ratio should be closer to 0.61 and the amount of borrowings at fixed rates should be almost 80% of total borrowings. This will help to position ARCC for the possibility of rising rates as discussed in "Ares Capital: Ready For Rising Rates?" that covered why the company should do well including:
Moving toward safer investments
Most investments have floating rates
Lower-than-average debt to equity
Most borrowings have fixed rates
ARCC has a target debt to equity ratio between 0.65 and 0.75 but has maintained limits well below that and the industry average as well as reducing its cost of capital and increasing its overall capacity as shown in the chart below: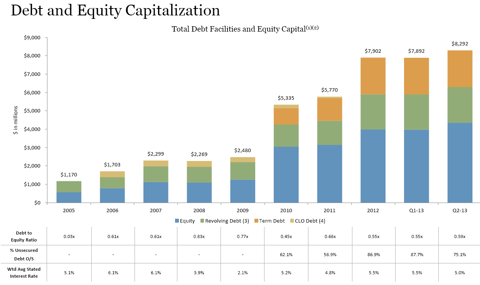 ARCC has been consistently decreasing its weighted average yields for each asset class well as increasing the amount of senior debt as a portion of the overall portfolio. The average yield on income producing investments was 10.7% as of June 30, 2013, down from 12.8% in 2008. On a recent earnings call, the CEO stated, "We remain focused up the balance sheet on floating rate, shorter duration senior debt investments, and defensively positioned companies. We have to have a willingness to accept lower asset yields for higher-quality investments in this environment, knowing that we can improve returns through syndication and structuring."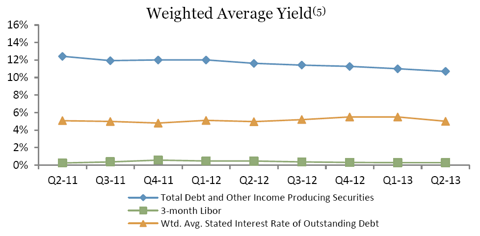 ARCC is projected to cover its quarterly dividend of $0.38 giving it a sustainable yield of almost 9%, and could potentially benefit from an increase in rates. The recent equity offering will reduce the current share price, but I think ARCC will ultimately rise to the top as investors see the upside potential from this transaction as well as its overall positioning.
Disclosure: I have no positions in any stocks mentioned, and no plans to initiate any positions within the next 72 hours. I wrote this article myself, and it expresses my own opinions. I am not receiving compensation for it (other than from Seeking Alpha). I have no business relationship with any company whose stock is mentioned in this article.