Pandora (NYSE:P) is an Internet radio station company that runs based off of your recommendations and music taste. A Pandora listener tips the software off as to what type of music they like by providing artists they like, and Pandora tailors a radio station based on this information; providing semi-custom Internet radio experiences.
The company, although reporting about $138 million in sales in 2011, IPOd at a price of $16/share, valuing the company at about $2.6 billion. The company has reported revenue increases through 2012, comprised of mostly advertising revenues. They've also had significant subscription increases, 38% year over year for 2012. However, the company remains non-profitable, and room for growth just got a lot smaller.
As of today, the company is valued at almost $5 billion, with its current stock price.
Pandora has been trading extremely well in the last year. After its initial post-IPO stagger, Pandora stock has rebounded on growing revenues and subscriber base. Pandora has yielded 55.5% to investors over the last three months alone, and an astounding 177.9% to those that have been invested since the beginning of 2013.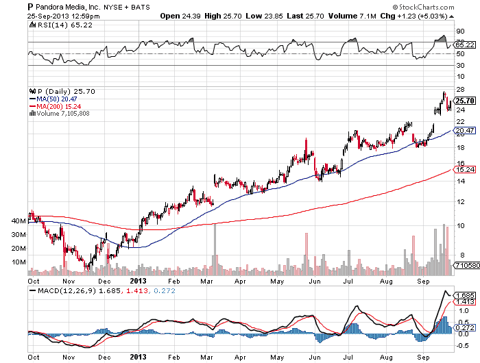 When the Pandora service first came out, I was a bit iffy on the concept. Who was going to listen to radio when you could now just simply make a playlist of all of your favorite songs and hear exactly what you wanted to hear all the time? But, as time went on and Pandora grew in popularity, I started to see the need of finding new music - and noticing that it was cool being able to hear new stuff and buy it immediately should you like it. Long gone are the days of waiting to hear something on FM radio and having to tape it off the radio. We've come a long way.
As I noted in a previous article, I guess Mel Karmazin was right when he went before the Senate to argue that Sirius/XM was a viable merger and not a monopoly because they'd technically be competing with things like iTunes in the future. I thought it was generally BS, simply to get the merger through - now, Pandora is going to learn this the hard way in the coming years, as iTunes radio gains traction and the "Corporate Strategy" executives at Pandora are likely to start putting in some major overtime.
Even though 11 million users, announced to be iTunes Radio's nascent user base, isn't close to Pandora's subscriber base, it's likely a sure sign of things to come that so many people have taken to iTunes Radio so very quickly. Like Pandora, iTunes Radio allows you to buy songs you're listening to through iTunes, which you've likely already got if you're using iTunes Radio. So, we have some harmony there with Apple (NASDAQ:AAPL) products doing what they do best - integrating for the benefit of Apple.
Plus, the thought of Pandora on Apple products has just been promptly flushed down the drain, as it's likely that all Apple products will now come with the "default" Internet radio player, iTunes Radio.
iTunes Radio has been released to great reviews, and the blogger consensus echoes that of CNET, who put it best when they basically just said that iTunes Radio has simply crushed Pandora in all metrics:
iTunes Radio may be late to the party, but it's still better than Pandora when it comes to streaming programmed radio on iOS. Like its competitor, iTunes Radio lets you create personalized stations based on one or more artists, songs, or genres of your choice, which makes it an attractive alternative to your personal iTunes library and a nice vehicle for discovering new music. Beyond that, though, it offers seamless purchases through iTunes, a curated selection of Featured Stations, and a music library that easily dwarfs Pandora's.
Still not convinced that iTunes Radio is going to deliver a swift blow to the company? iTunes Radio delivers nearly 30 times more songs and is cheaper by a tune of about 30% for the pay service.
The other issue that from a technical standpoint and a valuation standpoint, Pandora as an investment, simply seems way overvalued. Where should I start here? The RSI indicating that Pandora has been overbought several times on its current run up? A non-profitable company with a $4.5 billion market cap? A company that's on its way to losing up to half of its listeners to another service?
The other question is that this non-profitable company, that's been having issues posting a profit, is now going up against one of the biggest and arguably possibly the most fundamentally sound company in the world - who, by the way, has a user based that makes up nearly half of Pandora's users.
In terms of speculation, Pandora's stock valuation is based on that and nothing more. The price has built in the possibility that Pandora could be "the name" for online radio - and they had a great jump at it. The problem is, that with Apple (and Google) trying to get into this space now, Pandora is possibly going to be subjected to some major challenges. Major challenges that are not priced into the company's $5 billion market cap.
In addition, the streaming music space is one they're still going to have to compete for, with companies like Sirius (NASDAQ:SIRI), Time Warner (TWC) and Comcast (NASDAQ:CMCSA) all offering separate ways to access streaming music - and all with exclusive rights to content that sets them apart from one another. Aside from not having talk or comedy, Pandora doesn't really have any exclusive content.
At this point, the speculation which Pandora's value is based off of combined with the fact that Apple has now entered the space, makes it a attractive short for potential investors. There always remains the risk of a squeeze if P announces some type of good news - as 26% of the float is held short - but that would be a risk I'd be willing to take here, as Apple has written Pandora's fate on the wall.
Best of luck to all investors.
Disclosure: I have no positions in any stocks mentioned, but may initiate a short position in P over the next 72 hours. I wrote this article myself, and it expresses my own opinions. I am not receiving compensation for it (other than from Seeking Alpha). I have no business relationship with any company whose stock is mentioned in this article.