Shares of Green Mountain Coffee Roasters (NASDAQ:GMCR) have had a tremendous run, with its price rising over +240% since our October 2012 article highlighting its cheap valuation.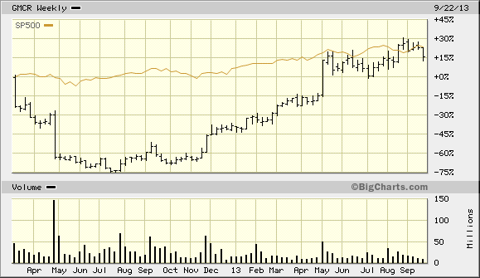 Currently, we see signs that the valuation of Green Mountain's shares has become stretched and, as a result, that the risks outweigh the rewards at the current trading price. We believe it is time to take profits and move to the sidelines ahead of its next earnings report.
Stretched Valuation
During 2012, we have recommended Green Mountain both as a short in March 2012 and as a long in October 2012. While we like Green Mountain's overall long-term potential as a company, Green Mountain's stock is fairly unique in that the stock price appears to travel through a boom-and-bust cycle of excessive optimism and pessimism over both the profitability and sustainability of its Keurig-centric business model. This boom/bust cycle has led to short-term periods where the shares are deeply overvalued and undervalued.
We feel Green Mountain is approaching the significantly overvalued territory. The stock has experienced significant multiple expansion -- at a P/E of 27 today from a P/E of 10 in October 2012 -- as calls proclaiming the imminent demise of the Green Mountain's razor-blade model were premature, as we noted last year. At the time, the market was concerned that Starbucks (NASDAQ:SBUX), Dunkin' Donuts (NASDAQ:DNKN) and other brick-and-mortar coffee houses would disintermediate Green Mountain by manufacturing unlicensed K-cups. As a result, Green Mountain was offered at a firesale valuation: a P/E of 10. At that price, investors were getting the company's future growth at a discounted price.
Today, the story is different. Green Mountain has regained its status as a stock market darling. With a P/E of 27 and consensus long-term growth forecast of 15%, the stock is quite expensive. Granted, the consensus growth forecasts only gives credit for increased penetration of the US at-home coffee market, with no credit for potential market opportunities in other beverage categories. But the conservative growth forecasts are reasonable, given that Green Mountain has not yet proven that its model can be profitable in other fiercely contested beverage categories.
Growth: Limited Low Hanging Fruit
While we suspect momentum traders are driving much of the disconnect between the stock's P/E and long-term growth estimates, it is also possible that investors are willing to pay a hefty premium for Green Mountain's growth options. Let's take a look at those potential growth drivers.
The Street's long-term growth forecast is based on Green Mountain's existing product line - Keurig and K-cups - and does not include new engines of growth. To achieve the 25+% earnings growth that is implied by the current valuation, Green Mountain will have to expand into new categories. At a recent investor conference, Green Mountain highlighted some of the growth initiatives in its R&D pipeline: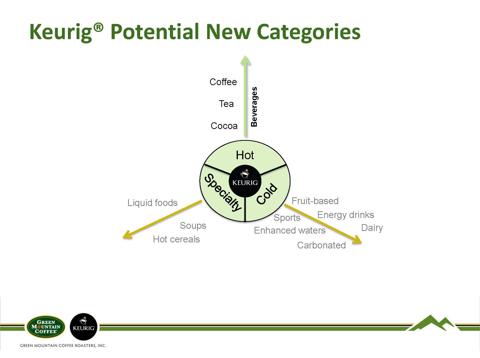 While it is possible Green Mountain will have success in these new categories, we think the economics will be more challenging. In Act I (from 2003 to the present), Keurig penetrated a largely uncontested at-home coffee market with its innovative Keurig machine. Coffee houses did not compete aggressively in the at-home market because they had a disincentive to do so. Coffee houses such as Starbucks want to increase foot traffic so that they can sell a bundled product: premium beverages, desserts, and wi-fi within the store.
In Act II (from 2013 on), Green Mountain's growth now seeks to disrupt well-capitalized beverage manufacturers such as Coca-Cola and Pepsi, not retailers. These manufacturers are both more willing and able to repel would-be disruptors. It will be more difficult to disrupt these categories, where the brand loyalty is very strong and the price point is quite low. We are skeptical that there are many soft drink or energy drink consumers that would you prefer to make versus buy their own beverage to save pocket change.
Green Mountain also faces a tougher entry into these fiercely contested markets (read: lower return on capital). Green Mountain has its work cut of for it from a product development, market education, and competitive positioning standpoint. That said, the company is innovative and they may well develop the right set of products and build the right set of relationships. Time will tell. But the stock is priced for perfection, while entry into these beverage categories is quite likely to be imperfect.
Conclusion
We like Green Mountain as a product and as a company. We anticipate pure-play coffee retailers, like Starbucks, to continue their partnership with Green Mountain. While Starbucks wants its coffee to be available to at-home users, they do not want to encourage the cannibalization of its very profitable store-based model.
But at this lofty valuation, we do not like the share price. If Keurig remains solely within the coffee category, the current share price is tough to justify. We believe that entry into the ancillary beverage categories are promising but success is far from certain.
We would take profits for those who participated in the share's rally over the last year, but we would not short the stock. With short interest at 39%, shorting is costly, and there is always potential for a short squeeze in such a crowded trade. We would capitalize on an earnings miss or other short-term hiccup over the comings quarters to re-enter the stock.
Disclosure: I have no positions in any stocks mentioned, and no plans to initiate any positions within the next 72 hours. I wrote this article myself, and it expresses my own opinions. I am not receiving compensation for it (other than from Seeking Alpha). I have no business relationship with any company whose stock is mentioned in this article.