In the battle of valuation, many arguments are put forward. Is Apple (NASDAQ:AAPL) losing ground to Android handsets? Is Take-Two (NASDAQ:TTWO) a "one trick pony"? Is Apple topped out in its earnings and revenues prospects? What next for Take-Two now that GTAV is out?
The result of all this debate is that many analysts end up taking the negative side of these stocks. And it also drives both stocks to strangely low valuations in the context of a euphoric monetary-driven market.
After all, Apple trades at just 12.3 times this year's estimated earnings, or 8.3 times if you back out the cash it holds. And Take-Two is trading at around 5 times this year's earnings as well (after estimates catch up with the huge unexpected GTAV success).
This happens on a market trading at 16 times this year's estimated earnings, and where many stocks have earnings multiples in the hundreds. This would make one believe that Apple and Take-Two are just over the top, about to hit with a sledgehammer. But are they?
This brings us to the title of this article
So what do Apple and Take-Two have in common? They have this in common (Source: Nydailynews.com; Newswire.co.nz)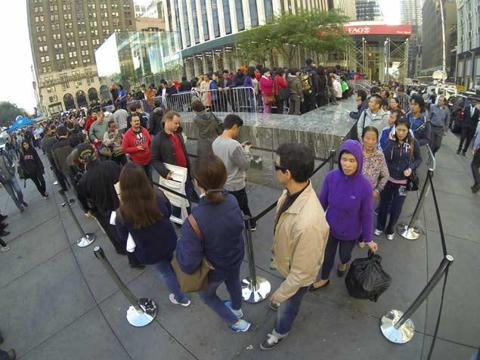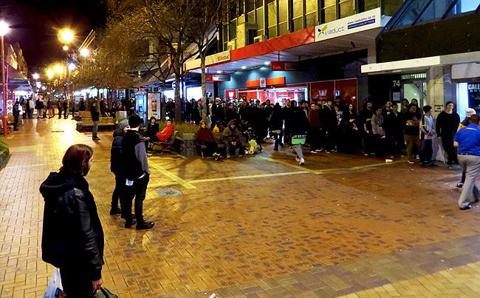 Lines. Lines all around the world to get their product. All around the world, in spite of both Apple's and Take-Two's products being premium priced ($649 for the most basic iPhone 5S; $60 for GTAV in a world where tablet/smartphone games usually cost less than $10).
And these lines produced a record launch for the iPhone, as well as a record launch for a media product (GTAV). Obviously a "record" cannot be a sign of just being over the hill. And it would take visionary skills to somehow guess that this was the last record.
Yet, these companies trade in a euphoric market as if they are the worse of the worst. As if their stocks had leper while profitless companies like Amazon.com (NASDAQ:AMZN) get to enjoy sky-high expectations.
This is perhaps yet another manifestation of a market gone wrong, propelled by Bernanke's monetary madness and blowing of bubbles. Interestingly enough, a similar phenomenon took place during the 2000 dotcom bubble, where many of the reasonable companies got dumped to produce liquidity to play the bubble.
Yet, I cannot but marvel at how far ahead of its competitors these two companies really are. What powerful brands and franchises they've built. How well made their products are, that even at a premium price they sell like hot cookies until the inventory is all gone. These are the true valuable brands. Selling on price, like Amazon.com does, always works. But selling at a premium price and in quantity is reserved for the very best companies and investments.
The only way towards massive profits, is to have the ability to sell more or less what the competitors sell (in terms of cost) at a higher price and margins. Apple and Take-Two have that ability. Many other companies, especially many of the tech bubbles of the day, don't.
So in the end, it is to be expected that Apple and Take-Two will end up being the better investments, especially when the alternative are hundred-Price/Earnings stocks with no margins.
Conclusion
Apple and Take-Two share a characteristic that's the cornerstone of a wonderful business. That is the ability to attract customers so strongly that they'll even sit for hours in giant lines, just to get Apple and Take-Two products, sold at a premium price.
Over time, these businesses should do much better than low-margin high-multiple tech bubbles that are all around us these days.
Disclosure: I am short AMZN. I wrote this article myself, and it expresses my own opinions. I am not receiving compensation for it (other than from Seeking Alpha). I have no business relationship with any company whose stock is mentioned in this article.
Additional disclosure: I am also long TTWO and might go long AAPL.