Peter Lynch used to preach investing "in what you knew," meaning that you should look for investing ideas all around you. Many times you can spot trends or gather ideas about a company by watching how consumers around you interact with the company.
I did that the other day at a local shopping center. I wanted a gift for my six-year old nephew and wanted it to be something that he could learn from. When it comes to shopping for such a toy/present, the leader is obvious from the products on the shelves -- LeapFrog Enterprises (NYSE:LF).
Leapfrog makes technology-based learning toys like the Explorer, Scribble and Write, TAG Reading System, My Own Leaptop, the Ultra Learning Tablet, and dozens of others. While other companies have larger market shares of the toy market, none does the learning-based toys as well as LeapFrog.
Two macro-related trends that make LeapFrog an appealing company are: 1) the broader economy's continued recovery (albeit slow) means that purchases for children will stay strong, especially around Christmas, and 2) parents' increased focus on kid friendly tablets and educational toys will remain strong going forward.
There have been concerns over glitches in its Ultra tablet, which prompted an earnings downgrade, but the revised price target ($10) is 33% less than the previous price target of $15. This seems like an excessive revision given the fact that consumers are not complaining about glitches nearly as much as this analyst.
With stellar reviews for the products, it looks like big holiday season awaits. Let's check out the finances and valuation of the company.
LeapFrog is basically a micro-cap stock at under $700M in market cap. This allows for more growth than the big boys in the industry. The company is expected to grow earnings over 300% this year. Projected earnings growth for next year is more moderate at 15.74%, and the next five-year growth rate is projected at 17.5% per year.
The company has a price-to-free cash flow ratio of 12.57, which is very good. That fact, combined with the fact that it has no debt, means that the company can continue to save up cash for opportune moments. This could result in a dividend, stock buyback, or strategic acquisition. In fact, the company has over $2.66 in cash. That represents 28% of its stock price.
You would think that with that cash and the slated 17.5% of growth, that LeapFrog might at least command a multiple near 17. It does not however. LeapFrog has a P/E of 6.9 and has a very reasonable forward P/E of 13.27. Given the P/E and projected annual growth rate, this results in a miniscule PEG of .39. Remember that Peter Lynch stated that normally valued companies typically have a PEG of around 1. therefore, the lower PEG implies undervaluation.
Shorts are rather prevalent in this stock. The current short float is 27%. The short ratio (time to cover with current average volume) sits at 10. If these shorts decide to cover, it could result in a massive short-covering rally.
Finally, it is less a concern to some investors, but this company is really doing good things. It is not shucking some gimmick products on kids. It actually diligently tests these products to make sure the children learn the most from them. In a world where companies often make a profit to the detriment of the rest of society or nature, this company is different. For me, that counts for something.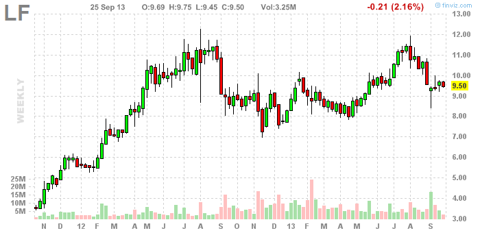 With that being said, I believe this company holds value. Based on current earnings growth projections, which are very reasonable, this stock is undervalued.

Disclosure: I have no positions in any stocks mentioned, and no plans to initiate any positions within the next 72 hours. I wrote this article myself, and it expresses my own opinions. I am not receiving compensation for it (other than from Seeking Alpha). I have no business relationship with any company whose stock is mentioned in this article.
Disclaimer: We do not know your personal financial situation, so the information contained in this article represents an opinion, and should not be construed as personalized investment advice. Past performance is no guarantee of future results. Do your own research on individual issues.