Medley Capital (NYSE:MCC) recently issued 6,900,000 shares, which includes the full exercise of the underwriters' option, at a public offering price of $13.00 per share that was accretive to its net asset value ("NAV") per share of $12.65 but increased the amount of shares by over 20%. MCC is one of the newer BDCs and I consider it one of the top companies to invest in for many reasons including its high yield, undervaluation compared to most BDCs, dividend growth history, superior investment class mix, high analyst rankings, and its history of dividend coverage from net investment income ("NII"). This article will discuss the impacts from the recent offering and the sustainability of its 10.8% dividend yield using my projections through the end of the year as well as identify the key risks and the proper price investors should be paying. MCC is a component in my 'High-Yield' and 'Value & Growth' BDC portfolios, as well as my 'General Optimal' portfolio, so I will provide some of the analysis behind my reasoning for this BDC as a quality component to those portfolios.
Growth Capital
MCC currently has a debt-to-equity ratio of 0.66 but plans to pay this down with the recent equity offering giving it plenty of potential capital to grow the portfolio including:
$86 million in net proceeds from the recent sale of 6.9 million shares.
$230 million revolving credit facility - $31 million outstanding as of September 3.
$150 million of SBA debentures - $5 million outstanding as of June 30.
The SBA regulations currently limit the amount that MCC may borrow to a maximum of $150 million based upon at least $75 million in regulatory capital, and as of August 1, 2013, it had $50 million in regulatory capital which allows them to borrow up to $100 million from the SBA. These debentures are 10 year fixed rate term loans at very low interest rates and are not included in the lending ratios that limit the amount of leverage a regulated investment company ("RIC") is allowed to use. This will reduce MCC's cost of capital as well as provide fixed rate borrowings for future growth.
Projections
MCC has been maintaining its portfolio quality with 99.6% of its portfolio in senior secured debt (more than any other BDC) and has experienced competition in the previous quarters resulting in lower yields but this trend has been leveling off with CEO stating "yields in the market have been stable. So, we produced assets just over 13% this quarter, the amortizations and prepayments rolled off at approximately 12.5% so that was actually a slight yield pick up on that portion that rolled."
At the end of the most recent quarter, MCC had a healthy amount of backlog and the CEO mentioned "In terms of the market, on our backlog, the yields are at or above and one comment I have I believe made in the past is that indicative pricing on a backlog does not tell you where it will close. But that it's been stable and it's higher than our current booking would lead us to believe -- leads us to expect the pricing is now stable and that's what we're seeing in the current quarter."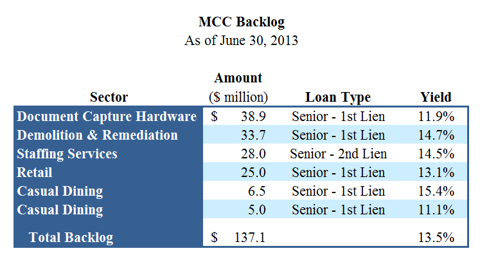 MCC has indicated that it has a comfortable debt-to-equity range of 0.6 to 0.7 and I have assumed a debt-to-equity ratios between 0.5 and 0.6 (excluding SBA debentures) and adjusted the average rates down for calendar Q4 based on the latest information. The CEO mentioned "in terms of leverage we said publicly and we will stick with it that our target on balance sheet ex-SBIC is 0.6 to 0.7. We ended the quarter at 0.65 and I saw top end of that range. We have a little bit of flexibility. And the SBIC we have access to." For purposes of projecting interest income in the coming quarters I have assumed net new originations similar to the previous quarter and slightly reduced yields: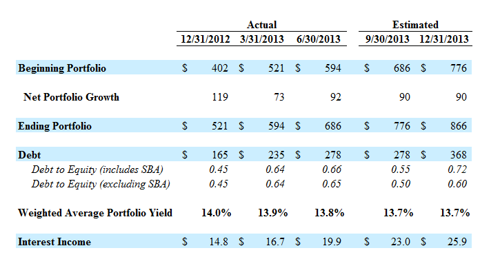 Management fees are in line with other externally managed BDCs at 1.75% of gross assets (some are 2.00%) and incentive fees of 20% of pre-incentive fee net investment income (with an 8% hurdle rate) and 20% of "cumulative aggregate realized capital gains less cumulative realized capital losses, unrealized capital depreciation (unrealized depreciation on a gross investment-by-investment basis at the end of each calendar year) and all capital gains upon which prior performance-based capital gains incentive fee payments are previously made to MCC Advisers." I did not assume any significant additional incentive fees related to realized capital gains which the shareholder would ultimately benefit from as well. The other expenses are nominal and have very little impact on EPS.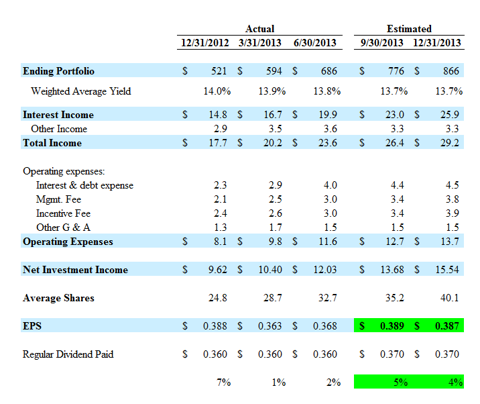 Using these assumptions, I came up with calendar Q3 and Q4 EPS of $0.389 and $0.387 (higher than the current analyst expectations), respectively. More importantly was the projected EPS 'run rate' if MCC did not issue additional shares and was able to benefit from a full quarter of interest income from the current portfolio, as well as reduced interest expense after utilizing the new SBIC loans, I came up with quarterly EPS of $0.44. This would give MCC plenty of room for further increases to its dividend from the current $0.37. The CEO recently stated "we expect net investment income will meet or exceed the current dividend as we look forward assuming we are able to deploy capital as planned."
Risks
In a recent series of articles "BDC Risk Profiles" I took an in-depth look at the relative risk levels of each BDC. Specifically, I looked at portfolio credit quality, investment asset classes, diversification, non-accrual rates, portfolio yield, fixed/variable rate loans, leverage, interest rate sensitivity, volatility ratios, market capitalization, insider ownership and trends, institutional ownership and trends, and management/operational history. I currently rank MCC 5.9 out of 10.0 on a relative risk level (10 being the least risky) for the following reasons:
Much better than average investment class mix
Average leverage ratios
Average industry diversification
Average market cap size
MCC currently has the highest amount of senior secured loans as a percentage of its portfolio than any other BDC with a weighted average loan to value ratio ("LTV") of 56.4%. The LTV ratio for a portfolio investment is a useful indicator of the riskiness or its likelihood of default and MCC seeks to structure transactions with downside protection and LTVs of lower than 65%.
I have a few concerns with investing in MCC including a loan to Geneva Wood Fuels that was added to its non-accruals with a fair value of approximately $4.1 million, or 0.6% of the portfolio, a decrease in floating rate loans as percentage of the portfolio, and its weighted average yield of 13.8% which is higher than most BDCs, as well as an increase in leverage and decrease in the amount of interest expense coverage from NII.
During the recent earnings call, they discussed the loan on non-accrual: "this company is currently in a sale process and we expect the process to be complete in the current calendar quarter." Currently only 45% of its portfolio bore interest based on floating rates, but during the call they also stated "we expect to increase the percentage of floating rate loans in the quarter's ahead."
Given the most recent equity offering, MCC's debt-to-equity ratio will most likely fall below the industry average and as it moves toward a lower cost of capital and increases its NII, its interest expense coverage ratio should improve as well.
BDC Pricing
When considering BDC valuations, I take into account many criteria including its relative risk rank compared to the pricing multiples NAV per share, last twelve months EPS and 2013 EPS for each. I believe there is a strong correlation between investors' perception of risk and the valuation multiples they pay. The table below breaks down the BDCs into groups with associated multiples: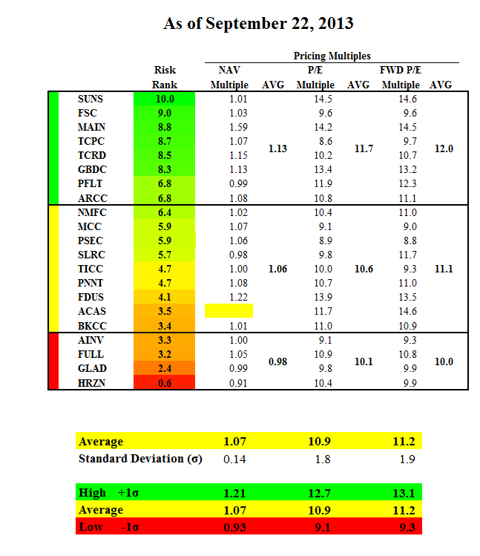 Currently the average NAV per share multiple is 1.07 (excluding ACAS as an outlier) and P/E multiple is 11.2 using 2013 EPS. The 'standard deviation' statistically measures the variation of pricing compared to the average, with 68% of BDCs priced within one standard deviation from the average or between 0.93 and 1.21 times NAV per share and between 9.3 and 13.1 times 2013 EPS. Ideally, each BDC would be priced along a valuation curve with investors paying a premium for favorable risk-to-reward ratios.
Using MCC's risk rank of 5.9 would imply that it should be priced just above the current averages:
NAV multiple: 1.10 x $12.65 = $13.92
LTM EPS multiple: 11.3 x $1.49 = $16.84
2013 EPS multiple: 11.7 x $1.51 = $17.67
Currently the stock is trading at $13.65.
Summary
I believe MCC will be able to cover its dividends through the end of 2013 as well as potentially increasing them over the next few quarters. I also believe that it will continue to invest in high quality assets and improve its risk profile by reducing its leverage, increasing its interest expense coverage from increasing NII and reduced cost of capital, reducing its non-accruals, and positioning its portfolio for rising rates with more floating rate investments and fixed rate borrowings. MCC is currently undervalued and has one of the higher sustainable yields with the potential for growth. My current price target for MCC is between $15 and $16 but if it is successful in growing its NAV per share value and improving its risk profile, this range would be closer to the $17 implied from the EPS multiples.
Investors should only use this information as a starting point for due diligence. See the following for more information:
Disclosure: I have no positions in any stocks mentioned, and no plans to initiate any positions within the next 72 hours. I wrote this article myself, and it expresses my own opinions. I am not receiving compensation for it (other than from Seeking Alpha). I have no business relationship with any company whose stock is mentioned in this article.