Introduction
As a financial writer who covers a wide swath of names, it is always heartening to revisit a call that has worked out largely as planned. Since early 2013, hype and air have been coming out, while the fundamentals have been weighing on Halcon's (NYSE:HK) stock. As a result, the stock has dropped more than 40% since early 2013, hitting new 52 week lows despite the fact that the S&P 500 has been rising during the last 9 months. This ugly performance has been in line with all my forecasts.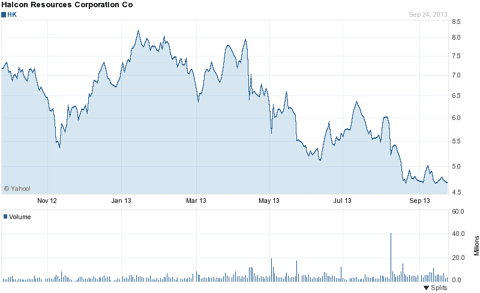 The latest financings and the recent sale of 4,500 boepd make me re-evaluate my thesis on the stock. This is 13% of its total production and can not pass unnoticed.
Halcon And Me: A "Love" Story
Halcon's valuation has been a very lucrative bet for me since early 2013. Let's see first how this bet has unfolded since early 2013, when I wrote about it:
1) In early 2013, I considered Halcon to be analogous to the dot com bubble of 2000. I was wondering why it had such a staggering valuation at $8 in early February 2013. I could not find any fundamental reason to support that valuation, and I made a bearish call back then. I also shorted it, as disclosed. The stock dropped down to ~$6 few weeks later, confirming my bearish call. My article is here.
2) The stock rose again to $8 in early April 2013. However, there was also not any publicly available fundamental improvement to justify this move from ~$6. I warned all about the company's debt overhang and shorted it again. The stock dropped down to ~6$, confirming again my bearish call. My analysis is here and here.
In these three articles above, the bullish comments were also a study case about the herd behavior, although many of them were deleted because the bulls used derogatory language against me. I know, it has never been easy to be a contrarian investor. However, these bulls had placed a lot of credibility on the analysts' bullish targets about Halcon without doing their own dd. Apparently, that was wrong.
3) In my recent article about Halcon, I pointed out why I would not touch it with a ten foot pole at ~$6.30. However, I did not short it, as disclosed. I wish I did because the stock has dropped 25% since then. My article is here.
4) In my latest article about Halcon, I discussed why Halcon was expensive at $5.45. That was Halcon's price when that article was syndicated. I also noted that Halcon's downside would not stop at $5.45, but I expected it to drop down to $4.5 and lower. The stock sits at $4.68 today. My article is here.
5) In late August, Stifel showed up finally and downgraded Halcon from Buy to Hold. Stifel was obviously late to this bearish party. Why did Stifel upgrade Halcon from Hold to Buy in early May 2013, when the stock was at $6.5? Where is Stifel's ability to read between the lines and evaluate Halcon correctly? Aren't the analysts paid to be ahead of the crowd? Well, I will not express my opinion about all these highly paid analysts because this is out of the scope of this article.
The Continental Argument
Some authors have been bullish on Halcon, selling the argument that Halcon is similar to Continental Resources (NYSE:CLR) whose output passed the 100,000 boepd threshold in Q3 2012. They estimate that Halcon's production will hit the magical 100,000 boepd figure within a reasonable timeframe, possibly by late 2015 or early 2016, thus enabling the big cash-out to occur. Two of these articles are here and here.
I emphatically reject this thesis because Halcon's current condition is not similar to Continental's. Continental had a production of approximately 37,000 boepd in early 2009. This is close to Halcon's current production after the recent asset sale of 4,500 boepd. Here is the chart with Continental's production over the last years: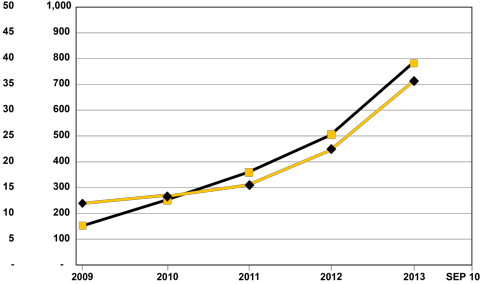 The thing is that Continental never had a debt overhang. Continental's cash flow and long term debt from 2009 until 2012 are below:
Continental Resources

Long Term Debt

Annual Cash Flow

($ millions)

D/CF

2010

1,002

653

1.53

2011

1,371

1,067

1.28

2012

3,552

1,632

2.18
It is clear that Continental's D/CF ratio has remained below or at about 2 times during the last four years. With such a healthy balance sheet, it took Continental 4 years to reach the magical threshold of 100,000 boepd.
Firstly, Halcon does not have more productive acreage than Continental. Secondly, Halcon is more leveraged than Continental as shown below. So it will take at least 5 years for Halcon to reach this magical number of 100,000 boepd while cleaning its balance sheet and bringing it more in line with its peers'. So my estimate is that Halcon will reach 100,000 boepd in 2018 or later, assuming that the company is willing to improve its balance sheet by then.
The Cash-Out Prospect And The Early Movers
Some other authors have been selling the cash-out prospect and they want to be early movers. I have read many times that Halcon is a cash-out story with the stated intention of cashing out in a few years. So many investors have rushed to position themselves in this company, expecting for a fruitful deal. However, the early mover strategy has not worked with Halcon thus far, because the stock has dropped a lot from its peak at about $11.
Well, it is no secret that Floyd Wilson will sell Halcon one day. It has been said that an exit strategy is likely to materialize at 75,000-100,000 boepd, according to this news article. Regarding this exit strategy, one can find more information in this Oil & Gas Financial Journal article, or watch this interview on CNBC.
However, I do not buy this cash out argument "as is". To me, this is half-truth. To make a correct investment decision and master the art of a deal, one needs to take into account the whole truth. The whole truth is that timing matters in a buyout deal. Let's check out the latest deals of the energy sector, because they teach us some valuable lessons about the timing of a buyout:
1) Tamarack Valley Energy (OTC:TNEYF) bought Sure Energy (OTC:SUGYF) a few weeks ago, after the latter dropped down to 15 cents, where its valuation was in line with its peers.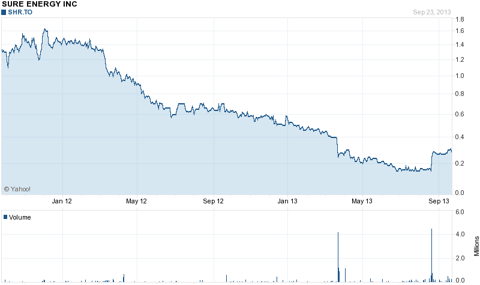 2) In April 2013, Contango Oil and Gas (NYSEMKT:MCF) acquired Crimson Exploration (NASDAQ:CXPO) at $3.19, where the latter traded in line with its peers. Contango did not buy Crimson when the latter was hovering higher than $5 where Crimson was grossly overvalued.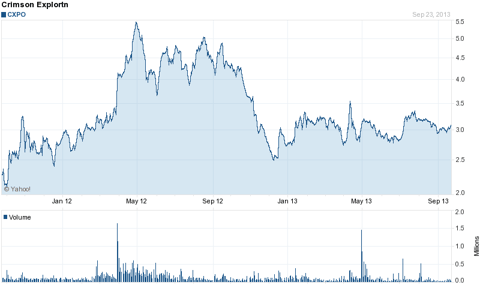 3) In late March 2013, Pace Oil acquired Charger Energy at 40 cents, where the latter traded in line with its peers. Pace Oil did not buy Charger when the latter was hovering higher than $1 where it was grossly overvalued.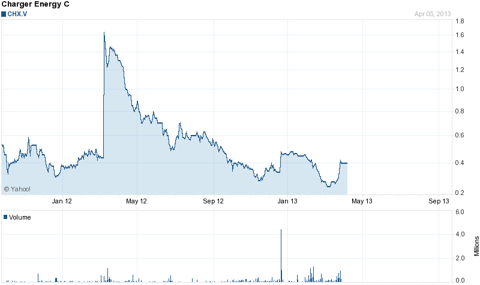 So timing is everything. The ideal timing for a buyout is dependent on the corporate developments, the corporate valuation and the market conditions. According to the drilling results, Halcon does not own a top notch acreage to deserve a hefty premium. So an acquirer will buy Halcon when it is fairly priced compared to its peers, and when the market conditions are at least stable. If Halcon is overvalued or if we are in a turbulent market, the potential acquirer will most likely pass Halcon to acquire another more attractively priced company.
Who also knows what is going to happen in the markets by 2018? Who knows whether a crash happens or not? To me, there is also a plethora of better investment opportunities than Halcon, if a potential investor is willing to wait for 2-3 years. I have identified in my articles more than 10 such opportunities since early 2013.
Things have also changed in the energy sector and the majors (potential buyers for Halcon according to the CEO's interview above on CNBC) will most likely avoid paying premiums as hefty as they used to do. The transaction metrics for the future deals of the energy patch will most likely drop compared to the past ones.
In the past, the deals took place with the concrete hope that the shale oil and the shale gas are highly profitable projects. So the acquirers often overpaid to buy out the unconventional players. However, the reality looks to be different as of today. According to the latest news, the big oil firms like Exxon Mobil (NYSE:XOM) and Royal Dutch Shell (NYSE:RDS.A) are struggling to make money from massive bets on the shale boom in North America. These unconventional deposits of oil and gas are abundant but they are not always profitable.
Shell's overall exploration and production operations in the Americas sustained a loss in Q2 2013, partly because of higher costs. After failing to make profits from its U.S. shale gas assets, Shell tried to shift its North American production toward more profitable oil. However, finding shale oil turned out to be tougher than finding gas, the company said. And, with current oil and gas prices, the business will likely continue losing money at least through the end of this year, Shell said.
Why The Stock Has Tanked
So Halcon's stock has lost much of its shine since late 2012. Firstly, there have been several issues with production growth and the company trimmed its previously excessively optimistic production guidance.
As shown at the Q2 2013 report, Halcon lowered its average production guidance for 2013. The company guided in November 2012 that it expected to produce in excess of 40,000 boepd in 2013 on average. In Q2 2013, Halcon revised its average production guidance for 2013 significantly downwards. Now Halcon guides that 2013 full year average production will be between 30,000 and 34,000 boepd. This is a decline of 20-25% from the initial guidance.
Furthermore, investors do not like the way that the company has gone since late 2012 about raising capital and equity to fund their ambitious exploration efforts and pay down part of its debt.
The Latest Developments And The Balance Sheet
The following financing events took place in August 2013:
1) Halcon offered $400 million in aggregate principal amount of senior unsecured notes due 2022. The Notes will bear interest at a rate of 9.25% per annum. Halcon intends to use the net proceeds from the offering to repay a portion of the outstanding borrowings under its senior secured revolving credit facility.
2) In August, Halcon priced an underwritten public offering of 38,000,000 shares of its common stock at a price of $5.10 per share. The company has granted the underwriters a 30-day option to purchase up to an additional 5,700,000 shares of common stock. Halcon intends to use the net proceeds from the offering to repay a portion of the outstanding borrowings under its senior secured revolving credit facility.
In September, Halcon also divested certain non-core conventional assets located throughout the U.S. for total consideration of approximately $302 million. Proved reserves associated with these properties were 21.2 MMboe (77% oil and NGLs), and these assets were producing approximately 4,500 boepd. This sale came after these transactions:
1) In July 2013, Halcon closed on the sale of 24,189 net acres in Fayette and Gonzales Counties, Texas for proceeds of approximately $144 million. These assets produced an average of 1,811 boepd from the Eagle Ford formation. Proved reserves associated with these assets were 3.6 MMboe (December 2012).
2) In July 2013, Halcon also closed on the acquisition of 18,569 net acres in Williams County, North Dakota for approximately $76 million. The acquired interests were producing approximately 900 boepd.
On a pro forma basis, after adjusting for the aforementioned acquisition and divestiture of July, Halcon was producing approximately 35,000 boepd and owned 106.7 MMboe of proved reserves.
According to the latest presentation, Halcon was producing approximately 40,000 boepd. After selling 4,500 boepd, Halcon produces approximately 35,500 boepd and owns 85.5 MMboe of proved reserves (106.7 - 21.2).
After the latest public offering and new senior notes, Halcon has long term debt at $2,770 million, cash at $335 million and market cap at $1,910 million. So, Halcon has Enterprise Value at approximately $4,345 million currently.
Halcon And The Peers
1) Per Production and Proved Reserves: All Halcon's peers have oil-weighted production and operate in neighboring lands.
Company

EV

($ million)

Production

(boepd)

Proved

Reserves (1P)

(MMboe)

EV/Production

($/boepd)

EV/1P

($/boe)

Halcon

4,345

35,500

85.5

122,394

50.82

Oasis

Petroleum

(NYSE:OAS)

7,100

43,000

215.6

165,116

32.93

Continental

Resources

24,100

140,000

922

172,143

26.14

Kodiak Oil

(NYSE:KOG)

5,200

34,000

144

152,941

36.11

Whiting

Petroleum

(NYSE:WLL)

9,500

93,400

396.3

101,713

23.97
2) Per Debt To Cash Flow Ratio: Let's check out the table below:
Company

Long Term Debt (Net)

($ million)

Estimated Annual

Cash Flow ($ million)

Net Debt

-------

Cash Flow

Halcon

2,435

550

4.43

Oasis

Petroleum

2,570

880

2.92

Continental

Resources

4,230

2,700

1.57

Kodiak Oil

2,100

550

3.82

Whiting

Petroleum

2,500

1,500

1.67
Conclusion
Halcon is one of the most beaten up equities of the energy sector and a further drop from the current levels will likely be relatively limited. However, the company remains the most leveraged player in its industry group, and its reserves ratio is very high. So I'll keep Halcon in my watch list, but I am not dipping my buying toes into it at the current levels, waiting for a better entry point.
Disclosure: I have no positions in any stocks mentioned, and no plans to initiate any positions within the next 72 hours. I wrote this article myself, and it expresses my own opinions. I am not receiving compensation for it (other than from Seeking Alpha). I have no business relationship with any company whose stock is mentioned in this article.