As someone who covers a lot of short ideas on this site, one of the most important items I follow is short interest data. One must always be aware of the short interest in a stock. A large short base could spark a short squeeze on good news, while low short interest could spark a huge drop on bad news. Every couple of weeks, we get an update from Nasdaq on short interest data, and I report on what I am seeing. Today, I'm here to discuss the middle of September numbers. I'll discuss five names that short sellers are going after, whether just recently or over the longer term.
Apple (NASDAQ:AAPL):
The tech giant saw a small increase in short interest, roughly 300 thousand shares in the first few weeks of September. Why is this important? Well, the first reason is that it erases a four update decline. As you can see in the chart below, Apple's short interest was making a nice move lower. At the prior update, Apple's short interest was at its lowest point since early January. A move lower at this update would have put Apple's short interest at its lowest point during 2013.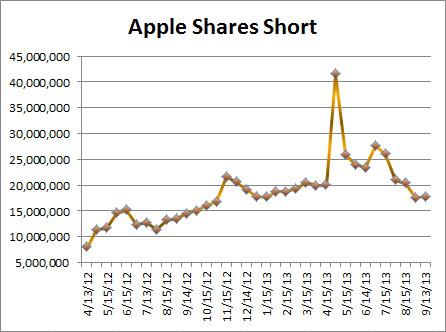 The second important piece here is that Apple's trading volume has recently picked up. That's not a surprise, given the recent iPhone launch combined with traders returning from summer vacations. However, the recent volume spike has put Apple's days to cover ratio at its lowest point since February. A chart of Apple's days to cover ratio is below. After the large rise, a decline in the days to cover ratio shows more interest in Apple shares (increased volumes), plus a reduced amount of those bearish (short count).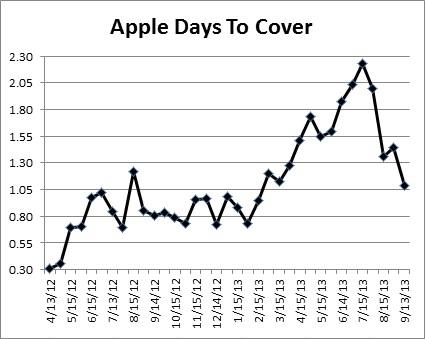 The interesting point here is that the mid-September update included only the first reaction to the iPhone launch, the time when there were many complaints. We will not see a full reaction to the iPhone news until the end of September update in a few weeks. That will be the more important update, especially given the postponement of Apple's funeral. Apple crushed all iPhone sales estimates, which shouldn't be a surprise given it launched in China on the same day this year. With the iPhone selling extremely well, you would think shorts would be getting nervous here with earnings a month or so away. Apple also has a 2.53% annual dividend yield and the largest buyback in corporate history, so that will scare away shorts as well. You have seen short interest in Apple trend lower over the past few months, but we still are well above levels seen for most of 2012.
Cisco Systems (NASDAQ:CSCO):
The networking giant saw a pop in short interest at the end of August update, which reversed a trend that had put short interest at its lowest point in more than a year. I didn't mention it then, but we've now had two straight increases. In the past month, as you can see below, Cisco's short interest has risen by nearly 8 million shares, a rise of 16%. Short interest is at a three month high.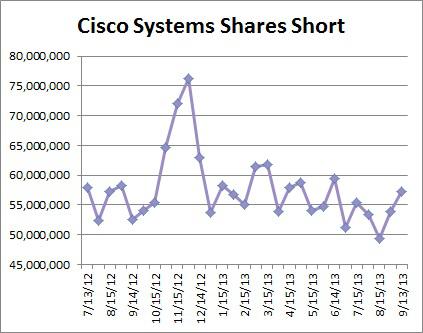 The recent rise was most likely due to shorts re-entering the name after a recent run. Cisco shares tumbled from around $26.50 in August to the low $23 area after weak guidance for its current quarter. Shares rebounded a bit in early September, almost reaching $25 before settling down. The increase in price probably has a lot to do with short sellers that had covered jumping back in. However, you will notice that the overall trend this year has been lower. That's probably due to a number of factors, one of which is Cisco's capital return program. Cisco might announce a new buyback within the next year, and that could certainly have a large impact on short interest.
Netflix (NASDAQ:NFLX):
Are we reaching a point where short sellers are starting to take a flyer on Netflix again? It sure seems that way. As you can see in the chart below, Netflix short interest at the end of July was at its lowest point in more than a year. Part of the reason for the stock's large run was short covering, but lately, shorts have been going the other way. In the last three updates, short interest has risen by more than 1.4 million shares, a rise of 20.6%. Similar to Cisco, Netflix short interest is at its highest point in almost three months.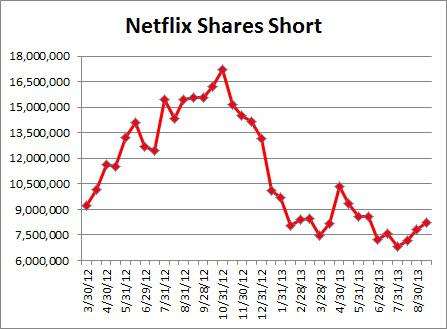 There comes a point where more new short positions are started than the amount of frustrated investors who cover, and that seems to be where we are now. Netflix seemed like a great short to many when it was at $100 or even $200, but now people are really getting doubtful at more than $300. Netflix shares have hit new highs recently above $320, and the number of doubters is growing. At more than 4 times this year's expected revenues, Netflix is priced for perfection. The company will need to deliver a strong third quarter report, or the stock will be taken down. The company will need to show that its new lineup of original programming is working, and that the new international launch into The Netherlands is off to a good start. At this point, it probably wouldn't be a bad idea for Netflix to raise some funds either, to alleviate those balance sheet concerns that many have. Short sellers were running away from Netflix for a while, but now that shares are back above $300, the non-believers are starting to pile up again.
SodaStream (NASDAQ:SODA):
Short interest in SodaStream rose by another roughly 290 thousand shares in the first few weeks of September. While that rise is not significant on its own, the chart below shows why this name makes the list. SodaStream short interest is now up almost 39% since the mid-June low. With more than 8.5 million shares now short, short interest is at a level not seen since November 2012.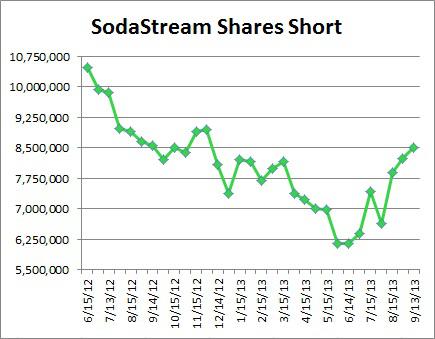 I'll admit I was a wrong on this one, because I thought short interest would come down at this update. There had been some concerns about a war in the Middle East because of Syria, and competitive fears in regards to Green Mountain Coffee Roasters (NASDAQ:GMCR). Neither of those issues have really panned out, so I thought that short sellers would start to cover a bit. Apparently, they just aren't a fan of this stock in the mid $60s, so short interest rose again. With more than 43% of the float now short, there could be a massive short squeeze in this name if we get a piece of really positive news.
Zillow (NASDAQ:Z):
The real estate website had made my lists of short interest declines a lot recently. However, the recent trend quickly reversed at the latest update. Zillow's short interest was at its lowest point in more than a year at the end of August. However, in the first few weeks of September, nearly a million additional shares were shorted, a rise of nearly 23%. As you can see below, this was the largest single rise in short interest since December 2012.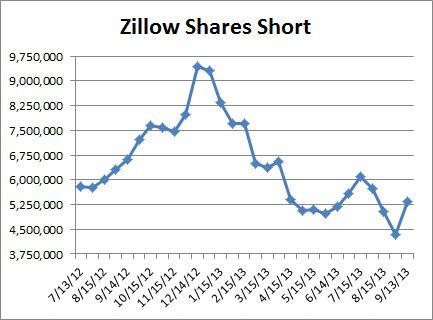 Zillow shares have risen from the high $20s to $87 so far this year, recently hitting a high of $103. It's not too much of a surprise to see the downward trend in short interest reverse, but will it continue at the next update? That will be an interesting update to watch, because Citron just issued another negative report regarding Zillow. Zillow has come down a little since the Citron report, so it will be interesting to see what happens next time around.
Final thoughts:
All five of these names have seen significant rises in short interest, whether over one update or the longer term. Apple saw its short interest rise for the first time in a few months, but a massive opening weekend for the iPhone might silence the critics. Cisco short interest rose to a three-month high as the stock started to rebound from its post-earnings fall. Netflix shorts have started to come back lately as the stock has topped $300 again. SodaStream short interest continues to rise, despite some recent fears being alleviated. Zillow short interest stopped a recent downward trend, and will be one to watch at the next update after a negative report from Citron. Will any of these names make the list the next time around? I'll be back in a couple of weeks with that answer.
Disclosure: I have no positions in any stocks mentioned, and no plans to initiate any positions within the next 72 hours. I wrote this article myself, and it expresses my own opinions. I am not receiving compensation for it (other than from Seeking Alpha). I have no business relationship with any company whose stock is mentioned in this article.
Additional disclosure: Investors are always reminded that before making any investment, you should do your own proper due diligence on any name directly or indirectly mentioned in this article. Investors should also consider seeking advice from a broker or financial adviser before making any investment decisions. Any material in this article should be considered general information, and not relied on as a formal investment recommendation.