Is Newmont Mining (NYSE:NEM) worth a look with the shares tumbling for over a year? The 52-week chart below compares Newmont Mining to Barrick Gold (NYSE:ABX), Goldcorp (NYSE:GG) and Yamana Gold (NYSE:AUY). The dismal performance of all gold miners shows that the entire mining sector faces severe headwinds (weak commodity demand, declining prices and net sales). Newmont Mining shareholders have lost 49% of their investment in the last year alone. Goldcorp shares have lost 43%, Barrick Gold 54% and Yamana Gold 44%.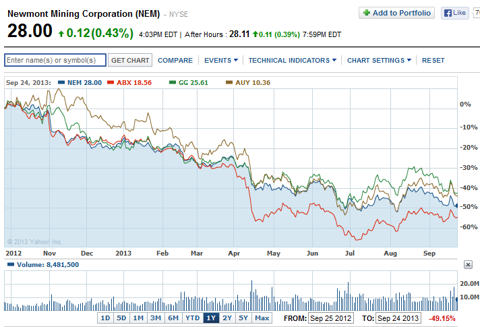 Thesis and mindset
Certainly, lower commodity demand and lower output prices need to be reflected in security prices. However, a sentiment- and fear-driven industry outlook often presents opportunity for investors willing to take a longer-term perspective. It is my experience that purchasing shares of companies that face short-term macro (or micro) uncertainty offer contrarian investors an attractive asymmetric pay-off profile simply because most investors get carried away in their pessimism. It is this fear-driven paradigm that drives security prices away from their intrinsic values. Recent examples of such sentiment-driven value plays include American International Group (NYSE:AIG), mortgage insurers Radian (NYSE:RDN) and MGIC (NYSE:MTG) and BP (NYSE:BP) (hammered because of its oil spill settlements). Most notably, I believe turmoil and uncertainty offer opportunity (courageous and research-driven investors for example can find tremendous bargains in the Greek banking sector or in the US community bank space right now).
Sector faces macro headwinds
Lower gold and copper prices as a consequence of slower economic growth caused Newmont Mining to book a $1.8 billion net-of-tax impairment which contributed to Newmont's falling share price. Also, Newmont managed expectations and introduced a "gold price-linked dividend" which was set at $0.25 per share (down from $0.35 in the previous quarter). Investors who believe that economic conditions in Asia and America are going to improve might be able to get their hands on some good value with Newmont Mining.
Macro challenges addressed by overhead and capex adjustments
As is often the case when macro conditions deny revenue and profit growth, companies resort to optimizing their cost structure to deliver value and appease shareholders. As we see in the free cash flow section below, Newmont Mining needs to rebalance operating cash flows and capital expenditures such that it can achieve sustainable, positive free cash flows. Macro challenges in terms of lower output prices already caused Newmont to decrease its quarterly dividend by 29%. Although this is a red flag, investors should give Newmont the resources and time needed to restructure its cost and capex base. The fundamental business model is sound and there are chances free cash flow can improve substantially.
Newmont has implemented cost savings that are already bearing fruit. Year-to-date corporate spending is down $362 million while capex spending is down $458 million or 29% compared to last year. 2013 cost cuts are part of a larger comprehensive approach to deliver value internally.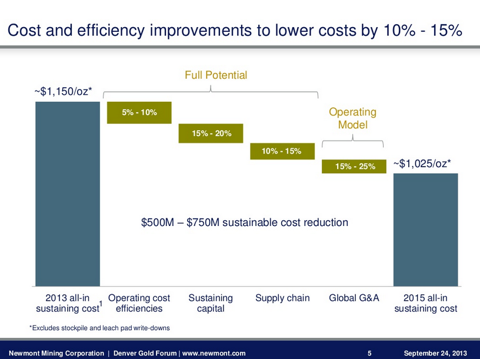 Opportunities to create value are plentiful
I believe Newmont's stock-pile write-offs due to lower end market prices in 2013 were one-off expenses. Newmont Mining commits to tackle spending and presents reasonable, exercised cuts to corporate overhead and capex. Furthermore, a continued focus on investment spending discipline should get the free cash flow performance in line. The initiation of a gold price-linked dividend exposes income-oriented investors to a direct play on the gold price. A scenario analysis regarding estimated dividend payouts depending on the underlying average gold price is provided below: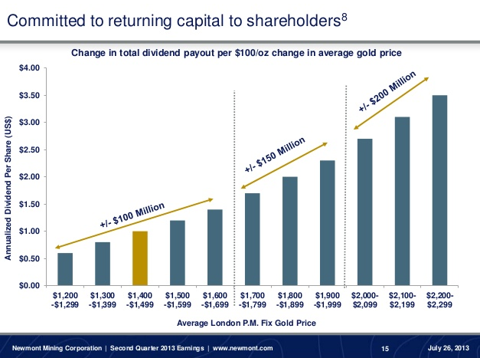 Free cash flow and capex challenges
I calculate the 2012 total free cash flow to equity to be $495 million: $2,372 billion in operating cash flow from continuing operations minus $3,253 billion in capex and acquisition expenses plus $1,376 billion net change in borrowings (without debt issues the free cash flow would have been negative by $881 million). With 497 million shares outstanding, the FCFE per share is around $1 a share. The historic relation of operating cash flows to capital expenditures is unbalanced because in three of the last five years (2008, 2011 and 2012) free cash flows, before changes in net borrowing, have been negative (to be fair: negative free cash flows in 2011 were driven by extraordinarily high acquisition outflows). Newmont's LTM free cash flow stands at $600 million before FCFE reconciliation. Negative free cash flow is problematic because ultimately I want to see Newmont Mining reach a level of free cash flow profitability that is achieved through superior business performance rather than via debt transactions and changes to the capital structure. Newmont is addressing those issues through a concerted expense cutting program that stretches all the way into 2015. In my opinion it is very probable that the economy will be in much better shape two years from now and commodity prices recover to reflect stronger global precious and industrial metal demand.
Valuation
The entire sector faces pricing challenges and the market expects low forward earnings as evidenced by high forward P/E ratios. The average peer group P/E stands at 15.5 and the average dividend yield at 2.38%. A rebounding economy as well as revitalized gold and copper markets can quickly change those valuations. Improving free cash flow could then turbocharge shareholder remuneration.

Conclusion
Analysts and pundits are currently caught in a spiral of revenue and EPS downward-revisions from lower present gold and copper prices. I believe that market participants, on average, miss the inflection point when market fundamentals improve and the global economy finds its way back to its global long-term growth trend. If Newmont manages to deliver on its cost structure, aligns capex with operating cash flow and commodity markets rebound Newmont Mining could turn out as a great value play. The gold price-linked dividend allows investors to directly profit from a recovering gold price. While I'm reluctant to predict future gold and copper prices, both because of its inherent futility and the implied reputational risk, I post Newmont Mining's own long-term price forecast for its trading commodities. At the very least Newmont's price assumptions seem to underscore the theme that long-term commodity economics are favorable for shareholders.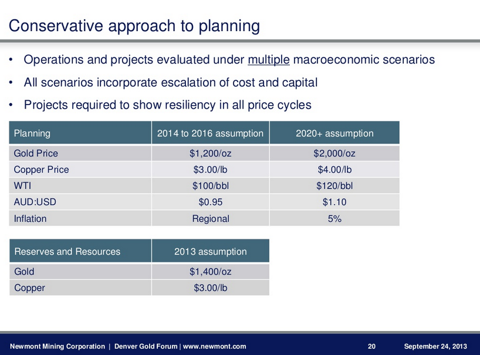 Disclosure: I am long NEM, BP, AIG. I wrote this article myself, and it expresses my own opinions. I am not receiving compensation for it (other than from Seeking Alpha). I have no business relationship with any company whose stock is mentioned in this article.